I did not just make Green Goddess Dressing because I am the food goddess. I think the flavor combinations of this dressing is so amazing and mind blowing!
Honestly, it can transform any salad you put it on. It's creamy, it's fresh, it's extremely nutritious, and it's a dressing that can help you look forward to eating healthy. These are the common ingredients you can find in Green Goddess Dressing.
Common Ingredients Found in Green Goddess Dressing
Cream-Based Product
It wouldn't be green goddess dressing without the creamy aspect. Traditionally, mayonnaise is used. However, that is not the healthiest option. Plus, I've never been a fan of it. Instead, in this recipe, I used plain nonfat Greek yogurt. It gives the recipe more protein, which I appreciate in salads, as it can be difficult to stay full and feel satisfied.
If you want a variation of the classic, you can actually take out the cream-based product altogether, to have a lighter version of the dressing. It will act more as a vinaigrette, and be good for not just salads, but sheet pan dinners, steaks, and more. I personally love this variation, because I'm also obsessed with herbs, and the herbs stand out even more when you take out the yogurt.
Citrus
Citrus will replace the vinegar in this dressing. It will give it something a little more fresh than vinegar will, but still provide that acidic balance between the fatty oil. I love adding the lemon zest as well, because the zest is a little sweeter and lemon intensive, which is exactly what you want in a dressing like this.
Herbs
Yes, the star of the show! Typical herbs you can use in Green Goddess Dressing include parsley, cilantro, basil, dill, tarragon, mint, and chives. If you don't have chives, green onions is a great alternative. Usually, just use 1-2 heaping cups of any combination of herbs listed above. The combination that you use can be based on what you like and what's left in your fridge or garden. I personally love basil and hate dill. Thus, in my recipe I use equal parts basil, parsley and cilantro in that "1 cup" of herbs denoted in the recipe below. However, the combination of herbs is all up to you.
Adding 2 Tbs. of tarragon leaves will give any type of green goddess dressing you make that traditional flavor, because of its licorice taste.
Anchovy Paste
Anchovy paste may sound really gross to you, I'm not sure. However, trust me on this one. It will add a whole other flavor profile to this dressing. I actually tried this recipe with and without anchovy paste, and I noticed a recognizable change in flavor. I actually liked the version with anchovy paste more, because it gave the dressing a more savory and robust flavor. It gave the dressing a well-rounded flavor profile. Without anchovy paste, it was a little more flat, and it was definitely a lighter dressing.
In my opinion, when you make salad, it's really important to beef up a salad and add key ingredients as not to make it feel too light. If you're going to be eating it, you want it to be filling and satisfying.  Believe anchovy paste helps this premise.
Garlic
It wouldn't be salad dressing without some garlic. Garlic will add the classic Unami and spice factor to your dressing. You can't go without it. However, you should really only stick to 1 clove of garlic, as using more will overpower the dressing.
Try These Other Salad Dressing Recipes
Healthy Salad Recipes
If you make this recipe, please leave a comment down below on how you liked it. Or if you have questions or critiques on the recipe, then comment also! When you make this recipe, don't forget to take a picture, and tag me on Instagram at @audreythena_foodgoddess.
If you liked this Green Goddess Dressing, then check out my Chicken Green Bean Mushroom Stir Fry for another recipe idea.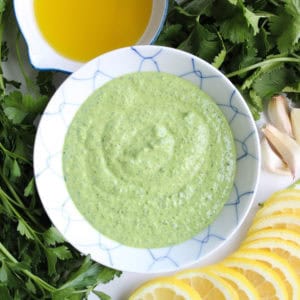 Green Goddess Dressing
This green goddess dressing will make any salad interesting! Made with lemon, olive oil, Greek yogurt, and a mix of herbs, it will be sure to delight!
Ingredients
1

cup

Greek yogurt

2

tbs.

lemon juice + zest of the lemon

4

tbs.

extra virgin olive oil

¼

cup

green onions or chives

2

tbs.

tarragon

1

clove

garlic

1

cup

fresh herbs of your choice (parsley, cilantro, basil, mint, dill, etc.)

Salt and pepper

to taste

2

tsp.

anchovy paste

(optional)
Instructions
Put all of the ingredients into a blender and pulse until smooth

Pour into an air-tight container and store in the refrigerator for up to 1 week
Nutrition Facts
Nutrition Facts
Green Goddess Dressing
Amount per Serving
% Daily Value*
* Percent Daily Values are based on a 2000 calorie diet.
Nutrition Facts
These values were taken from a nutrition calculator.
Share by Email
Share on Facebook
Share on Twitter