I grew up eating a variety of different stir fries. Popular dishes growing up in our household were Chow Mein, Mongolian beef, Black Bean chicken stir fry, Pad Thai, and my mom's favorite Kung Pao! There were definitely a lot of Asian flavors in our household, because we were just a Korean family wanting comfort food. Plus, my mom was the head chef. She eventually taught me how to make stir-fries, and this Chicken Green Bean Mushroom Stir Fry is heavily inspired from it.
One thing she taught me, and that I'll pass on to you, is that stir fries become a very easy dish, once you master the sauce. Once you understand the typical ingredients that go into a good sauce, it's only a matter of picking your meat and vegetables. Even with this recipe, the sauce is the star. Additionally, if you don't have mushrooms and green beans on hand, but you have onions and bell peppers, for example, then use those! Just chop them into big bite-sized pieces. Typically, you will want to stick to only two vegetable varieties when making stir fries in order to keep it simple and not junk up the dish. If you're not using meat, then you can replace it with another vegetable or a plant-based protein source like tofu. I'll explain why I use some key ingredients next.
I use whisked egg whites and cover the raw chicken in it in order to tenderize it. The cornstarch is used to thicken the sauce once it's added to the hot pan of vegetables and meat. When I make the sauce, I like to balance different flavor profiles of sweet, savory/Unami, spice, and acidic. This way, it gives whatever sauce you're making a more balanced, harmonic flavor profile. For this sauce in particular, the honey is the sweet component. The soy sauce and hoisin is the Unami, the rice vinegar is the acidic component, and the red pepper is the much needed spice. You can keep this in mind any time you are making sauce for anything, as it can serve for good inspiration for new creations.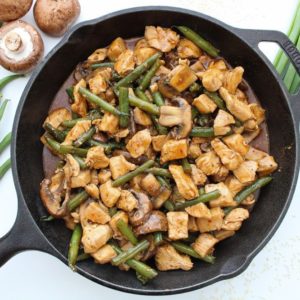 Chicken Green Bean Mushroom Stir Fry
This Chicken Green Bean Mushroom Stir Fry is a great weeknight dinner option if you want to pull together a hugely flavorful, quick and easy dish. Also great for meal prepping.
Ingredients
2

large

chicken breasts

diced into cubes

2

cups

cremini mushrooms

sliced

2

cups

green beans

chopped into 1" pieces

¼

cup

avocado oil

Egg whites of 1 egg

beaten with a whisk

Salt and pepper

1

bunch

scallions

for garnish (optional)
Sauce
4

tbs.

soy sauce

2

tbs.

hoisin sauce

1

tsp.

sesame oil

2

tsp.

rice vinegar

1

tsp.

honey

1

tsp.

ground chili powder (red pepper)

1

tbs.

cornstarch
Instructions
Start by drying the raw chicken breasts with a paper towel, in order to soak up any extra moisture.

Cut the chicken into bite-sized cubes. You can do this by placing the chicken breast vertical to you, and cutting it in half length-wise. Then slice it in half length-wise again. Turn it horizontal to you and cut into 1-inch pieces.

Put the cubed chicken into a medium-sized bowl and season with salt and pepper.

Separate the egg whites of one egg into a small bowl and whisk with a fork until frothy—about 1 minute.

Pour the egg whites into the bowl of chicken, mix together, and place in the fridge with plastic wrap until ready to stir-fry.

To make the sauce, combine the soy sauce, hoisin, sesame oil, rice vinegar, honey and ground chili powder into a small bowl and mix well. Then mix in little amounts of cornstarch into the sauce until the whole 1 tbs. is used up. Then set it aside.

Next, cut the green beans in half or in thirds so that each green bean is 1-2 inches in length. Place in a bowl, rinse and then microwave for 1 minute to soften them just a little.

Next, heat a pan with ¼ cup oil on high. Cast iron pans or woks are great for cooking stir fries, as they conduct heat really well and keep the food hot. However, if you don't have either of those pans, a frying pan works great too.

Using tongs, spread the chicken across the pan creating an even layer. Sauté the chicken until slightly undercooked, about 3-5 minutes. You want the chicken to be slightly undercooked before you add the vegetables, because you will need time to cook the vegetables, but don't want to overcook the chicken.

Then add the green beans and mushrooms and sauté for 3-5 minutes.

Add the sauce and sauté for about 2 minutes or until the sauce thickens.

Serve with chopped scallions and a side of rice, and enjoy!
If you enjoyed this Chicken Green Bean Mushroom Stir Fry for dinner, but still may be looking for a breakfast option to have the next day or meal prep, try my Chunky and Crunchy Granola and Energizer Berry Smoothie.