When I was growing up, my mom always made the best Korean cucumber salad recipe to go with dinner. It was one of my favorite side dishes she made, as cucumbers were one of my favorite vegetables at the time. They still are. She always called it cucumber relish and soaked raw cucumbers in rice vinegar, soy sauce, sugar, and red pepper. She would then serve this Asian cucumber salad with freshly steamed white rice, kimchi, and whatever stir fry she was making that night.
I love making this Asian cucumber salad today because it reminds me of the Korean food I ate growing up, and is super nostalgic for me. Not only that, but Korean cucumber salad is super quick and easy to make. It requires no cooking and takes no more than 5 minutes to assemble. It's chilled and ready to serve in 30 minutes.
In this spicy cucumber salad recipe, I'll show you how to make easy Korean cucumber salad, the ingredients you'll need, and tips to make it the best.
What is Korean Cucumber Salad (Oi Muchim)?
Korean Salad is a quick pickled cucumber salad that is a very popular side dish to Korean classics, like Korean BBQ and Kimchi Tofu Stew. You mix sliced raw cucumbers in a vinegar dressing with sesame oil, gochugaru, soy sauce, sugar, and rice wine vinegar.
In Korean, Oi means "cucumber", and Muchim means "to season" or "to coat". So, Oi Muchim literally means to season or coat cucumbers.
What are Korean Cucumbers?
Korean cucumbers can be found in your local Korean grocery store. They are longer and thinner than regular cucumbers. They are commonly used for raw salads.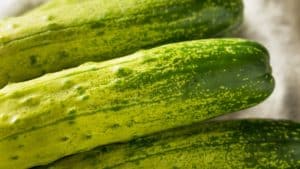 Should I Use Korean Cucumbers in This Recipe?
No, you don't! If you don't have easy access to Korean cucumbers, then English, Persian, and pickling cucumbers work great. When I make this recipe, I usually use English or Persian cucumbers.
If you want to use Korean cucumbers in this salad, then I recommend going to your local Korean grocery store if you have one nearby. You can find one by googling "Korean grocery store near me" or "Asian grocery store near me".
Is Korean Cucumber Salad Healthy?
Yes, Korean cucumber salad is extremely healthy for you! Cucumbers in general are full of water and fiber and help you stay hydrated and regular. They also contain high amounts of vitamin K and A, which helps with the health of your bones, vision, immune system, and reproduction.
Rice vinegar can also have many benefits for your health. It can improve your digestive system and can help with fatigue. The amino acids in rice vinegar can help manage weight, improve your immunity, and increase your cardiovascular health.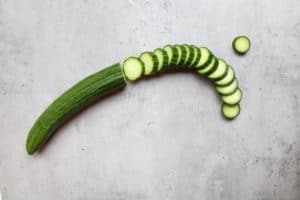 Ingredients for Easy Korean Cucumber Salad
Cucumbers: Cucumbers are the star of this dish. You can use Korean cucumbers, English cucumbers, Persian or pickling cucumbers. It's also common to use a variety of cucumbers if you want.
Rice Wine Vinegar: Rice wine vinegar will pickle the cucumber and give it that tangy, sour taste. Plus, it will slightly preserve it and make it last longer.
Salt: Salt has a couple of uses for this Korean cucumber salad. In many classic recipes, you can add salt to the raw, freshly-cut cucumbers and let them sit for 30 minutes. This will draw out the extra water from the cucumbers. After the cucumbers sit, you'll mix the dried-out cucumbers with the vinegar mixture. In my recipe, I don't ask you to soak the cucumbers in salt first, as that can increase the time it takes to make the salad. However, you can do it if you want. Salt is used to also bring out the flavors of the sauce ingredients, like gochugaru, sesame oil, and vinegar.
Soy Sauce: Soy sauce will add umami flavor to the salad, and add darkness of color as well.
Honey: Sugar is the classic ingredient to add sweetness to this Korean cucumber salad. However, I replace sugar with honey in this recipe to make it healthier.
Gochugaru: Gochugaru is ground Korean red peppers with a uniquely sweet, spicy, and smoky flavor. The peppers are sun-dried, de-seeded, and coarsely ground. It's most commonly found in Korean or Asian grocery stores. You can also order it online if you don't have Korean grocery stores near you. Gochugaru is hard to substitute, but if you must, you can replace it with red chili pepper flakes or chili powder.
Ground Black Pepper: Adding pepper will be similar to salt. It will add extra flavor and spice to the raw salad.
Sesame Oil: I love sesame oil. In this Asian cucumber salad, sesame oil will add a nutty and smoky flavor that will make it taste so much better.
Other optional ingredients you can add to this cucumber salad in vinegar are minced garlic, toasted sesame seeds, and scallions.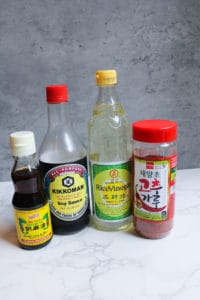 How to Make Asian Cucumber Salad
Cut the cucumbers: Cut 1 cucumber into 1-inch disks. Place them in a medium-sized bowl, and set aside.
Make the dressing: Using a small bowl, whisk together the rice wine vinegar, sesame oil, salt, honey, soy sauce, ground black pepper, and gochugaru.
Pour the dressing over the cucumbers: Pour the dressing over the cucumbers. Stir the cucumbers with a spoon, so that all the cucumbers are evenly coated with the dressing.
Refrigerate for 30 minutes: Cover the bowl of cucumbers with plastic wrap and refrigerate for at least 30 minutes. Then serve with your favorite Korean dishes. Try my Korean Beef Rice Bowl with it! You can skip this step and serve it right away if you're in a hurry.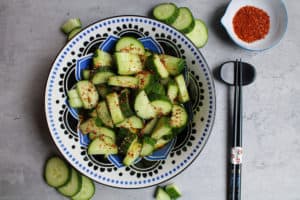 Can You Meal Prep Cucumber Salad?
Yes! This is a perfect salad for meal prep. I usually make a big batch of this and store it in the fridge for the whole week. This way, I can have it with all my meals or as a snack.
Store the salad in an air-tight container and put it in the back of the fridge to maintain maximum freshness.
How Long Will Cucumber Salad Last?
This Korean cucumber salad can last up to a week in the fridge. However, just note that more water will excrete from the cucumbers over time. So, I recommend using a slated spoon when you serve it, to get rid of the excess water and vinegar.
It will continue to pickle over the week. If you want to freshen it up, you can add more fresh cucumbers or choose to garnish the Korean salad with scallions (green onions) or sesame seeds. I personally add more fresh cucumbers to my bowl of vinegar when the cucumber levels get low. This adds freshness and gives me more spicy cucumber salad.
What to Serve with Asian Cucumber Salad
You can serve cucumber salad with your favorite Asian-Inspired dishes or Korean recipes. I personally love it with my Korean Beef Rice Bowl, served with freshly steamed white rice and kimchi. You can also serve it with Bibimbap, Japchae, Kimchi Tofu Stew, or Bulgogi. It's particularly yummy with beef dishes.
You can also serve this quick Korean cucumber salad with other Asian dishes, like stir fry, dim sum, noodles, sweet and sour soup, fried rice, and sushi.
More Asian-Inspired Recipes to Try
Other Salad Recipes to Try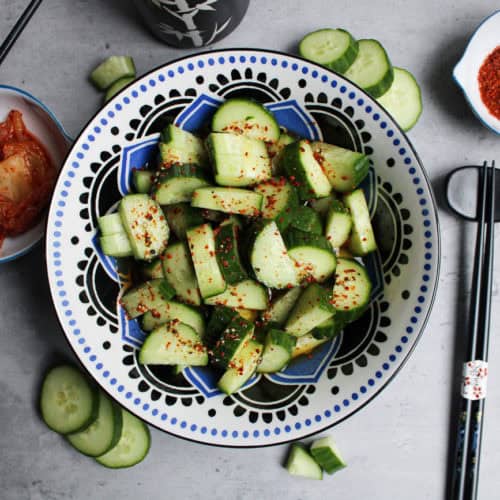 Korean Cucumber Salad (Oi Muchim)
This Korean Cucumber Salad is a simple and quick-to-make raw cucumber salad. It's a popular Korean side dish or banchan. Made with cucumbers and dressing made of rice wine vinegar, soy sauce, gochugaru, sesame oil, honey, and black pepper.
Ingredients
1

English cucumber

or 4 Persian cucumbers

½

tsp.

salt

½

cup

rice wine vinegar

1

tsp.

soy sauce

1

tsp.

honey

1

tsp.

gochugaru

¼

tsp.

ground black pepper

½

tsp.

sesame oil
Instructions
Taking a knife, cut the ends of the cucumber off. Then, cut the cucumber in half length-wise and into one-inch pieces. If you're using Persian cucumbers, just cut them into 1-inch rounds.

Place the cut cucumbers in a medium-sized bowl and set aside.

In a small bowl, combine the rice wine vinegar, soy sauce, gochugaru, salt, honey, sesame oil, and ground black pepper. Stir together with a whisk.

Put the vinegar mixture over the cucumbers, making sure the cucumbers are fully covered by the vinegar mixture. You can mix everything together with a spoon to make sure the vinegar dressing is evenly coating the cucumbers. Then, cover the bowl with plastic wrap or a lid.

Refrigerate in the fridge for 30 minutes or preferably overnight. If you're strapped for time, then skip the 30 minutes of refrigeration. You can either chill it in the fridge for 10 minutes or serve it right away. However, chilling it will yield the best result.

When you serve the cucumber salad, I recommend using a slotted serving spoon to drain the vinegar from the cucumbers.
Notes
If you want more of a pickle, then double the recipe for the vinegar mixture, and allow it to refrigerate overnight.
Nutrition Facts
Nutrition Facts
Korean Cucumber Salad (Oi Muchim)
Amount per Serving
% Daily Value*
* Percent Daily Values are based on a 2000 calorie diet.
Nutrition Facts
These values were taken from a nutrition calculator.
Share by Email
Share on Facebook
Share on Twitter