I love having this recipe for strawberry salad, especially in the summer time. It's light, healthy, and super refreshing. Plus, I like to put other refreshing ingredients in mine, like lemon zest and basil, which makes it even better. It's a tasty dish that makes it easy to get your meal's worth of required vegetables for the day. It's perfect for a workday lunch, summer picnic, or weeknight dinner.
Below, in this recipe for strawberry salad, I'll go over the main ingredients you will find in this summer classic, how to store it, and other tips to make it the best.
Key Ingredients in This Recipe for Strawberry Salad
Spinach – Spinach will be the main ingredient and will act as your base for the salad. If you want something more dynamic, you can add spring mix, romaine or butter lettuce. This is entirely up to you! I personally like to add arugula, because it adds another dimension of flavor without outshining or replacing the spinach.
Plus, spinach is super nutritious. It's an abundant source of vitamin A, C, K, folic acid, iron and calcium.
Strawberries: The flavor of strawberries will make this dish and salad stand out from your regular routine. You can use as little or as much as you want. For 4 cups of greens, I like to use ½-1 cup of sliced strawberries. Using fresh is the best, but you can also use dried, freeze-dried, and frozen if you're in a pinch.
Arugula – Arugula will add a really nice spice to your salad, and add extra flavor in comparison to the bland spinach. I use about 1 cup to 3 cups of spinach, but you can use as much or as little as you want, depending on your flavor preferences.
Walnuts – Walnuts will add a nuttiness and crunch to your salad. Plus, it will add more protein and healthy fats to the dish.
Mozzarella – Mozzarella is one of my favorite ingredients in this salad – along with the strawberries! It will add the saltiness and Unami much needed for the salad. Plus, it will make the dish more satiating.
Optional Add-ins – This is up to you. You can add anything else you want, like dried fruit, fresh herbs, seeds or other vegetables. I love using lemon, basil, and hemp seeds. I like this combo because it makes the salad more fresh and adds some additional protein and healthy fats from the hemp seeds.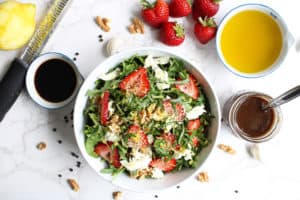 How to Make Strawberry Salad Dressing?
Balsamic Dressing
Balsamic dressing is one of the most classic dressings to pair with strawberry salad. It's made with olive oil, balsamic vinegar, Dijon mustard, honey, garlic, and salt and pepper. In order to fully emulsify it, I whisk the dressing for 1-3 minutes or put it into a blender.
This dressing is known to be very savory and tart. The savory Unami comes from the oil, garlic, and Dijon mustard. The tart comes mostly from the balsamic vinegar. Try my Best Balsamic Vinaigrette Recipe!
Poppy Seed Dressing
The second most popular dressing for strawberry salad is poppy seed dressing. It's known to be a very simple and sweet-tasting dressing often paired with salads full of fruits and vegetables. Poppy seed dressing is made with a neutral tasting oil, red wine vinegar, sugar, dried mustard, and poppy seeds. Typical neutral-tasting oils you can use include vegetable oil, light olive oil, and grapeseed oil.
Balsamic Poppy Seed Dressing
If you are wondering what the difference between balsamic poppy seed dressing and the other two described above, it's not much. Balsamic poppy seed dressing essentially calls for the same ingredients as regular balsamic dressing, but with the addition of poppy seeds. Sometimes, balsamic poppy seed dressing has less oil in it.
Citrus Vinaigrette
Citrus Vinaigrette is another great-tasting option, but definitely not as popular. It's made with olive oil, white wine vinegar (or champagne vinegar), lemon juice, orange juice, lemon zest, and salt and pepper. Depending on the recipe, it can also call for shallots, honey or sugar, and garlic.
Other cooks love to keep it simple, and serve this recipe for strawberry salad with a simple lemon vinaigrette. This salad dressing calls for olive oil, lemon juice, lemon zest, honey, and salt and pepper.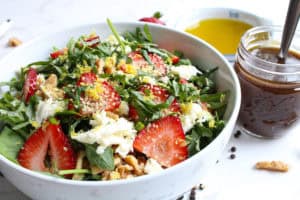 Can This Recipe for Strawberry Salad be Meal Prepped?
Yes! This recipe for strawberry salad can be meal prepped. You just want to store the ingredients in separate containers and combine them right before you want to eat some salad. If you don't want to package up each individual ingredient, then you can combine the spinach, arugula, walnuts and hemp seeds together. That's because all of those ingredients are relatively dryer than the rest, and will prevent the salad or greens from wilting.
However, you'll definitely want to store the strawberries, mozzarella, lemon, and dressing separately as they will immediately start wilting the salad once you combine these ingredients with the dry ones.
Can I Use Another Type of Fruit?
Absolutely! If you don't want to use strawberries, I would recommend using raspberries, blueberries, or blackberries. Any berry would taste delicious. Pears would be another good pair.
If you are wondering what kinds of fruit to pair overall, then just ask yourself whether or not that fruit substitute will pair nicely with lemon, basil, nuts, and arugula. If you can say yes, then it's a good choice.
What Do I Serve with Strawberry Salad?
This dish is easy to pair anything with. You can serve this recipe for strawberry salad with a pasta dish (like alfredo dishes, pasta with quick marinara sauce, one pot pastas and more). You can also pair it with a multitude of chicken dishes, including my friend's Glenda's Crockpot chicken breast recipes.
You can also just eat the salad alone, as there is enough protein and fat already in the salad to make it satiating, carrying you to your next meal.
Other Salad Recipes to Try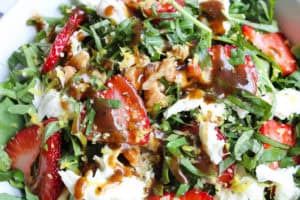 If you found this recipe for strawberry salad fun and interesting, then check out my other salad recipes, including my Chinese Chicken Salad. If you make this strawberry salad, then don't forget to tag me on Instagram with a picture of your homemade salad at @Audreythena_foodgoddess.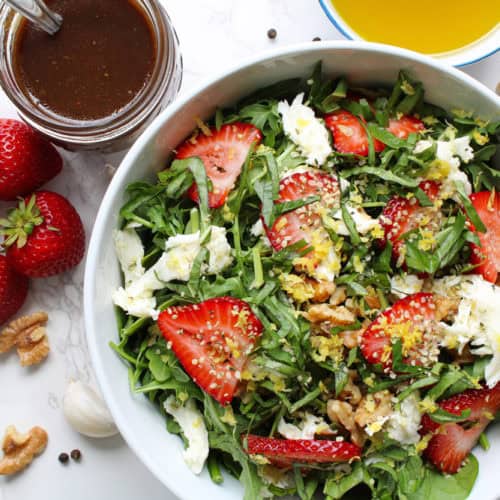 Recipe for Strawberry Salad [with Basil and Lemon]
This recipe for strawberry salad is made with spinach, arugula, walnuts, mozzarella, basil, lemon zest, strawberries, hemp seeds, and topped with a balsamic dressing.
Ingredients
1

cup

strawberries

sliced

3

cups

spinach

½

cup

mozzarella

shredded or sliced

1

cup

arugula

⅓

cup

walnuts

roughly chopped

¼

cup

basil

loosely packed and julienned

Lemon zest of one lemon

1

tbs.

hemp seeds
Balsamic Dressing
½

cup

extra virgin olive oil

¼

cup

balsamic vinegar

1

clove

garlic

crushed or finely grated

1

tbs.

Dijon mustard

1

tsp.

honey

Salt and pepper

to taste
Instructions
In a small mason jar, combine the olive oil, balsamic dressing, grated garlic, Dijon mustard, honey, and salt and pepper. Then stir together for 1-3 minutes with a whisk until all the ingredients are well combined.

In a large bowl or serving bowl, combine the spinach, arugula, walnuts, strawberries, mozzarella, basil, lemon zest and hemp seeds.

Next, pour 1/3 cup of balsamic dressing onto the salad, and toss until the salad and the dressing is well-combined.

Serve in a bowl or a large plate, and sprinkle with additional hemp seeds, lemon zest, strawberries and basil as garnish.
Nutrition Facts
Nutrition Facts
Recipe for Strawberry Salad [with Basil and Lemon]
Amount per Serving
% Daily Value*
* Percent Daily Values are based on a 2000 calorie diet.
Nutrition Facts
These values were taken from a nutrition calculator.
Share by Email
Share on Facebook
Share on Twitter