I'm not sure why, but whenever you can admit you make your own marinara sauce, people get impressed super quickly. If you want to impress your friends, your significant other, your family – then make homemade marinara sauce instead of buying a jarred version.
This quick marinara sauce is my mom's recipe. She always made this for my brothers and I growing up. I actually never saw her use jarred sauce – ever! I think for her, it was a big no-no. At that time, jarred sauces were more unhealthy, too sweet, and didn't taste as good. I know nowadays, there are a lot of good jarred sauces coming out, like Rao's or Victoria. However, you can't beat making your own.
Below, I'll go over the common ingredients you will always use to make a great marinara sauce, and the tips my mom taught me on how to make the best.
Common Ingredients Found in Quick Marinara Sauce
Whole Plum Tomatoes: Using whole plum tomatoes, or even diced tomatoes will add enough liquid and texture to your sauce that will make it taste extra tomato-ey. When you use whole plum tomatoes, break them apart and rip them into smaller bits so they become easier to eat, which will help them further blend into the sauce. Whole plum tomatoes will have a lot of liquid inside of them, so it's also important to squeeze all that liquid out and back into the sauce.
Tomato Sauce: Just like whole plum or diced tomatoes, adding a can of tomato sauce will add a more liquid to the dish overall, while adding that classic tomato flavor.
Tomato Paste: Adding tomato paste is really important as it will add a much more intense tomato flavor than tomato sauce or whole tomatoes combined. It will also thicken the sauce nicely.
Garlic: It wouldn't be good marinara sauce without a lot of garlic. I always recommend using fresh garlic, as that will provide the most flavor. You can use as much or as little as you want. However, I always opt for adding more to get that flavor. I usually add 6-10 cloves depending on how I feel.
Extra Virgin Olive Oil: This is a classic ingredient. I add about ¼ – ½ cup of oil to a pan in the beginning to let the aromatics infuse into the oil, then I add a generous drizzle of olive oil at the end to top it off. Using quality extra virgin olive oil will add an extra depth of flavor, while thinning out the sauce, and not making it too thick.
Sweetener: Sweetener is more important to use nowadays than it used to be. If you were using fresh tomatoes, this ingredient would be especially important, because adding a sweetener draws out the natural flavors and sweetness of the tomatoes. Many tomatoes today are very watery or bland due to the depleted soils they grow in. However, even when using canned tomatoes, this is a great way to balance out all flavors. When you don't add the sweetener, you can risk your sauce being too tart.
My mom always used a tablespoon of sugar. However, now that I'm older, I replace the same amount with honey as that is a bit more natural.
Herbs: You can use dry herbs, fresh herbs, or a combo of both. I like using both as they offer different benefits. Dry herbs are more concentrated and can give your sauce a deeply rich flavor. I love using fry oregano in my sauce. However, I love topping the sauce off with fresh basil at the end. Feel free to use oregano, rosemary, basil, thyme, and other spices. It's all about preference here.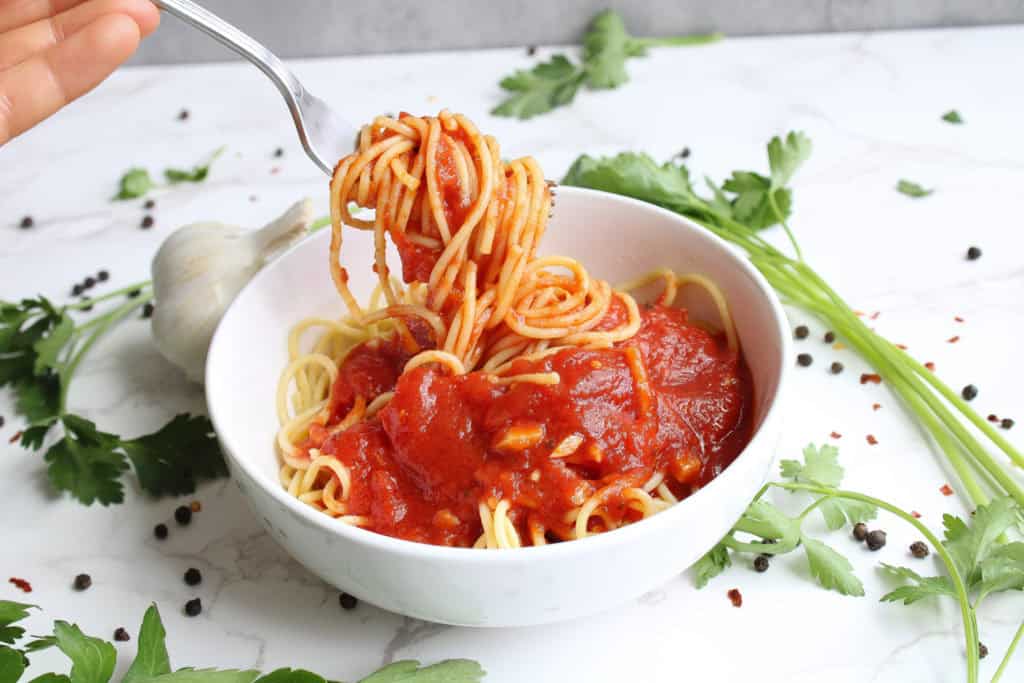 Tips to Make the Best Quick Marinara Sauce
Infuse the Oil First
Infusing the oil with aromatics such as the garlic, chili, and oregano will add more flavor to the dish. Infusing is just a fancy word for cooking the aromatics in the oil on low-medium heat for 10 minutes. You want to complete this step first, as you won't get the same result if you add the tomatoes first.
Opt-in for Canned Tomatoes
This is crucial for maximizing your flavors. Because today's fresh tomatoes are less sweet and flavorful, if you use fresh tomatoes, you run the risk of watery, bland sauce. Canned tomatoes have much more flavor than fresh and it will allow you to get the same flavor intensity as jarred sauce.
Use Anchovy Paste
I think I heard somewhere that an authentically Italian marinara sauce recipe uses anchovy paste. Not sure how true this is! However, using anchovy paste will a more robust flavor and give the sauce a more Unami rich flavor rather than a sauce that feels "light". It will make it more savory. You only need to add 1 tsp to a whole dish and that will be plenty. If you don't have anchovy paste, then 1 tbsp. of Worcestershire sauce is a good substitute.
I hope all of these tips were helpful! If you decide to make this recipe, don't forget to take a photo of your creation and post your marinara sauce and spaghetti with the hashtag #audreythena and tag @audreythena_foodgoddess. Okay, let's dive into the recipe.
Italian-Style Recipes to Try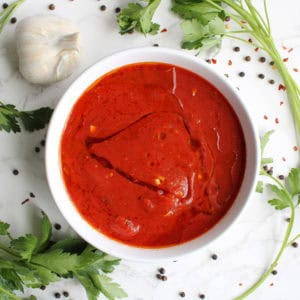 Quick Marinara Sauce
This quick marinara sauce is perfect when you want to make a quick Italian-inspired pasta dinner. It takes no longer than 15-20 minutes, and it tastes better than the jar! Made with canned tomato products, lots of garlic, honey, anchovy paste, and more, it won't disappoint you or your guests.
Ingredients
1

15 oz. can

tomato sauce

1

can

tomato paste

1

28 oz. can

diced or whole stewed plum tomatoes

½

cup

olive oil as needed

6

cloves

garlic

minced or grated

1/4

cup

chicken broth

or more if needed

1

tsp.

anchovy paste

1

tbs.

onion powder

optional

1

tsp.

red pepper flakes

1

tbs.

honey or sugar

½

tbs.

oregano

½

tbs.

fresh or dry basil

optional

salt and pepper
Instructions
Using a sauté pan, heat to medium-low heat. Add ¼ cup olive oil, salt, pepper, red pepper flakes, oregano and basil into the pan. Then sauté for about a minute (you want red pepper flakes to sizzle—JUST A LITTLE BIT). You don't want to burn the spices.

Then put in the garlic and sauté for a little while. Be sure not to burn the garlic. Very easy to do and will ruin your dish. After the garlic sizzles for about a minute, turn down the heat and let the aromatics infuse with the oil for 5-10 minutes.

Next add the honey, tomato paste, and the anchovy paste. Sauté for another minute and next add a little bit of the chicken broth. You can add the chicken broth earlier if you are afraid of burning the garlic if the pan gets too hot.

Continue stirring, then add stewed tomatoes and tomato sauce and the rest of the chicken broth. If you are using whole tomatoes (and not diced), then take a potato masher and mash the tomatoes gently in the pan.

The sauce mixture is still on medium heat. Let the sauce simmer for 15-20 minutes. Feel free to turn up the heat anytime during the cooking process if you feel the pan is not hot enough.

Make sure to taste test the sauce, so you are comfortable with how sweet, salty, and/or sour levels of the dish. For example, you can always add a little more honey if you feel the sauce is too sour from the tomatoes.

After the sauce simmers, turn off the heat, and then drizzle the top with olive oil and stir to combine.

Then toss with some freshly cooked pasta, and enjoy.
Notes
A helpful tip: If you get whole stewed tomatoes, it's helpful to cut them with cooking scissors after putting them in the pan and mashing them with the potato masher. These days tomatoes can be on the tougher side, so you want to be able to have a "tender sauce".
If you want the flavors to be more developed, infuse the oil with the spices at the beginning of the cooking process. Instead of drizzling 1/4 cup of oil into the sauce at the end, add 1/2 cup olive oil in step 1 with your spices, and let the oil and spices cook together on low-medium heat for 10 or more minutes. The spices will infuse with the oil, giving the marinara more depth of flavor.
Nutrition Facts
Nutrition Facts
Quick Marinara Sauce
Amount per Serving
% Daily Value*
* Percent Daily Values are based on a 2000 calorie diet.
Nutrition Facts
These values were taken from a nutrition calculator.
Share by Email
Share on Facebook
Share on Twitter