When I was a kid, I remember my dad would go to Costco and get the 2 lb. pack of strawberries. He would always get it specifically for me, because he knew I liked them so much. I would never fail to eat the whole container in one or two days. I was just crazy for strawberries! Today, I always make sure to keep them in my freezer or refrigerator, especially while they're in season. One of my favorite recipes to make with strawberries is this recipe for strawberry smoothie. It's simple, quick to make, healthy and super refreshing.
Strawberry smoothies are so versatile as well, which is why I love them. You can add so much variety depending on the ingredients you have. For extra flavor, you can add raspberries, mangoes, kiwis, bananas, or another favorite fruit. You can add a variety of herbs or citrus, and any type of liquid or sweetener to your preference. Below, I go over how to make this recipe for strawberry smoothie and tips to make it great.
Ingredients for this Recipe for Strawberry Smoothie
Strawberries: It wouldn't be a strawberry smoothie without the strawberries. I use one cup for one serving for this recipe. You can use fresh or frozen. I personally prefer using frozen, so the smoothie turns out colder and more frothy.
Milk: You can use any type of milk you prefer. In this recipe, I use coconut milk in order to keep this recipe for strawberry smoothie dairy free. However, you can use regular cow's (or goat's) milk. Using real dairy will make the smoothie creamier and more rich. However, using plant-based milk will keep the smoothie lower calorie. Use 1 cup of milk per serving of smoothie.
If you still want a dairy free smoothie but don't want to sacrifice the protein content, I recommend using soy milk.
Sweetener: You can use any sweetener you want, including honey (which is what I use), maple syrup, coconut nectar, granulated sugar or a really sweet fruit. If you want a whole food to sweeten your smoothie, my highest recommendation is using an overripe banana.
Optional Ingredients: I use lime, but you can use any additional ingredients you think will spruce up the drink. Using frozen bananas, mangoes, peaches, raspberries, kiwis, and other fruits are all other options I've seen. I chose to use lime because of its unique flavor, and its ability to add sourness. It balances the flavor profile well without outshining the strawberry flavor.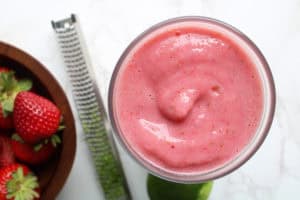 How Do You Make Strawberry Smoothies
Prep Your Ingredients: Prep your ingredients by first cutting the fruit you want to use. For strawberries, cut off the green tops. If you're using bananas, peel and slice them. Then put them on a lined baking sheet and place in the freezer for 4 hours or overnight, until frozen solid. To make the process go faster, you can opt-in for pre-frozen fruit.
Next, juice and zest your lime.
Put Your Ingredients in a Blender: Combine your strawberries, milk, lime juice, and sweetener into a blender.
Blend for 1-2 Minutes: Blend on high until smooth, about 1-2 minutes.
Adjust the Flavor, as Necessary: Taste test your smoothie and add more sweetener or lime juice depending on your flavor preference. I add the juice of an entire lime because I love the tart flavor! However, feel free to start with less, and gradually add more after you taste test it. You might like it sweeter!
Blend for Another 30 Seconds: Blend for another few seconds, so all of the ingredients can fully immerse.
Serve with Garnishes: Serve in a clear, 16-oz glass with lime zest sprinkled on top for an extra punch of lime.
How to Make Strawberry Smoothies with Milk
For one serving of smoothie, add one cup of milk. You can use any variety of milk including cow's milk or plant based milk. If you opt in for cow's milk, it will make your smoothie much creamier.
If you opt in for plant-based, it will have a less creamy and more fruity flavor profile.
Adjust the volume of milk for your preference on smoothie consistency. If you like your smoothie super runny, add more milk – 1+ cups. If you like your smoothies thick, then add less than one cup. Check out my full guide on the best milk for smoothies if you want to learn more about the best milk to use for different kinds of smoothies.
How to Make Strawberry Smoothies without Milk
In order to make this recipe for strawberry smoothie without milk, replace the one cup of milk specified in this recipe with one cup of juice or water. You can use any juice variety you want. However, I would recommend strawberry juice, freshly-squeezed orange juice, or coconut water.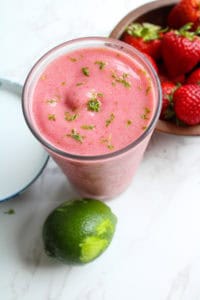 Are Strawberry Smoothies Healthy?
Strawberry smoothies are very healthy! By using fresh fruit, natural sweeteners, and nutrient dense milk, you are packing in a lot of nutritional value.
Strawberries are full of antioxidants and full of vitamin C and manganese. They also contain folate (vitamin B9) and potassium. They are beneficial for heart health and help you control blood sugar.
The natural sweetener can add extra carbs that will give you more energy (perfect for a pre-workout snack), and milk will add the much needed protein. Even if you are using a plant-based milk with less protein content, you can always supplement that with nut butter, plant-based protein powder, or protein-packed seeds (e.g. hemp seeds).
However, be careful on how you make it, because strawberry smoothies can turn unhealthy quickly. They can turn unhealthy if you are using refined sugar for your drink instead of a natural sweetener. Refined sugar is not the devil's food, per se, but adding it consistently to your food and drinks will make you metabolize food faster and leave you feeling more hungry. That's because refined sugar is high on the glycemic index.
Even using dairy milk can add extra calories you may not be aware of. Because dairy milk has much more fat than plant-based milk, you'll be adding more calories per serving – so just be mindful. Every gram of fat has four more calories (for a total of 9 calories) than each gram of carb or protein (which has 4 calories per gram).
Tips to Make the Best Recipe for Strawberry Smoothie
Use Frozen Fruit
Using frozen fruit will make it colder and taste more like a slushy. You can always add ice to your smoothie if you're using fresh fruit. However, I find when I do that, it waters down my smoothie when I let it sit for a few minutes after blending.
Use a High-Powered Blender
This is super important! I like using the Ninja Blender or Vitamix. Using a high-speed blender will make it easier to blend the smoothie with less liquid, helping you make thick smoothies. Plus it will blend the ingredients into a smooth drink, minus any chunks. Blend for a solid 1-2 minutes for a smooth smoothie.
Be Flexible!
Don't be afraid if you don't have an ingredient specified in the recipe. Smoothies allow you to be so flexible, because you can literally add whatever you want to it. If you don't have an ingredient, substitute it. If you don't have honey, use maple syrup. If you don't have coconut milk, use cow's milk. If you don't have lime, use lemon.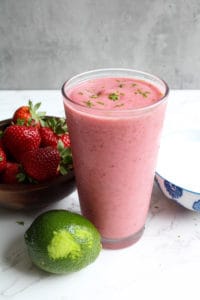 How Do I Store the Leftover Smoothie?
You can store your leftover smoothie in an air-tight container and place it in the freezer until the next time you want to have this recipe for strawberry smoothie. When you want to have it, take it out 1-2 hours before you drink it to let it thaw. Once it has thawed, pour it into a glass, stir it up, and it's ready to enjoy.
Alternatively, after taking it out of the freezer, let it thaw for 30 minutes. Take it out of its container, cut it into chunks, add it to a blender with some liquid, and blend until smooth.
I hope all of these tips were helpful! If you decide to make this recipe, don't forget to take a photo of your creation and post your meatballs with the hashtag #audreythena and tag @audreythena_foodgoddess. Okay, let's dive into the recipe.
More Smoothie Recipes to Try
Recipe for Strawberry Smoothie with Lime
This recipe strawberry smoothie with lime is made with strawberries, lime, lime zest, coconut milk, and honey to make for a sweet and refreshing snack, dessert, or breakfast.
Ingredients
1

cup

frozen Strawberries

1

cup

Coconut milk

Juice of 1 lime

1

tbs.

honey

Lime zest for garnish

optional
Instructions
Fill a blender with the strawberries, lime juice, honey, and coconut milk, and blend until smooth.

Taste it, and add more coconut milk, lime juice, and honey if necessary and to your preference.

Pour into a glass. With a micro plane grater, grate some lime zest on top.
Nutrition Facts
Nutrition Facts
Recipe for Strawberry Smoothie with Lime
Amount per Serving
% Daily Value*
* Percent Daily Values are based on a 2000 calorie diet.
Nutrition Facts
These values were taken from a nutrition calculator.
Share by Email
Share on Facebook
Share on Twitter
If you want to check out more smoothie recipes, then take a look at my Energizer Berry Smoothie. You can use these smoothies for breakfast, a snack, or dessert – whatever fits your needs and desires. If you are looking for other breakfast options, then check out my Chocolate Coconut Cereal and my Crunchy and Chunky Granola.