I love cereal! But, I don't usually love how it makes me feel after I eat it. I assume it's the dairy and the sugar combined that gives me brain fog afterwards, and makes me feel bloated. That's why I'm a huge proponent of making my own sweets and desserts since you know exactly what goes into it, and you can feel assured that it's mostly healthy. Plus, it's genuine feel-good food. It won't make you feel tired—quite the opposite. That's why I made this chocolate coconut cereal recipe, because it satisfies my sweet tooth and chocolate cravings like nothing else while reassuring me I've only eaten nutrient-dense foods.
Packed with whole grains, only natural sweetener, healthy oils, and nuts and seeds, it comprises of many ingredients you should already have in your pantry. You can eat it for breakfast, have it as a snack, or eat a small bowl after dinner as a dessert. It's an easy dish to make, and it will be sure to satisfy health nuts and picky eaters alike.
Often times, making your own cereal can seem pretty daunting. I know when I began cooking, I didn't want to go there, because it seemed too complicated and time-intensive. Plus, I had the misconception that it took a higher skill level in the kitchen to do it right. Well, I want to reassure you that it's super easy to make cereal. You don't have to rely solely on the boxes you find in the grocery store. With the right combination of fats, seeds, grains and sweeteners, you can make cereal in less than 30 minutes. Below, I go over the common ingredients you can find in homemade cereal, making this cereal or any one you make super versatile, flexible, and modified to preference.
Ingredients to Make Homemade Cereal
Pick Your Grains
Picking 1-2 whole grains will set you up for the perfect cereal. This will be the base of your cereal, so choose wisely. If the base is not one of your favorites, you will have a hard time wanting this healthy, homemade version over the store-bought. In this recipe, I use whole wheat puffed brown rice (yes this is a real product), and old-fashioned oats. The puffed rice gives it the classic crunchy texture, while the oats add a nice chew to it. I wouldn't recommend using 100% oats, just because it will turn more into a granola at that point. When making homemade cereal, you want to replicate it as much as possible to the store versions, while maintaining high nutritional levels.
Other grains you can use include white quinoa, puffed quinoa, puffed corn puffs, grape nuts, corn flakes, and more.
Unlike granola, you don't need to roast or toast the grains (oats, puffed rice, etc.) before mixing in the wet ingredients and baking. As for the amount of grains – if you are choosing two types like I did, I would do 2 or 3 parts crunchy grain to one part chewy grain. For example, 2 parts puffed rice to 1 part oats.
Use Nuts and Seeds
Using nuts and seeds will give your cereal added nutrition and crunch. In this chocolate coconut cereal recipe, I use chopped walnuts, ground flaxseed, and chia seeds. The walnuts and chia seeds give the dish an extra crunchy texture which I like, while the flaxseed just adds extra nutrition like ALA Omega – 3s.
Other types of nuts include almonds, macadamia nuts, cashews, pecans, and peanuts. Other seeds include sesame seeds, poppy seeds, pumpkin seeds, and more.
Choose a Sweetener
There are so many sweeteners out there. Once again, the one you will use will depend on your flavor preferences. My two favorites are honey and pure maple syrup. When I'm making a homemade cereal or granola I always try to go with a natural sweetener with a lower glycemic index. Natural sweeteners that are known to have the lowest or lower GI includes coconut nectar, monk fruit sweetener, agave, and coconut sugar.
This time around I experimented with coconut sugar, because I wanted to achieve the sugary store-bought cereal taste. Luckily, I was successful, and would highly recommend this when making this chocolate coconut cereal recipe.
When baked, the sugar will melt and caramelize around the grains, making it extra crunchy and giving it that sugary coating you often find with store bought cereals.
Select 2-3 Toppings
This is where you can get pretty creative. This step will allow you to really change the flavor profile. Toppings can include chunks of dark chocolate, shredded coconut, pieces of your favorite dried fruits, sprinkles, or others. These toppings are baked into the cereal mix, so it's important you pick something that can withstand a high heat, degrees upward of 350°F.
More Breakfast Recipes to Try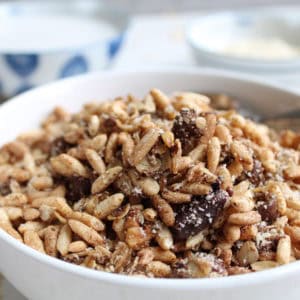 Chocolate Coconut Cereal
This Chocolate Coconut Cereal is made of puffed rice cereal, oats, walnuts, chocolate, desiccated coconut, coconut sugar, coconut oil, and much more for a healthy breakfast or lunch option.
Ingredients
5

cups

Puffed brown rice

2

cups

Old-fashioned oats

1

cup

walnuts

chopped

2

Tbs.

Ground flaxseed

3

Tbs.

Chia seeds

¾

cup

Semi-sweet or dark chocolate chips

divided in half

1

cup

Desiccated coconut

⅔

cup

Coconut oil

melted

6

Tbs.

Coconut sugar

1

Tbs.

Cocoa Powder

1

Tsp.

Pure Vanilla extract

¼

Tsp.

salt

5

tsp.

Rainbow sprinkles

(optional)
Instructions
Preheat the oven to 325° F. Line a baking sheet with parchment paper, and evenly spread out a layer of desiccated coconut.

Toast the desiccated coconut for 7 minutes or until it's golden brown on the edges. Then take it out of the oven, and stir it around. Mix the edges into the center, so that the white parts of coconut underneath are brought up to the top and exposed.

 Bake for another 4-5 minutes or until completely, but lightly golden brown. Take out of the oven and put aside to let cool. Preheat the oven to 375°F for the cereal mixture.

 Next, in a large mixing bowl, combine the puffed brown rice, oats, half of the chocolate chips, chia seeds, ground flaxseed, and chopped walnuts.

In a small mixing bowl, microwave the coconut oil until it's completely melted. Stir in the vanilla, salt, coconut sugar and cocoa powder.

Mix the wet ingredients with the dry ingredients and make sure the dry cereal mixture is fully coated with the oil-sugar mixture.

 Evenly spread the mixture between two lined baking sheets.

Bake the cereal at 375°F for 10 minutes, and then stir the cereal around the pan, allowing the melted chocolate to cover the cereal.Then bake for another 5-10 minutes, until crunchy and fragrant. Then take it out of the oven and let it cool.

 Take the other half of the chocolate chips and finely chop them.

Put the cooled cereal back into a large mixing bowl and mix in the toasted coconut, chopped chocolate chips, and the last 3 tbs. of coconut sugar. This is the step you add the sprinkles if you so choose.

Store in an air tight container for 1-2 weeks.
Nutrition Facts
Nutrition Facts
Chocolate Coconut Cereal
Amount per Serving
% Daily Value*
* Percent Daily Values are based on a 2000 calorie diet.
Nutrition Facts
These values were taken from a nutrition calculator.
Share by Email
Share on Facebook
Share on Twitter
I hope you enjoy my Chocolate Coconut Cereal Recipe! Leave a comment down below if you made, have questions, or have suggestions to improve the recipe! If you are looking for more breakfast options, then check out my Crunchy and Chunky Granola recipe.