Lately, I have been trying to eat more plant-based. After doing some research, I'm learning how healthy it can be for your body and mind. Although going fully plant-based seems way too intimidating to me right now, I'm just making simple switches where I can and choosing to eat more plant-based meals. A very popular vegan meal that has become my new favorite is tofu scramble.
Regular egg scramble is a go-to healthy breakfast and lunch option for me. It always provides a great opportunity to pack a lot of protein and vegetables into one dish. So, I was optimistic that tofu scramble would provide the same benefit.
However, I was worried with this dish that it could taste too bland, taste too much like tofu, or wouldn't taste similar to eggs. However, after doing some thorough research and trying out a few recipes, I finally came up with a group of ingredients that knocks this dish out of the park. Below, I go over the best tips and tricks to make the best tofu scramble.
How to Make Tofu Scramble
Crumble the Tofu
Start by pressing the tofu with either paper towels or a tofu press. Make sure to get all of the water out. Then, in a separate bowl or directly into the pan, crumble the tofu block into a little pieces, using your hands.
Next, take another paper towel and press the top of the crumbled tofu with the towel to get any extra moisture out. This step is optional, but I find it helpful when handling the tofu.
Mix the Sauce Ingredients Together
In a small bowl, you'll want to mix the sauce ingredients together. Usually, this consists of water, vegetable bullion, nutritional yeast, garlic powder, turmeric, and more.
Combine the Sauce and Tofu
Heat a sauce pan to medium-high heat and dump in the crumbled tofu and sauce mixture. Stir to combine. Cook the tofu mixture and stir occasionally until the tofu starts to bubble and simmer. Then cook the tofu for about 10 minutes, stirring occasionally, until most of the water has evaporated, and the color turns from a dark yellow to a lighter yellow color (more egg-like).
What Kind of Tofu Do You Use in Tofu Scramble
The classic combo commonly used for tofu scramble is 1:1 ratio of firm and medium tofu. You can use 2 blocks of tofu or half of each type.
I've seen many recipes just use firm tofu. I've personally used this combo myself, and it tastes just fine. The only difference, is that the texture will be firmer in comparison to using both types of tofu. Therefore, the texture won't be as similar to eggs.
What Can I Add To Tofu Scramble
You can add a myriad of ingredients. You can keep it plain or simple with just the seasonings to color and flavor the tofu like eggs, or you add vegetables for a true scramble. Below are some very common ingredients to add to this dish (besides the tofu).
Turmeric
Turmeric is by far the most common and classic ingredient to go in scrambled tofu. Just adding a teaspoon or less, turmeric will give the dish the classic color of scrambled eggs. You can use fresh or ground turmeric. If you're using fresh, I would double or triple the quantity, as it will be less concentrated.
Garlic Powder
Garlic powder will give the dish additional flavor. It will season the bland tofu well and give it the Unami it deserves. You can replace the dry ground garlic with fresh – just double or triple the quantity. For a dish that utilizes 2 blocks of tofu, use ¼ tsp. of garlic powder or 1-2 cloves of minced garlic. If you're using fresh minced garlic, stir fry the garlic in oil for a couple of minutes before adding the crumbled tofu. This way, the garlic will become more fragrant in the dish.
Onion Powder
Similar to garlic powder, onion powder will add the Unami flavor to the dish and season the very bland tofu. I personally don't use onion powder in my recipe, but that's just because I usually don't have it readily available in my pantry. You will want to use ½ tsp of onion powder for a recipe with two blocks of tofu. Instead of using onion powder, you can also caramelize some finely chopped yellow or red onions in a pan with oil for a few minutes to add more flavor. I recommend adding anything from ¼ cup to ½ cup of chopped onions, depending on your preferences.
Nutritional Yeast
Nutritional yeast will give this vegan version of scrambled eggs the cheesy flavor that you will miss from the traditional dairy product. Not only does it add a cheesy flavor, but gives more flavor to the tofu and makes the dish more savory. Tofu is very naturally bland, so you have to heavily season it in order for there to be enough flavor in the dish to make it satisfying. Nutritional yeast helps with this.
A Mixture of Vegetables
This is where tofu scramble starts getting fun and creative. You can add anything you want including tomatoes, chopped potatoes, onions, vegan sausage, beans, bell peppers, spinach and more. You can sauté your vegetables in a separate pan with oil and add them at the end, or cook them with the tofu scramble. In this recipe, I add chopped Roma tomatoes and spinach at the end, served with avocado on the side.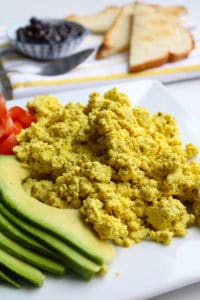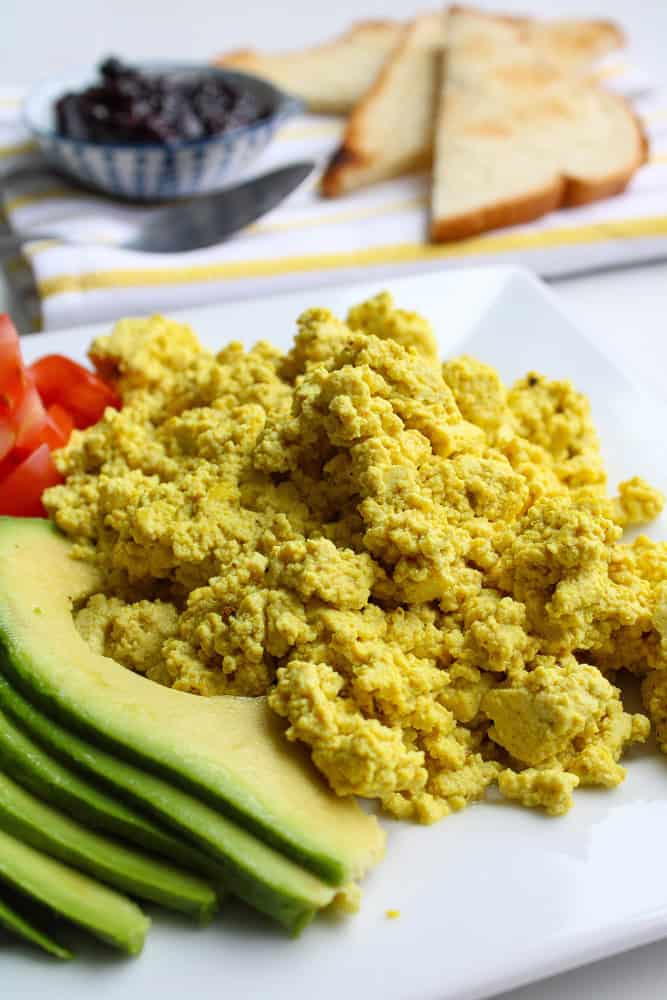 Tips to Make the Best Tofu Scramble
Use a Mixture of Firm and Medium Tofu
The best combo of tofu for the best tofu scramble is a mixture of firm and medium tofu. You can use 100% firm or extra firm tofu if you want, but by mixing the two types you will get a texture more similar to real scrambled eggs. Firm tofu will provide the firm bite associated with scrambled eggs, while the medium tofu will provide the soft and spongey texture classic to the dish.
Honestly, I've tried 100% firm and extra firm tofu, and it's not quite the same. It will remind you more of crumbled tofu, which isn't the goal here.
Use Black Salt
Black salt will take your vegan egg scramble from tasting like a healthy, vegan substitute, to tasting like the real deal. Black salt will make your tofu scramble taste just like real scrambled eggs. This is because there is a lot of sulfur in black salt that contributes to that "eggy" flavor.
Black salt is ironically pink when you buy it prepackaged in stores. However, it's called black salt because black salt has a dark, brownish pink color when it's in its whole, solid form. This is due to its high levels of sodium chloride and impurities. However, when it's ground into a powder, the color turns into a light purplish, pink color.
You can buy black salt on Amazon or at your local Indian grocery store – if you have one in your area. If you don't have black salt on hand, then you can just use regular salt and pepper, and that will suffice. The "eggy" flavor won't be as strong, but you will still have a great tasting tofu scramble.
Add Vegetable Bullion
Adding vegetable bullion will be the greatest and most concentrated source of flavor and Unami in tofu scramble. In a recipe using two block of tofu, all you need is ½ teaspoon of bullion mixed with water. You can add more depending on your preference.
Pair it with Toast and a Smoothie
For a well-rounded and balanced meal, you can pair this tofu scramble with avocado toast, jam on toast, or a fresh smoothie.
More Breakfast Recipes to Try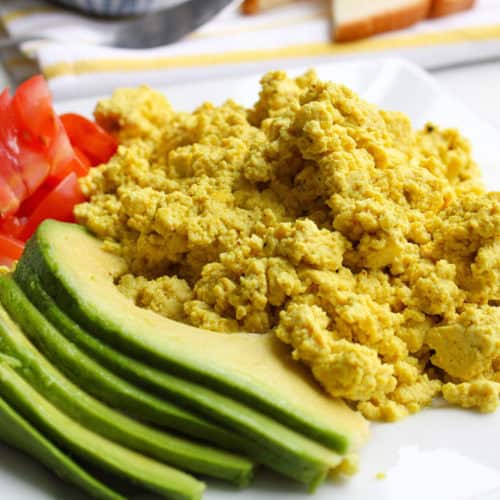 Tofu Scramble
This vegan tofu scramble is made with firm and medium tofu, turmeric, nutritional yeast, vegetable bullion, black salt, spinach, tomatoes and more. A perfectly healthy breakfast option, you can serve it with some toast or a smoothie.
Ingredients
2

14 oz. blocks

tofu

1 firm and 1 medium

½

tsp

turmeric

¼

tsp

black salt

¼

cup

nutritional yeast

¼

tsp

garlic powder

½

tsp

vegetable bullion

½

cup

water
Optional
2

cups

Spinach

roughly chopped

2

Roma tomatoes

chopped

½

avocado

sliced
Instructions
In a small bowl, combine the turmeric, black salt, nutritional yeast, garlic powder, vegetable bullion and water. Whisk together until there are no more lumps. If you have a blender, then put these ingredients into a blender, as you'll want these ingredients to blend together and become a smooth liquid with no lumps. Set aside.

Next, dry the blocks of tofu with paper towels to get the extra moisture out.

Crumble the two blocks of tofu into a bowl by breaking up the tofu with your fingers.

Sprinkle salt and pepper onto the tofu.

Heat a medium-sized frying pan to high heat. Dump in all of the crumbled tofu and the sauce mixture. You won't need oil in the pan, since the tofu already has so much moisture, the oil isn't necessary.

Stir to combine in the pan, and let the pan get hot enough so that the watery tofu mixture starts bubbling/simmering.

Continue to stir the tofu scramble and occasionally let it sit in the pan for another 10 minutes. During this time, the water will evaporate and the coloring will become more egg-like.

After 10 minutes, the tofu scramble will be done, and you can either serve it straight on a plate with some toast, or add the spinach and tomatoes into the pan at this time and sauté for another 5 minutes.
Notes
You can replace the garlic powder with 1-2 cloves of minced garlic, if you want a more intense garlic flavor. Just make sure to sauté the minced garlic in a pan with 1 tbs. of oil before adding the crumbled tofu. You want the garlic to brown and become fragrant.
Nutrition Facts
Nutrition Facts
Tofu Scramble
Amount per Serving
% Daily Value*
* Percent Daily Values are based on a 2000 calorie diet.
Nutrition Facts
These values were taken from a nutrition calculator.
Share by Email
Share on Facebook
Share on Twitter
If you are interested in more breakfast options, then check out my recipes and look for my Best Crunchy and Chunky Granola and Chocolate Coconut Cereal.