My Crunchy and Chunky Granola is one of my favorite healthy snacks and breakfast items. What I like about granola is that it's super easy to make, you can put anything you want in it, and it can be a healthy treat to satisfy a sweet tooth. Personally, my favorite ingredients to put in granola is almonds, pecans, dried cranberries and a variety of seeds. It bakes nicely, and you get a good combination of crunchy and chewy.
I first started making this in Sophomore year of college, because that was a time I was exploring cooking more and wanted to make a healthy breakfast item that I could just grab and go in the mornings. I didn't want to buy granola at the store (and still don't), because it's pretty difficult to find a healthy granola for a reasonable price. Granola sold in stores can be inexpensive, but they have lots of added sugar, bad oils, and preservatives.
The granola at the store that is actually healthy, costs almost $10 a bag. I wanted to make a granola that was delicious, had a good balance between chewy and crunchy, and a granola that didn't have one unhealthy ingredient in it. I wanted to feel good after I ate it! Although granola is a naturally calorie dense food, the cook can have a lot of control over the quality of the ingredients and its nutrient content. This is why you'll see below my granola will have many nutrient-dense foods-like nuts and seeds.
Granola overall can be a super flexible food. You can put whatever you want in it, and it will 9/10 turn out great. It's really just a simple combination of grains, a sweetener, a fat, nuts, dried fruit and sometimes seeds. 
Other Granola Recipes to Try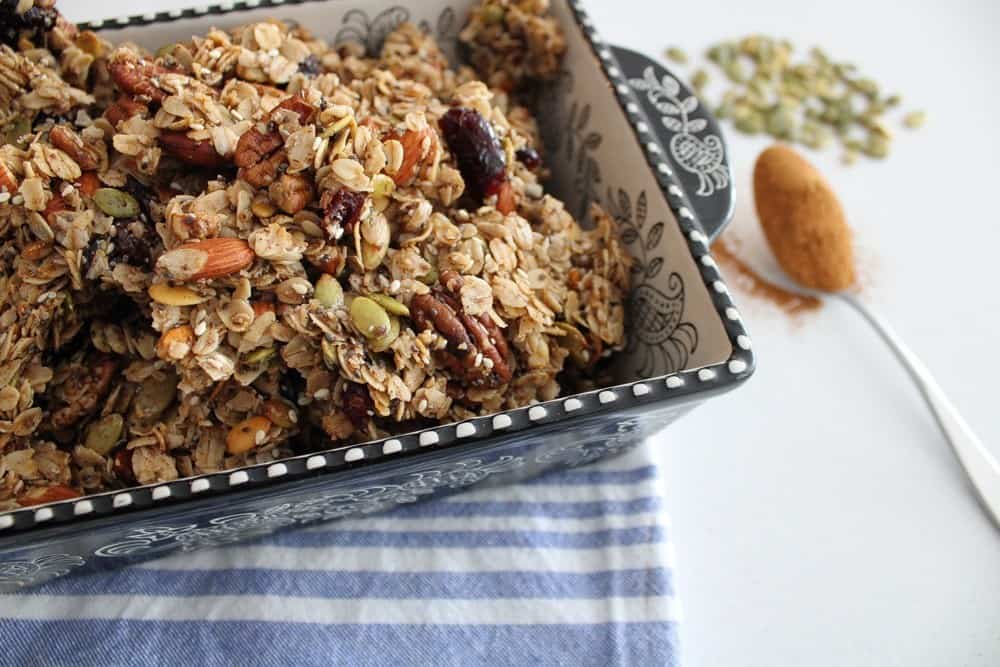 Alright, let's dive into my healthy Crunchy and Chunky Granola.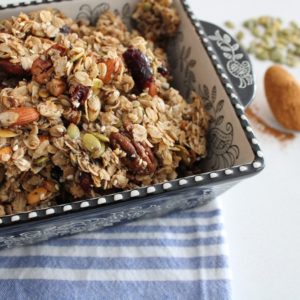 The Best Crunchy and Chunky Granola
If you are looking for healthy breakfast and snack options, then my Best Crunchy and Chunky Granola is for you! Made with dried cranberries, almonds, pecans, and more, it will keep you full for the first half of the day.
Ingredients
3

cups

old-fashioned rolled oats

⅔

cup

pure maple syrup

½

cup

coconut oil

melted

1

tsp.

vanilla

1

tsp.

cinnamon

½

cup

almonds

roughly chopped

⅓

cup

pecans

roughly chopped

½

cup

dried cranberries

½

cup

pumpkin seeds

2

tbs.

sesame seeds

2

tbs.

chia seeds

2

tbs.

ground flaxseeds

pinch of salt
Instructions
First, preheat the oven to 350 degrees Fahrenheit. Line a baking sheet with parchment paper, and then spread out the oats on the lined baking sheet. Roast in the oven for 10-15 minutes, until fragrant.

Meanwhile, combine all the dry ingredients into a large bowl: almonds, pecans, dried cranberries, pumpkin seeds, sesame seeds, chia seeds, and ground flaxseed.

Combine all the wet ingredients into a smaller bowl: maple syrup, melted coconut oil, salt, vanilla, including the cinnamon.

Then take the roasted oats out of the oven and dump them into the large bowl of dry ingredients. Mix well.

Then dump the wet ingredients into the large bowl of dry ingredients. Mix well.

Using the same lined baking pan, dump the granola mixture onto the pan and evenly spread it out. You don't want an uneven layer of granola, because that can cause the edges to burn while the middle remains uncooked.

Then bake for 20 minutes at 400 degrees Fahrenheit. Once it's done, let it cool on the pan for 20-30 minutes so that the coconut oil and syrup mixture can harden.
Nutrition Facts
Nutrition Facts
The Best Crunchy and Chunky Granola
Amount per Serving
% Daily Value*
* Percent Daily Values are based on a 2000 calorie diet.
Nutrition Facts
These values were taken from a nutrition calculator.
Share by Email
Share on Facebook
Share on Twitter
If you liked this Chunky and Crunchy granola, and are looking for other breakfast options, then check out my Energizer Berry Smoothie. It's packed with fresh fruits and vegetables that will give you a boost of energy in the morning. If you are still looking for breakfast inspiration, then check out these 25 vegan breakfast ideas by my friend Freya at Sweeter Than Oats.