Smoothies have always been one of my favorite healthy drinks. This energizer berry smoothie recipe is extra special, because over the last year or so, I have made it every time I've wanted to have more energy. Not only does it taste good at the moment, but I have found that if I drink it every day or on a regular basis, I feel more energy overall throughout my days and I have clearer skin.
Although this is purely subjective, the results don't surprise me considering the ingredients I put in this smoothie recipe. This smoothie is full of antioxidant-rich berries, spinach, hemp seeds, pineapple, and much more. I think it's so important to fuel our bodies with foods that come from the earth, rather than a package. Not only are we being kinder to the earth, but kinder to our bodies as well.
This berry energy smoothie is intended to be one big serving because it should supply plenty of nutrients and energy to your day. However, if you find that it's too much, it can be split into two servings, or you can half the recipe. It's a simple berry smoothie without yogurt, so it can be perfect for people with dietary restrictions.
Mixed Berry Smoothie Ingredients
Tri-Berry Mix: For this energizer berry smoothie, you can any variety of berries you want or have on hand. My go-to mix is raspberries, blackberries, and blueberries. However, you can also add strawberries, marionberries, acai berries, or others. Adding a mixture of berries will add deep, rich color and flavor to your superfood berry smoothie. Plus, it will add a ton of nutrients and antioxidants.
Frozen Banana: In this berry energy smoothie recipe, I recommend adding one frozen ripe banana. Frozen banana in this berry energy smoothie will act as the natural sweetener and will make the smoothie taste creamier. Instead of adding juice, cane sugar, or some other natural sweetener, bananas also give your smoothie added fiber content.
Pineapple: Pineapple is another superfood and is full of vitamin C, manganese, copper, vitamin B6, thiamine, and more. One serving of pineapple will give you 88% of your daily value (DV) of vitamin C and 109% DV of manganese. Plus, pineapple will add a sweet and sour flavor to your energizer berry smoothie.
Spinach: It wouldn't be a superfood berry smoothie without spinach. In this simple berry smoothie without yogurt, add about one packed cup of raw spinach. You can use fresh or frozen. This will add a ton of nutrients to your smoothie, and give you energy throughout the day.
Plant-Based Milk: I recommend plant-based milk over water, juice, dairy milk, or other alternatives. It's going to be more nutrient-dense, and you can choose which plant-based milk fits your dietary preferences. If you want more protein in your energizer berry smoothie, add pea or soy milk. If you want to minimize your calorie intake, add almond milk.
Lime Juice: Lime juice will add a tart citrusy flavor to your superfood berry smoothie, and level up the freshness. Only add two tablespoons for this recipe. If you add more, you'll either need to balance it out with extra sweetener, or it will be too tart.
Hemp Seeds: Hemp seeds add to the nutrition profile and energizing capability of this smoothie! Hemp seeds are full of plant-based protein and essential fatty acids, like omega-3 and omega-6s. Hemp seeds are also a great source of magnesium, which has been shown to help regulate your heartbeat and the prevention of certain heart diseases.1
How Do You Make Berry Smoothies?
Prep the Ingredients: Start by prepping the ingredients. Cut your frozen bananas into one-inch discs, juice a lime, cut up some pineapple, and measure out the milk, berries, spinach, and hemp seeds.
Blend Smoothie: Using a high-speed blender, put all of the ingredients into a blender and blend on medium to high speed. Check the consistency and flavor of the smoothie after one or two minutes of blending. Add more plant-based milk or sweetener if needed.
Serve: Pour into a bowl or glass and serve by itself or with a bowl of yogurt and granola.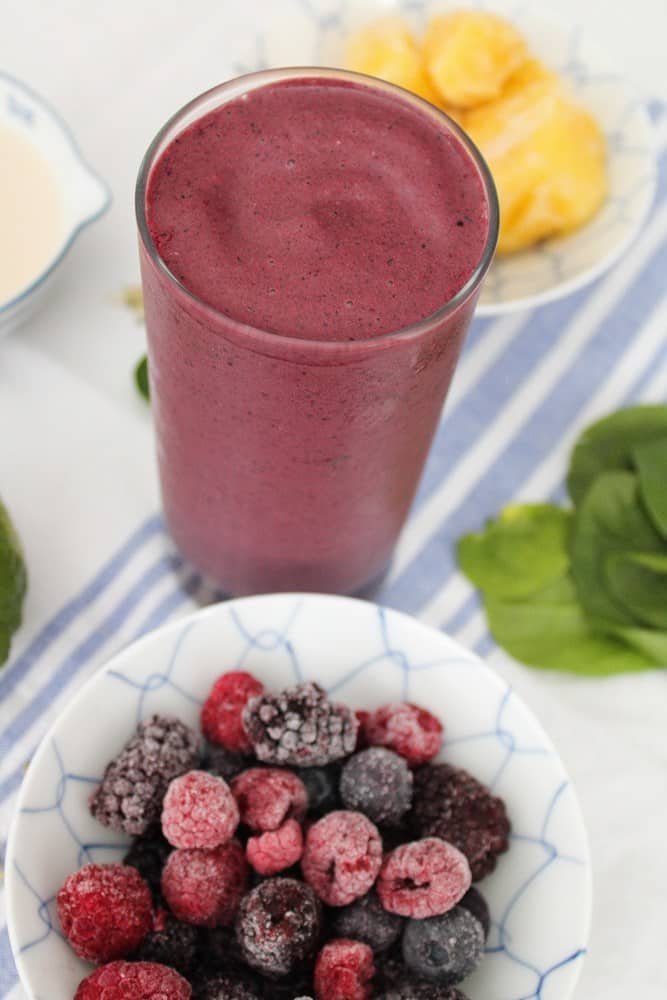 Are Berry Smoothies Healthy?
Yes! Berry energy smoothies are extremely healthy for you, especially this berry smoothie recipe.
Berry smoothies are loaded with antioxidant-rich berries. Why are antioxidants important for your health? They kill free radicals (which are molecules) in your body. If you have too many free radicals in your body, then it can lead to oxidative stress, damage your cells, and lead to the development of serious diseases, such as cancer. Increased oxidative stress can lead to diseases like cancer because it increases your body's probability of experiencing DNA mutations or damage.2
Not only do berries have antioxidants, but so does spinach. The other whole foods in this smoothie can also contribute to cell repair, an improved immune system, improved brain function, and much more.
Will a Fruit Smoothie Give You Energy?
Yes! Fruit smoothies, especially this energizer berry smoothie, will give you lots of energy, especially if consumed regularly. That's because of the vitamins, minerals, and antioxidants found in the smoothie ingredients. In particular, the consumption of antioxidants can reduce inflammation and fatigue experienced in the body, and therefore increase your energy levels.
This smoothie recipe is a perfect pre-workout snack to help you increase your energy and performance in the gym!
How Many Calories Are in Berry Smoothies?
This smoothie recipe is 322 calories if you drink the whole batch. If you split this energizer smoothie recipe into two servings, then each serving becomes 161 calories.
If you want a breakfast with more calories, then I recommend serving it with your favorite breakfast side or drinking it as a morning energizer drink rather than a meal.
What to Serve With This Energizer Berry Smoothie
If you don't want to drink this smoothie alone, pair it with a well-balanced dish. Pairing it with egg scramble, granola, or avocado toast makes for a well-balanced breakfast option.
Making it for a 2 PM pick-me-up energizer is equally effective. One of my favorite times to make this energizer berry smoothie is in the evening as a post-dinner dessert! It's so sweet and tart and perfectly satisfies a sweet tooth.
How to Store Leftover Energizer Berry Smoothie
If you can't finish the whole batch, then put the leftover smoothie in an air-tight container or freezer Ziploc bag, and store it in the freezer until you're ready to finish it.
When you want your smoothie, thaw it for a few minutes (roughly 30 minutes), and blend it with some plant-based milk.
More Healthy Smoothie Recipes
Other Breakfast Ideas
The Energizer Berry Smoothie
This Energizer Berry Smoothie can act as a delicious snack or breakfast option. Filled with berries, spinach, pineapple, lime juice, plant-based milk, and bananas, it's sure to give you sustained energy.
Ingredients
1

cup

frozen tri-berry mix (raspberries, blackberries, blueberries)

1

frozen, ripe banana

sliced into 1-inch discs

1

cup

Plant-based milk

I prefer soy milk for added protein

1

cup

spinach

packed

⅓

cup

pineapple

cut into cubes

2

tbs.

lime juice

1

tbs.

hemp seeds
Instructions
Blend all the ingredients in a blender until smooth.
Nutrition Facts
Nutrition Facts
The Energizer Berry Smoothie
Amount per Serving
% Daily Value*
* Percent Daily Values are based on a 2000 calorie diet.
Nutrition Facts
These values were taken from a nutrition calculator.
Share by Email
Share on Facebook
Share on Twitter