I remember when I was in middle school and high school, my mom and I would go to our local grocery store. Every once in a while, we would have lunch there. I remember they always had this pickled beet salad with bell pepper and onions. I loved it so much, and this was one of the salads I always got because I knew it was healthy, but it didn't feel like it because it was so good. It was one of those dishes that introduced me to love beets.
So, when I was older and got more into cooking, I wanted to re-create this dish, so I could eat it more often without paying those deli prices! So, in this easy recipe, I show you how quick it is to prepare this salad, how good it is, the benefits of eating pickled beets, and storing tips to make it last longer.
How to Prepare Beets for a Salad
There is a multitude of ways to prepare beets for a salad. Because beets are too tough raw, you'll need to cook them so they become softer. The two most popular methods are boiling and roasting. If you roast beets, bake them at roughly 400°F for 50-60 minutes, or until soft when pierced with a fork.
If you want to boil beets, place the raw beets in a pot of water, and make sure they are fully covered. Add a tablespoon of lemon or vinegar for every pound of beets you boil, as this will prevent the beets from bleeding. Bring the pot of beets to a boil, then reduce the heat to a simmer. Cook the beets for 45-60 minutes, or until fork tender. When they are done cooking, rinse them off with cold water.
If you want to learn how to prepare beets for this pickled salad recipe, check out my tutorial on roasted beets.
Ingredients 
Beets: This is the most obvious ingredient. You'll want to use already prepared beets, whether roasted, boiled, or pre-packaged.
Red Bell Peppers: Red bell peppers will add a crunchiness to the salad, which will nicely contrast with the soft texture of the beets. Plus, it will add a refreshing and sweet flavor profile to the dish!
Red Onion: Not only will sliced red onions add crunchiness to the salad, but it will add that hint of spice you often get with raw onions.
Italian-Style Vinaigrette: In this recipe, I made an Italian-style vinaigrette. However, if you're strapped for ingredients and time, you can either use a store-bought vinaigrette or just use a mixture of extra virgin olive oil, white vinegar, salt, and pepper. If you keep it simple and just use oil and vinegar, then I recommend following the measurements in this recipe. A good rule of thumb is to always use a ratio of 2:1 or 3:1 of oil to vinegar. You could also try my balsamic vinaigrette recipe!
Why Are Pickled Beets Good For You?
Pickled Beets are good for you because they have a multitude of vitamins, minerals, and antioxidants. For one 3.5oz serving, they have a 20% daily value (DV) of folate and 14% of manganese, which can help with growth, development, and heart health.
Research has even linked beet consumption with improved athletic performance and anti-inflammatory effects. It's recommended to eat beets regularly in order to experience and maximize any benefits.
How Much Potassium in Pickled Beets?
In one 3.5oz or 100-gram serving of pickled beets, you can get 7% of your daily value (DV). However, when you add red onions and red bell peppers to your serving from this recipe, you can increase your consumption of potassium by a few percentage points, as they are also good sources of potassium.
Will Pickled Beets Lower Blood Pressure?
Yes, pickled beets could lower blood pressure. In a study, where researchers analyzed older, overweight subjects, they found that consumption of beets lowered blood pressure. There are many studies that show the association between beet consumption and lower blood pressure.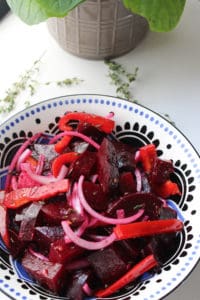 How to Store This Pickled Beet Salad
You can store this quick pickled beet salad in an air-tight container in the refrigerator for maximum freshness. I wouldn't recommend freezing this pickled salad, as it could ruin it.
How Long Does Pickled Beet Salad Last?
Pickled beet salad can last for about one week, on average, but up to 2 weeks max. If you want to make it last as long as possible, I recommend storing it in an air-tight container.
What Substitutions Can You Use?
Although this recipe is pretty simple, you can still find and use substitutions for some of the ingredients if you don't have them on hand. If you don't have white vinegar, you can always substitute balsamic vinegar or red wine vinegar. Balsamic vinegar pairs great with the sweet flavors of beets and can give the salad an extra depth of flavor and sweetness. You can also use yellow or orange bell peppers if you don't have red bell peppers on hand.
If you don't have access to fresh herbs, feel free to replace those asked in the recipe with dry herbs.
Lastly, you can add extra toppings to this salad like crumbled goat cheese, walnuts, and micro greens.
Popular Beet Salad Recipes
More Salad Recipes to Try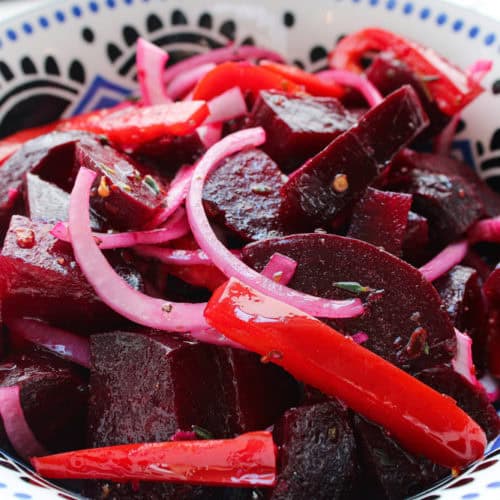 Quick Pickled Beet Salad with Onions and Red Bell Peppers
This quick pickled beet salad is made with roasted beets, red bell peppers, red onions, and marinated with an Italian-style vinaigrette. It's a quick and simple recipe that will add a refreshing component to any meal.
Ingredients
6

medium-large roasted beets

or two bunches

1

red bell pepper

sliced

½

red onion

sliced

½

cup

extra virgin olive oil

½

cup

white wine vinegar

I use white Modena vinegar

1

tbsp.

honey

1

garlic clove

crushed or grated

1

tsp.

fresh thyme

chopped

½

tsp.

oregano

dried or fresh

¾

tsp

salt

1

tsp.

ground pepper

½

tsp.

red pepper flakes

optional
Instructions
Cut the beets into 1-inch cubes.

Combine the beets, red bell peppers, and red onion into a large serving bowl.

Next, make the salad dressing. Combine the extra virgin olive oil, white wine vinegar, honey, fresh thyme, oregano, salt, pepper, and red pepper flakes in a large measuring cup or bowl. Stir with a whisk until the dressing is emulsified. You will have to whisk for about one minute for the vinegar and oil to emulsify.

Pour the dressing over the beets and other vegetables into the serving bowl. Stir to combine to ensure the dressing covers all of the vegetables.

This step is optional, but you can put plastic wrap or a silicone stretch lid on top and let it chill in the fridge for at least 30 minutes or overnight.
Nutrition Facts
Nutrition Facts
Quick Pickled Beet Salad with Onions and Red Bell Peppers
Amount per Serving
% Daily Value*
* Percent Daily Values are based on a 2000 calorie diet.
Nutrition Facts
These values were taken from a nutrition calculator.
Share by Email
Share on Facebook
Share on Twitter