I remember going to the grocery store (namely Whole Foods), and going to the deli section to buy their pre-packed, family style salads. They used to sell a family dinner with a side salad all for $10. As a young teen, I thought it was a great deal – and a delicious meal option. My mom and I often got the salad with the balsamic vinaigrette recipe.
What I remembered most about it, was how amazing it was. It really turned me on to this type of salad dressing. I was so impressed by the balance of Unami, creaminess, but lightness the salad dressing had. It didn't taste "super healthy" if you know what I mean.
It also wasn't like those Italian vinaigrettes that are super light, and you can tell the difference between the oil and the vinegar, because it hasn't fully emulsified yet.
So, when I went home to try to recreate it, I just couldn't get the same effect. I tried mixing oil, balsamic vinegar, sugar, and salt and pepper, but couldn't get the same product. What was I doing wrong?
Well, I'm excited to share that I finally figured it out! It made all the difference. Below, you'll find my secret ingredient and recipe for this balsamic vinaigrette recipe, answers to commonly asked questions, and tips to make it the best. Once you make this recipe, you'll be confident enough to skip buying it in the stores, and opt for this healthier version regularly. To begin, let me go over the most common ingredients used for this salad dressing.
What is Balsamic Dressing Made Of?
You may be wondering what my secret ingredient is to make this balsamic vinaigrette recipe taste like what you buy in the stores. Check the list below to find out what it is!
Olive Oil: It wouldn't be a vinaigrette without an oil. I use extra virgin olive oil, as it has a better flavor profile than other oils and is best used in Italian style salads. When making any salad dressing, you want to use 2 parts oil to 1 part vinegar. This is how you ensure the balsamic dressing is not too oily or too sour.
For this recipe, I use ½ cup of extra virgin olive oil.
Balsamic Vinegar: The star of the show! Following the 2:1 ratio, I use ¼ cup of balsamic vinegar. Just like cheese, buying aged balsamic vinegar is important. For salad dressings, you will want to buy balsamic dressing aged for at least 12 years. The more aged it is, the deeper and more complex the flavors will be. It will have a denser, more syrup-like consistency.
Balsamic dressing can be aged for as long as 25 years. Usually, you can tell by the color of the cap how many years the vinegar has been aged.
Garlic: You can't forget about garlic. Garlic adds the Unami and spiciness that enhances the flavor of the balsamic vinaigrette recipe. I recommend crushing or finely grating the garlic (using a micro-plane grater). This will make the flavor of the dressing less intense, and better emulsify the flavor of the garlic into the dressing. I use one large garlic clove for this recipe.
Dijon Mustard: This is my secret ingredient! Dijon mustard is the secret to helping the salad dressing emulsify when you stir it. Plus, it will give it the creaminess factor that you are looking for. All you need is one tablespoon.
Honey: Honey will add the much-needed sweetness to balance out this sour balsamic vinaigrette recipe. You can also use sugar if you don't have honey. Other natural sweeteners like agave nectar, maple syrup, and coconut nectar is also free game. I usually add 1 tsp., but you can add more if you prefer a sweeter dressing.
Salt & Pepper: The flavors wouldn't be quite there without salt and pepper. I don't have an exact measurement for this. I usually just put in a pinch of each, stir to combine, and then taste-test the dressing until my liking.
How Do You Make This Balsamic Vinaigrette Recipe?
Making balsamic dressing is super easy! Just combine the oil, vinegar, grated garlic, honey, Dijon mustard, salt, and pepper into a small bowl.
Then take a whisk, and quickly whisk it for about 1-3 minutes, or until it becomes thicker and emulsified. The picture below shows how it should look after you whisk it.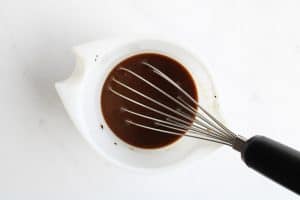 Is Balsamic Vinegar Dressing Healthy?
Yes! Balsamic dressing is super healthy. There's not one unhealthy ingredient. Studies have shown that olive oil and garlic can reduce inflammation.
Olive oil and the other ingredients like garlic have a ton of antioxidants as well. Antioxidants kill the oxidants in your body that tend to lead to aging and sickness.
Aside from these amazing benefits, balsamic dressing provides a healthy level of fats to keep you fuller for a longer period of time. But make sure to pair this with lots of fiber and protein rich foods, so you can experience the full benefits.
Is Balsamic Vinaigrette Good for Weight Loss?
It can be! Now, it's important to remember, that if you want to lose weight, you should burn off more calories than you consume. Therefore, it's still possible to gain weight if you eat too much of this salad dressing. That's because there's a 2:1 ratio of oil to vinegar in this recipe. Oil contains mostly fat, which has 9 calories per gram than 4 calories per gram in comparison to protein and carbs.
However, if you pair one or two servings with a big salad, this meal option will keep you full and satiated, which will aid you in weight loss.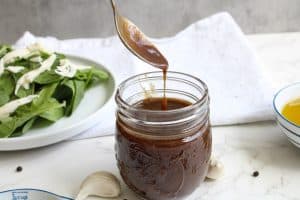 How Long Does This Balsamic Vinaigrette Recipe Last?
It can last in an air-tight container in the fridge for 1-2 weeks. I usually keep it in the fridge no longer than a week, as the oil may become crystalized if stored in the back of the fridge.
Does Balsamic Dressing Have Gluten?
No! Balsamic dressing should naturally be gluten free. However, I always recommend to check the packaging for the ingredients list, or check to see if there is a gluten-free label.
Balsamic vinegar is also naturally gluten free. However, there could be a small chance that the balsamic vinegar you use has gluten contamination. The casks, or barrels used to store balsamic vinegar sometimes uses a wheat-based paste to seal the barrels.
You can find this out by researching the brand you plan to buy from. Plus, you reduce your chance of gluten contamination by buying real aged (not imitation) vinegar made in Italy.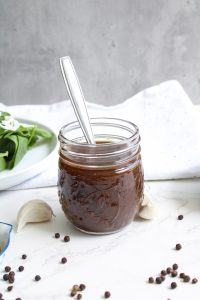 Is This Balsamic Vinaigrette Recipe Vegan?
Yes, it can be! However, this particular recipe is not vegan, because of the use of honey. The vegan community considers honey an animal-based product, because it comes from bees. Not only are bees an endangered species, but the honey harvesting process is not the most ethical either. So, vegans stay away.
However, you are more than welcome to substitute honey in this recipe with either cane sugar, agave nectar, coconut nectar or another favorite sweetener of yours.
Can You Have Balsamic Dressing on Keto?
Yes! You can have this balsamic dressing on a keto diet. However, just keep in mind the sweetener that is used. You'll want to make sure you keep track of this for your daily intake. However, most balsamic dressings will have anywhere from one to six grams of net carbs.
You can also omit the sweetener altogether when making this balsamic vinaigrette.
Try These Other Salad Dressings
Salads to Pair with This Balsamic Vinaigrette Recipe
Other Healthy Salads to Try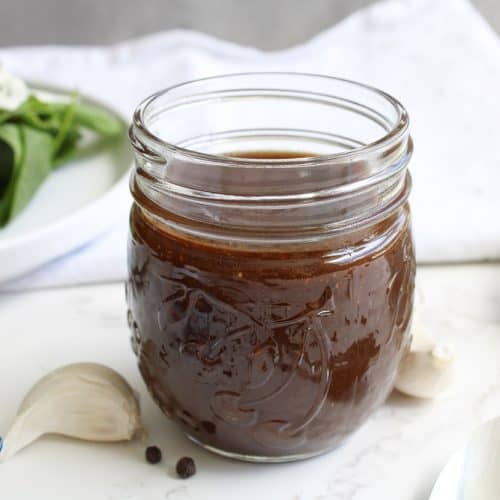 The Best Balsamic Vinaigrette Recipe
This balsamic vinaigrette tastes just like you bought it from the store, but it's healthier! Made with extra virgin olive oil, balsamic vinegar, garlic, honey, and more. It's a quick, simple, easy, and healthy salad dressing for quick weeknight dinners and meal-prepped lunches.
Ingredients
½

cup

extra virgin olive oil

¼

cup

balsamic vinegar

1

clove

garlic

finely grated or crushed

1

tbs.

Dijon mustard

1

tsp.

honey

salt and pepper

to taste
Instructions
In a small mason jar, combine the olive oil, balsamic vinegar, grated garlic, Dijon mustard, honey, and salt and pepper.

Taking a whisk, whisk together for 1-3 minutes, until an emulsion fully forms with the oil and vinegar. This will allow you to get that store-bought feel from homemade balsamic dressing.

Serve over salad and enjoy!
Nutrition Facts
Nutrition Facts
The Best Balsamic Vinaigrette Recipe
Amount per Serving
% Daily Value*
* Percent Daily Values are based on a 2000 calorie diet.
Nutrition Facts
These values were taken from a nutrition calculator.
Share by Email
Share on Facebook
Share on Twitter