I love the idea of creamy pasta, such as Alfredo. What's not to love? It tastes amazing, it's warm and comforting. However, I just don't like how it makes me feel after I eat it. I feel really tired, lethargic, and gassy when I eat this. This is why I created this Creamy Sausage Asparagus Pasta recipe. It's a slightly lighter version of Alfredo, because it uses half & half instead of heavy cream, less butter, and incorporates vegetables that will also make it lighter.
Although it's not the lightest version I've ever come across (a vegan version would cut that cake), it still does an amazing job. That's because it tastes and feels exactly like Alfredo. It doesn't feel like a substitute whatsoever, and that's key! This recipe serves to not feel like a healthy substitute while still being healthier at the same time than the traditional recipe. Below, I'll go over some tips on how to make this dish (and others like it) great.
Make a Roux
A roux is a mix of equal parts oil and flour. Roux's act as a base for soups and sauces in order to make the consistency of the dish thicker later in the cooking process. In this recipe, I add equal parts all-purpose flour and salted butter so that the half & half will thicken later on in the cooking process, right before adding the pasta. This will help the dish to get that creamy texture.
Use Quality Ingredients
This next tip is huge! It's super easy to overlook this part, because it's definitely not worth anyone's time to go searching for or growing the best quality ingredients. However, whenever you have the option, make sure you pick quality ingredients – whether that looks like picking produce from your garden, buying an herb plant at the store, choosing locally sourced ingredients, or another option – picking quality ingredients can actually increase the intensity of flavor in any dish.
For example, parmesan cheese. I know it's more expensive, but if you can, buy the parmesan that has been aged for at least a year, if not more. Don't get parmesan cheese that's been aged for less than a year. Although it will do the job well, the flavors will be more intense and developed in parmesan that has aged for a longer period of time.
Also, just don't buy Kraft Parmesan cheese. That stuff isn't real. Now, I could devote a whole article to the ins and outs of parmesan cheese, so I won't go on. Let me know if you would like another article on the grades, origins, and age tiers of parmesan cheese, or Parmigiano Reggiano.
Never Forget Egg Yolks
Adding whipped egg yolks while you are making the cream sauce will make the dish extra, extra creamy and give it an extra layer of richness. Don't miss this step.
Other Recipes to Try
If you need some more inspiration for weeknight dinners, or you want something to pair with this creamy sausage asparagus pasta, then check out the dishes below.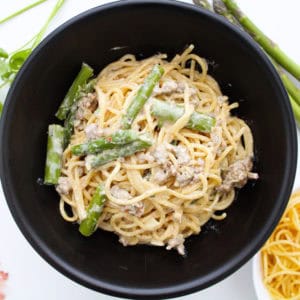 Creamy Sausage Asparagus Pasta
This Creamy Sausage Asparagus Pasta is perfect for weeknight dinners. Made with freshly ground Italian Sausage, asparagus, creamy white sauce, and more.
Ingredients
½

onion

diced

6

cloves

garlic

minced

2

tbs.

butter

2

tbs.

olive oil

¼

tsp.

nutmeg

ground or grated

2

egg yolks

whipped

2

cups

half & half

⅓

cup

Romano cheese

⅓

cup

parmesan cheese

1

lb.

ground hot Italian sausage

2

cups

asparagus

steamed

¼

cup

Parsley

to garnish

12

oz.

spaghetti, cooked

you can add more or less depending on how saucy you want the dish to be

Salt and pepper

to taste
Instructions
Heat a pot of salted water to boil, and cook the pasta according to package instructions.

Next, start steaming the asparagus. Start by putting 1/3 cup of water into a sauce pan and heating it to high. Once the pan gets hot, reduce the heat to medium. Throw in the chopped asparagus, cover with a lid, and steam for 10 minutes or until fork tender.

Next, cook the ground sausage by heating the pot you will eventually make the pasta in on high. Put in the whole pound of sausage and break it up with a spatula as it begins to cook and brown. No need to add oil to this step. The fat in the sausage will prevent the meat from sticking to the pan and burning.

Once it's done, drain the meat and set aside.Use the residual sausage oil and crumbs left in the pan to start cooking your pasta sauce. This will give it extra flavor!

Then heat the same pot with the olive oil and butter.

Until the butter is fully melted in the pan, throw in the onions. Season with salt and pepper. Caramelize for 5-10 minutes.

Add in the minced garlic, and sauté until fragrant, about 2 minutes. Then add in the nutmeg and sauté for another minute.

Add the 2 cups of half and half and let it simmer for roughly 10 minutes, until the sauce starts to thicken slightly.

Take the small bowl of whipped egg yolks, and slowly drizzle it into the pot as you quickly whisk the cream mixture. You don't want to dump all the egg yolk into the sauce at once, because then it will clump and cook, and prevent your sauce from becoming extra creamy.

Once you've added the egg yolk and whisked the sauce for roughly a minute, add the Romano and parmesan cheese next. You'll want to slowly add the cheese into the sauce like you did with the egg yolk.

Add back in your spaghetti, sausage and asparagus until the sauce fully coats the noodles, sausage and asparagus.

Garnish with chopped Italian parsley, and enjoy!
If you make this recipe, please leave a comment down below on how you liked it. Or if you have questions or critiques on the recipe, then comment also! When you make this recipe, don't forget to take a picture, and tag me on Instagram at @audreythena_foodgoddess.
If you liked this Creamy Asparagus Sausage Pasta, then check out my Chicken Green Bean Mushroom Stir Fry for another dinner or lunch idea. Or, if you are looking for more pasta ideas, then check out this Healthy Mediterranean Pasta from my friend, Sara, at Cooking with Fudge.