I love the idea of creamy pasta, such as Alfredo. What's not to love? It tastes amazing, it's warm and it's comforting. However, I just don't like how it makes you feel after you eat it. Do you ever feel tired, lethargic, and bloated after you eat Alfredo? It's so delicious, but you know you'll be paying the price when you eat it. That's why I created this creamy sausage asparagus pasta recipe. It's a slightly lighter version of Alfredo, and won't make you feel nearly as tired as the classic. It uses half and half instead of heavy cream, less butter, and incorporates vegetables that will also make it lighter.
Although it's not the lightest version you'll ever come across (a vegan version would cut that cake), it still does an amazing job. That's because it tastes and feels exactly like Alfredo. It doesn't feel like a substitute whatsoever, and that's key! This recipe serves to not feel like a healthy substitute while still being healthier at the same time as the traditional recipe. Below, I'll go over the ingredients you'll need to make this Italian sausage and asparagus pasta, how to make it, and tips to make it great.
Ingredients for Asparagus Sausage Pasta
Pasta: In this asparagus and sausage pasta recipe, I recommend using 12 oz. of pasta. You can use more or less, depending on how saucy you want your sausage asparagus pasta to be.
Ground Hot Italian Sausage: Ground Italian sausage will add much of the hearty, umami flavor. It will also give it that classic Italian flavor while adding more protein to keep you full. In this sausage asparagus recipe, I recommend using one pound.
Asparagus: Asparagus will add that level of freshness to cut the half and half and butter. I call for two cups of chopped, steamed asparagus. Steam it separately, and throw it into the pasta when you are assembling the dish.
Half and Half: Traditional recipes use heavy cream. However, in my experience, eating a lot of heavy cream gives me brain fog and makes me feel really tired. Plus, it's really unhealthy due to its high-fat content. That's why in this recipe, I use half and half. It makes for a lighter Alfredo-style dish without sacrificing flavor. You can buy half and half at the store in a carton. It's just 50% milk and 50% heavy cream. The milk is used to dilute the cream.
Nutmeg: Adding this ingredient may sound weird. However, by adding a small amount of nutmeg, you can enhance the cheesy flavor of your dish. Many chefs add nutmeg to cheesy dishes, especially Alfredo dishes and mac n cheese in order to enhance its flavors.
Parmesan Cheese: I recommend using 1/3 cup of Parmesan cheese in this asparagus sausage recipe. It will make the dish cheesy and add extra umami flavor.
Romano Cheese: Romano cheese will add another salty flavor to the dish, and give it that classic "cheesy" feel. In this recipe, I use 1/3 cup as well, which makes for a 1:1 ratio of Parmesan and Romano cheese. Both the Romano and Parmesan cheese will act to thicken the cream sauce you make for the pasta.
Yellow Onion: I start making creamy sausage asparagus pasta by caramelizing chopped onions. This adds a sweet base flavor to the pasta and adds a lot of flavor.
Garlic: It wouldn't be an Italian pasta dish without lots of garlic. In this creamy sausage and asparagus pasta recipe, I use six cloves of minced garlic. Garlic is going to give the dish more umami flavor and give it a hint of spice.
Butter: I use significantly less butter in this asparagus sausage pasta recipe than in traditional recipes. I use two tablespoons of butter for an entire dish. This way, you can still taste the butter without the quantity. Plus, by using less butter, you won't get the brain fog effect as easily.
Egg Yolk: Egg yolk is one of my secret ingredients. Whip one or two egg yolks in a small bowl. Then, once you have simmered the half and half in your pan and it starts to thicken, slowly drizzle in the egg yolks and whisk quickly to combine. This will make your asparagus pasta extra creamy and rich.
Olive Oil: Olive oil is used in combination with butter at the beginning of the cooking process. No Italian dish is done without quality extra virgin olive oil.
Parsley: Drizzle chopped parsley on top of the finished dish to add extra freshness to the creamy pasta.
How to Make Creamy Sausage Asparagus Pasta
Boil the Pasta: Heat a pot of water over medium-high heat. Add at least a tablespoon of salt to the water before adding your pasta. Adding salt will prevent your pasta from being too bland. Once the water starts to boil, add 12 oz. of pasta, and cook it to al dente, about 10 minutes. Make sure you don't overcook the pasta.
You want the pasta to have a bite (be a little chewy) when you are done boiling it. If it's cooked past al dente, you risk the pasta getting too mushy when you cook it in the alfredo sauce.
Steam the Asparagus: In this recipe, I ask for two cups of chopped asparagus. You can start with whole asparagus, and chop it after it has been steamed. Or you can chop the raw asparagus and steam the cut pieces.
There are several methods you could steam asparagus. You can use a rice cooker to steam it. If you don't have one, then fill a pot with at least 1/3 cup of water. Place a vegetable steamer basket in the pot, and place the two cups of asparagus in the steamer basket. Cover the pot with a lid and bring the water in the pot to a bowl. Reduce the heat to medium-high, steam the asparagus for 3-5 minutes or until fork tender.
If you don't have a vegetable steamer basket, you can take a regular saucepan and put 1/3 cup of water in it. Bring it to a boil, and reduce it to a simmer. Put the raw asparagus in the pan, cover it with a lid, and steam for 3-5 minutes. With this method, you don't need any fancy equipment!
Cook the Italian Sausage: Take a saucepan or frying pan, and heat it over medium-high heat. Once the pan is heated, put one pound of ground Italian sausage in the pan, and start breaking it up with a spatula. Cook and break it up until it's cooked all the way through. Set aside in a bowl for later.
Make the Alfredo Sauce: Start making the Alfredo sauce by caramelizing chopped onions. Heat a pan over medium heat, and combine the olive oil and butter in the pan. Let the butter fully melt and mix the two oils together before adding the chopped onions. Add the chopped onions, add salt and pepper, and sauté for 5-10 minutes, or until fully caramelized and translucent.
Then, add the minced garlic and sauté for two minutes, or until fragrant. Next, add the nutmeg and sauté for another minute. After adding the aromatics, add two cups of half and half. Let it simmer for about 10 minutes until the sauce starts to thicken.
At this point, whip two egg yolks in a small bowl or measuring cup. Slowly drizzle the egg yolks into the creamy sauce and quickly whisk the sauce until all of the egg yolks are gone. You don't want to whisk too slowly in this step, as the egg yolks will form clumps. Next, add the shredded cheese, and simmer for a couple more minutes until the sauce is nice and thick.
Assemble the Ingredients Together: Once the pasta sauce is done, put the cooked pasta, steamed asparagus, and ground Italian sausage into the same pan as the Alfredo sauce, and stir to combine. By this point, you can turn off the heat, or reduce it to low. Grate more cheese and sprinkle fresh parsley on top. Then, you're ready to serve it.
What Type of Pasta Should I Use?
You can use any type of pasta you want! I love using spaghetti, linguine, rotini, penne, rigatoni, and picci pasta. However, you can use any kind of pasta you have on hand.
4 Tips to Make the Best Creamy Sausage Asparagus Pasta
1.Make a Roux
A roux is a mix of equal parts oil and flour. Roux's act as a base for soups and sauces in order to make the consistency of the dish thicker later in the cooking process. This will help your pasta dishes get that creamy texture. In this recipe, I actually don't make a roux, because the cheese and egg yolk acted as a well enough thickening agent. However, if you make this recipe, and you find you want it to be thicker, make a roux at the beginning of making the Alfredo sauce.
2. Use Quality Ingredients
This next tip is huge! It's super easy to overlook this part because it's definitely not worth anyone's time to go searching for or growing the best quality ingredients. However, whenever you have the option, make sure you pick quality ingredients – whether that looks like picking produce from your garden, buying an herb plant at the store, or choosing locally sourced ingredients. Picking quality ingredients can actually increase the intensity of flavor in any dish.
For example, parmesan cheese. I know it's more expensive, but if you can, buy the parmesan that has been aged for at least a year, if not more. Don't get parmesan cheese that's been aged for less than a year. Although it will do a good enough job, the flavors will be more intense and developed in parmesan that has aged for a longer period of time.
Also, don't buy Kraft Parmesan cheese. That stuff isn't real. Comment down below if you want me to write another article on the grades, origins, and age tiers of parmesan cheese, or Parmigiano Reggiano.
3. Never Forget Egg Yolks
Adding whipped egg yolks while you are making the cream sauce will make the dish extra, extra creamy and give it an extra layer of richness. Don't miss this step when making creamy asparagus pasta.
4. Add Pasta Water to Your Pasta Sauce
If you're making this dish, or any pasta dish, saving the starchy pasta water after you boil your noodles will help you make a thicker, more flavorful sauce. Using a little bit of pasta water even in simple sauces can be the key ingredient to making those sauces thicker and more flavorful. Remember, you're supposed to salt your pasta water, so the starch water from boiling your pasta should be quite tasty.
Can I Meal Prep Italian Sausage Asparagus Pasta?
Yes, you can! If you meal prep this pasta with sausage and asparagus, store it in an air-tight container.
It does taste the best fresh, but it's great reheated and eaten later in the week as well.
How Long Will This Sausage Asparagus Pasta Last?
This creamy asparagus sausage pasta can last up to a week in the fridge. I wouldn't recommend freezing it, as that could ruin the flavor of the dish.
More Italian-Style Recipes to Try
If you need some more inspiration for weeknight dinners, or you want something to pair with this creamy sausage asparagus pasta, then check out the dishes below.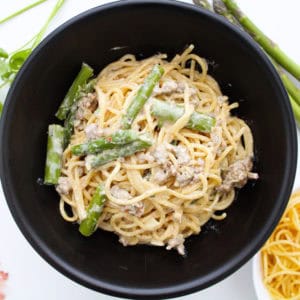 Creamy Sausage Asparagus Pasta
This Creamy Sausage Asparagus Pasta is perfect for weeknight dinners. Made with freshly ground Italian Sausage, asparagus, creamy white sauce, and more.
Ingredients
½

onion

diced

6

cloves

garlic

minced

2

tbs.

butter

2

tbs.

olive oil

¼

tsp.

nutmeg

ground or grated

2

egg yolks

whipped

2

cups

half & half

⅓

cup

Romano cheese

⅓

cup

Parmesan cheese

1

lb.

ground hot Italian sausage

2

cups

asparagus

chopped into 1-inch pieces

¼

cup

Parsley

to garnish

12

oz.

spaghetti

you can add more or less depending on how saucy you want the dish to be

Salt and pepper

to taste
Instructions
Heat a pot of salted water to boil, and cook the pasta according to package instructions. Cook to al dente.

Next, start steaming the asparagus. Start by putting 1/3 cup of water into a saucepan and heat it over high heat. Once the pan gets hot, reduce the heat to medium. Throw in the chopped asparagus, cover with a lid, and steam for 3-5 minutes or until fork tender. You can also use a rice cooker or a vegetable steaming basket to cook the asparagus.

Next, cook the ground sausage by heating the pot you will eventually make the pasta in on high. Put in the whole pound of sausage and break it up with a spatula as it begins to cook and brown. No need to add oil to this step. The fat in the sausage will prevent the meat from sticking to the pan and burning.

Once it's done, drain the meat and set aside. Use the residual sausage oil and crumbs left in the pan to start cooking your pasta sauce. This will give it extra flavor!

Then heat the same pot with the olive oil and butter.

Until the butter is fully melted in the pan, throw in the onions. Season with salt and pepper. Caramelize for 5-10 minutes.

Add in the minced garlic, and sauté until fragrant, about 2 minutes. Then add in the nutmeg and sauté for another minute.

Add the 2 cups of half and half and let it simmer for roughly 10 minutes, until the sauce starts to thicken slightly.

Take the small bowl of whipped egg yolks, and slowly drizzle it into the pot as you quickly whisk the cream mixture. You don't want to dump all the egg yolk into the sauce at once, because then it will clump and cook, and prevent your sauce from becoming extra creamy.

Once you've added the egg yolk and whisked the sauce for roughly a minute, add the Romano and parmesan cheese next. You'll want to slowly add the cheese into the sauce as you did with the egg yolk.

Add back in your spaghetti, sausage and asparagus until the sauce fully coats the noodles, sausage and asparagus.

Garnish with chopped Italian parsley and extra grated cheese. Serve and enjoy!
Nutrition Facts
Nutrition Facts
Creamy Sausage Asparagus Pasta
Amount per Serving
% Daily Value*
* Percent Daily Values are based on a 2000 calorie diet.
Nutrition Facts
These values were taken from a nutrition calculator.
Share by Email
Share on Facebook
Share on Twitter
If you make this recipe, please leave a comment down below on how you liked it. Make sure to take a picture, and tag me on Instagram at @audreythena_foodgoddess or use the hashtag #audreythena