I'm excited to share this recipe for garbanzo bean salad, because it one of my favorites. It's super healthy, but doesn't taste like it! It's a hearty salad that will keep you full, is perfect to meal prep, and is a stable for any new year's resolution.
I actually got the inspiration from this recipe from my local grocery store deli, Town & Country Market in Mill Creek, Washington. I remember going to the deli as a kid with my mom, and we would always get lunch there. Sometimes, I saw this salad as I was picking lunch options. So, one day I decided to try it. That day going forward, it was my go-to treat whenever I went there.
You might be thinking, "That's a pretty interesting and healthy 'treat' option for a kid." But that's how good it was! It was actually the first dish that warmed me up to dill. Before that, I hated the herb. That's how impressive it was.
So, in this recipe, I try to imitate the recipe I found in my favorite grocery store. I think I came pretty close, and am now excited to share it with you!
But first, I share some fun facts about garbanzo beans, ingredients you need for this recipe, and other tips for storage and food pairings.
Are Chickpeas and Garbanzo Beans the Same Thing?
Yes! They are the same exact bean. The names are interchangeable. The reason they go by both names, is because the English name for the bean is "chickpea" but the Spanish name for it is "Garbanzo" bean.
There's actually two types of garbanzo beans: Kabuli and Desi.
Kabuli is the garbanzo bean that is most commonly found and eaten in North America. It's the white, wrinkled bean. The name "Kabuli" means that this white garbanzo bean is from Kabul.
The second variation, Desi, is a smaller bean of similar shape that is dark green. It's usually grown and used in India, Ethiopia, Mexico, and Iran – which is why you don't see it here in the States much. Desi translates into "local" in Latin.
How Healthy are Garbanzo Beans?
Overall, garbanzo beans are very healthy! They are rich in plant-based protein, fiber, and other vitamins and minerals important for your health. They are great at helping with weight management, since they are low on the glycemic index and keep you full longer from the fiber and protein.
For one cup of chickpeas, you can get roughly 14.5 grams of protein and 12.5 grams of fiber.
It's absolutely packed with Manganese, Folate (B9), and Copper – giving you 74%, 71%, and 64% of your daily value, respectively.
Other vitamins it's packed with include iron, zinc, phosphorus, magnesium, thiamine, vitamin B6, selenium, and potassium.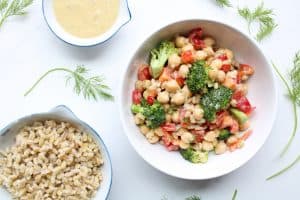 Ingredients You Need for This Garden Garbanzo Bean Salad
Chickpeas: Chickpeas will act as the base for the salad. It's the main ingredient, and will be one of the ingredients that contribute most to your feeling of fullness after eating it. For a recipe that serves 4-6, I suggest using 2 15-oz. cans.
Red bell pepper: This ingredient will not only give the dish a pop of color, but some added freshness as well. Adding crisp, sweet and cold red bell pepper is also another great way to get added vitamins and minerals. I suggest using about ½ a bell pepper for the size of this recipe, but you can use more depending on your preferences.
Broccoli: Broccoli will really bulk up the salad, and make you feel like you're eating a lot of food! Plus, similar to red bell pepper, it will added extra freshness with the red bell pepper. Plus, I love the crunch that goes with using raw broccoli! I suggest using two cups of raw broccoli.
Barley: Just like chickpeas, barley will add extra fiber to the dish, and add to the satiety factor of the salad. Use no more than one cup for this sized recipe.
Dill: Dill changes the game for this dish. Dill has such a unique flavor to it. It adds a super fresh profile to the dish. It has a citrus-like taste with a grassy undertone. I recommend about two tablespoons for the size of this dish. If you don't have dill, parsley is a great substitute.
Kalamata olives (optional): Although this is an optional ingredient, I hope you add it! Kalamata olives adds that vinegar-y flavor that pairs well with the creamy garlic dressing.
How to Make Creamy Garlic Dressing
Start by Roasting the Garlic Bulbs
You'll want to roast one or two whole garlic bulbs. You'll do this by peeling off the papery white skin until you can see the bulbs under the skin. Don't shed too much of the papery skin, as you'll want the garlic bulb to stay together.
Then, taking a cutting board and a knife, cut the top off one-third of the way down the bulb, so the bulbs are exposed.
Drizzle with olive oil, and sprinkle with salt and pepper.
Wrap each bulb in parchment paper or foil, and roast them in the oven for 45 minutes at 400°F.
Blend All the Ingredients Together
Once the roasted garlic has come out of the oven and has cooled, then squeeze the cloves out of the bulb and into a blender. Pour the other ingredients into the blender, including the mayonnaise, Dijon mustard, sour cream, olive oil, honey, white wine vinegar, Worcestershire sauce, salt, and pepper. Blend until smooth.
Add Less Mayo and Sour Cream to Make it Healthy
If you don't want to add a ton of sour cream and mayonnaise to your dressing, I get it. Sometimes, it can be too creamy and heavy, as not as healthy as you'd like. If you want to make this creamy garlic dressing healthier, just make an oil based dressing (2:1 parts oil to vinegar) and add a teaspoon or tablespoon of mayonnaise and sour cream.
This way, you still get that creamy dressing, but it's not as heavy, but still a little creamy.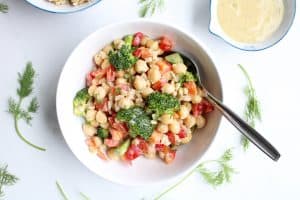 How to Store This Recipe for Garbanzo Bean Salad
You can store this recipe in a number of ways. You can store in an air-tight container for 4-7 days.
I also love meal prepping this dish, so I will divide it into 4-5 single serve meal prep containers and eat it for lunch.
I wouldn't recommend freezing it, as it won't taste the same once un-frozen.
How Long Does This Recipe for Garbanzo Bean Salad Last?
As mentioned above, this recipe for garbanzo bean salad will last 4-7 days in the fridge.
What Goes Well With Garden Garbanzo Bean Salad?
This recipe for garbanzo bean salad can go with pretty much anything! However, it's great paired with grilled chicken, or lemon rosemary marinated chicken.
You could also serve this as a side to a family meal with roasted chicken or pork tenderloin and mashed potatoes.
You can also just eat it by itself as a single meal, which is what I do all of the time!
More Healthy Salad Recipes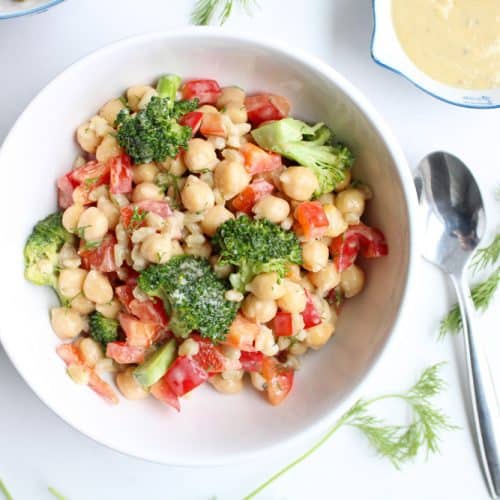 Garden Garbanzo Bean Salad with Creamy Garlic Dressing
This recipe for Garbanzo Bean Salad is a light and healthy meal option made with chickpeas, red bell peppers, broccoli, cooked barley, fresh dill, and creamy garlic dressing.
Ingredients
Garbanzo Bean Salad
2

15 oz cans

chickpeas

½

red bell pepper

diced

2

cups

raw broccoli

roughly chopped

1

cup

cooked barley

¾

cup

sliced Kalamata olives

(optional)

2

tbs.

fresh dill

chopped
Creamy Garlic Dressing
2

whole bulbs of garlic

Extra Virgin olive oil

for roasting

⅓

cup

extra virgin olive oil

for the dressing

2

tbs.

white wine vinegar

1

tsp.

honey

½

tbs.

Dijon mustard

1

tbs.

mayonnaise

1

tbs.

sour cream

½

tsp.

Worcestershire sauce

Salt and pepper

to taste
Instructions
Creamy Garlic Dressing
Preheat the oven to 400°F. Then, using a sharp knife, cut ½ an inch down from the top of each garlic bulb. This will expose the top of each garlic clove.

Then, drizzle the top of each garlic bulb with olive oil and salt and pepper.

Wrap the garlic bulbs in foil or parchment paper and then bake for 45 minutes.

After 45 minutes, take them out of the oven, and let them cool. Then squeeze out the soft cloves by pressing on the sides of the bulb.

Combine the roasted garlic, 1/3 cup of olive oil, white wine vinegar, honey, Dijon mustard, mayonnaise, sour cream,Worcestershire sauce, and salt and pepper in a blender. Then blend until smooth.

Set aside, and begin making the salad.
Garbanzo Bean Salad
In a large bowl, combine the chickpeas, red bell pepper, broccoli, barley, dill, and Kalamata olives (optional).

Pour in the whole batch of creamy garlic dressing and stir to combine.

Refrigerate for 1 hour or overnight.
Nutrition Facts
Nutrition Facts
Garden Garbanzo Bean Salad with Creamy Garlic Dressing
Amount per Serving
% Daily Value*
* Percent Daily Values are based on a 2000 calorie diet.
Nutrition Facts
These values were taken from a nutrition calculator.
Share by Email
Share on Facebook
Share on Twitter