I love tomato soup! So, a couple of years ago, I went straight to my kitchen and set out to create the best tomato soup recipe. I was getting tired of eating canned tomato soup, and I knew I could make it tastier and healthier if I tried. So, once I figured out how to maximize the flavor and health profile of this tomato soup recipe using fresh tomatoes, I knew I would be making it for a long time.
I wasn't wrong! I've been making it ever since. However, the best part is when I started making it for my husband. Before I made it for him, he actually wasn't a fan of tomato soup at all. He thought it tasted like vomit! That's because he always thought it tasted too acidic. When he tried mine, he absolutely loved it, and now it's one of his favorite soups. When you're able to cook food for people in a way that changes their opinions on how they like it – that is a proud moment as a cook.
In this tomato soup recipe using fresh tomatoes, I'll go over how to make this easy homemade soup, what ingredients you'll need, how to maximize the flavor, and many other tips to make it the best.
Is Tomato Soup Healthy?
It depends! Overall, it's pretty healthy, but it all boils down to what you put in it. If you put heavy cream in it and eat it with a grilled cheese sandwich, it won't be very healthy. If you omit all dairy products, don't add sugar, and eat it with whole-grain bread, then it's going to be one of the healthiest soups you'll probably consume all week.
My tomato soup recipe is very healthy, as it only uses fresh and simple ingredients. I don't add extra cream or cheese, because it doesn't need it! That's why I love this recipe for tomato soup so much. I don't add any heavy cream, but it still tastes and feels like creamy tomato soup.
Overall, what makes tomato soup healthy is all the tomatoes, fresh herbs, and other vegetables. Tomatoes are a great source of vitamin C, vitamin K, folate, and potassium. All of these vitamins and the antioxidants found in tomatoes work together to keep essential functions in your body continuing while also helping you to reduce your risk of diet-related diseases.
This is truly the best tomato soup recipe because it's also a vegetarian, vegan, gluten-free, and dairy-free tomato soup. So, it can be suitable for pretty much any diet.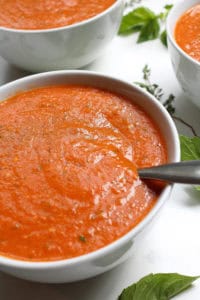 How Do You Make the Best Tomato Soup?
Bake the Tomatoes and Garlic – You start making this fresh tomato soup by baking the tomatoes and garlic at 400°F for 40 minutes. Cut the tomatoes in half or in quarters (depending on how large they are), place them on a baking sheet and sprinkle them with extra virgin olive oil, salt, and pepper. Next, cut the garlic bulbs in half and drizzle them with olive oil, salt, and pepper. Wrap the garlic bulbs in foil. Place next to the tomatoes on the baking sheets. If you want to roast the garlic separately, check out my guide on how to roast garlic in the oven!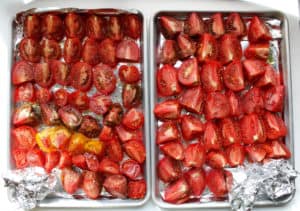 Sauté and Caramelize the Onions – Heat a large pot or Dutch oven with 1 tbs. of olive oil over medium heat. Throw in the chopped yellow onions with a sprinkle of salt and pepper, and sauté for about 5 minutes. You'll want to do this until the onions have reduced in volume and they are brown. To prevent the onions from burning and sticking to the pot, pour in a little bit of vegetable broth or chicken broth.
Combine all the Ingredients – Once the tomatoes and garlic are done cooking, your onions should be done caramelizing. Take the baking sheets out of the oven, open the foil packets with the garlic, and set them aside to cool. While they are cooling down, dump all the roasted tomatoes and their juices into the pot. Next, separate all the basil leaves from their stems, discard the stems, and throw in the fresh basil leaves. Put in the fresh thyme, dried oregano, and red pepper flakes. Once the garlic has cooled, squeeze the cloves out of the garlic bulbs with your fingers and into the pot. Now, you're almost done making this tomato soup recipe using fresh tomatoes.
Blend with a Hand Blender – Taking an immersion blender, blend the tomatoes and herbs together until smooth. Taste test the soup and adjust the seasoning to your liking. Serve and enjoy!
3 Tips to Make The Best Tomato Soup Recipe
Use a Non-Reactive Pot
To make this roasted tomato soup recipe, don't cook the soup in a reactive pot. Essentially, don't cook the soup in cast iron, aluminum, or copper pots, as the metals will react with the tomatoes, and make the soup taste really acidic. That may be why my husband never liked tomato soup – people were probably cooking it in the wrong pots!
Use Quality-Sourced Tomatoes
This is essential. By just using quality tomatoes, you can take the flavor profile of your soup from mediocre to gourmet. If you're making this tomato soup recipe using fresh tomatoes, then using locally-grown or homegrown tomatoes will produce the most flavorful soup. That's because the soil the tomatoes are grown in will most likely be more nutrient and mineral dense than the soils of large farms producing the bulk of produce you find in the grocery stores.
When I was touring a lemon and olive farm in Sorrento, Italy this summer, I asked the farmer why the tomatoes in Italy taste so much better than in the United States. He told me that most of the tomatoes sold in the U.S. are grown in greenhouses in Holland, and they grow them with too much water and not enough sunlight. By growing your tomatoes in too little sunlight, you risk a bland-tasting tomato. He also told me that the soils in Italy are more mineral dense, and will add to the flavor of the tomato. The soils are not as depleted. In Sorrento, the soils also get their nutrients from past volcanic eruptions from Mount Vesuvius. Thus, it's really important to know where your tomatoes are grown and sourced.
If you're using canned tomatoes to make tomato soup, then I recommend using San Marzano whole peeled tomatoes, as they are a product of Italy – and as we have already established, they have superior tomatoes.
Use Fresh Herbs Over Dried
If you have fresh herbs easily available to you, then I recommend using fresh herbs over dry herbs. It's going to give your homemade tomato soup a fresh pop of flavor in comparison to dry herbs. Plus, it will be more nutrient dense.
How to Make Tomato Soup with Fresh Tomatoes
Making a homemade tomato soup recipe using fresh tomatoes is easy! Cut up whole fresh tomatoes in equal sizes, place on a baking sheet, and drizzle with olive oil, salt, and pepper. Roast for 40 minutes at 400°F. After they are done roasting, dump the tomatoes into a pot and blend them with a hand blender.
If you don't want to roast the fresh tomatoes, then just throw them in the pot after you cut them up, and let them cook down and simmer for 20-30 minutes. Then blend with a hand blender.
If you're replacing canned tomatoes with fresh tomatoes, then use a 1:1 ratio. For example, replace a 28oz can of whole peeled tomatoes with 28 oz of fresh tomatoes.
What Types of Tomatoes Are Best for Tomato Soup?
Roma tomatoes are the best, but you can use any tomato variety you have on hand. You'll still be able to achieve an amazing level of flavor with this recipe using any variety of tomatoes. However, Roma tomatoes are known to be the best for cooking, because they usually hold more flavor in comparison to other tomatoes.
I also love using heirloom, compari, and cherry tomatoes for this homemade tomato soup recipe. These smaller tomatoes are packed with more flavor. The heirloom tomatoes are really good because of the different varieties you can use within the same soup recipe. I used heirloom tomatoes the last time I made this soup, and it probably tasted the best I've ever made it.
What Spices Should You Use?
You can use a variety of spices for tomato soup. You can use as many or as little as you like. In this tomato basil soup, I use red pepper flakes, dried oregano, fresh basil, fresh thyme, roasted garlic, salt, and pepper. If you want to keep this recipe simple, you can choose to use only one of the herbs previously listed. The great thing about tomato soup is that you can adjust the ingredients and the amounts according to your preference.
Is Tomato Soup Keto?
Yes, you can make tomato soup keto! Unfortunately, tomatoes are high in sugar, and therefore carbs. In order to make tomato soup keto-friendly, you'll want to increase the amount of broth and cream you use and decrease the amount of tomatoes. If you wanted to make my recipe keto-friendly, I would either add 2 cups of cream or broth and reduce the serving size.
However, there are a lot of amazing keto-friendly recipes, including Wholesum Yum's keto tomato soup that will keep your carb count low.
Is Tomato Soup Gluten-Free?
Yes! Homemade tomato soup is gluten-free. Unless you serve it with toasted bread or a grilled cheese sandwich, then it won't be gluten-free anymore. However, you can make gluten-free grilled cheese sandwiches and bread that will pair nicely with the best tomato soup recipe.
How Long Does Tomato Soup Last?
This easy tomato soup recipe lasts up to a week in the refrigerator when stored in an air-tight container. You can also freeze the soup for 3-4 months, and defrost it anytime you're in the mood for a hearty meal.
What to Serve With Tomato Soup
Croutons – You can buy pre-packaged croutons and sprinkle them on top. I also like cutting up artisan bread (French loaf, baguette, ciabatta, etc.) and toasting it in a pan with olive oil and salted butter. The bread cubes get crispy on the outside, but remain chewy on the inside – the perfect combo!
Grilled Cheese Sandwiches – The best and most classic sandwich to serve with tomato soup, grilled cheese will add heartiness to the whole meal, keeping you full and really satisfied.
Toast – This is my go-to side when eating tomato soup. My favorite lately has been toasting up rosemary bread and dipping it into the soup.
Garlic Bread – Cheesy garlic bread is an indulgent and fun side to serve with tomato soup. Similar to toast, just dunk it in and enjoy.
A Garnish of Basil and Drizzle of Olive Oil – If you want to keep your sides healthy and low-carb, adding a garnish of basil and olive oil will add a pop of flavor without adding to your waistline.
Parmesan – This is another favorite of mine. I recommend grating some aged, imported parmesan cheese to grate on top.
Side Salad – Another healthy option, you can eat a small side salad with your homemade tomato soup. I like eating a simple salad with spring mix and balsamic vinaigrette. Other salads are really good with tomato soup, like my Quick Pickled Beet Salad or Strawberry Salad.
Chicken – If you're looking for a way to bulk this dish up and serve it to your family or a dinner party of people, then I suggest serving it alongside roasted chicken for a more well-rounded meal! If you don't want to roast a whole chicken, then I recommend trying these air fryer chicken and veggies!
More Soup Recipes to Try
Other Tomato-Based Recipes
If you make this recipe, please leave a comment and rating down below on how you liked it. Don't forget to take a picture of your tomato soup and tag me on Instagram at @audreythena_foodgoddess or use the hashtag #audreythena.
If you want to get reminded when I post new recipes, subscribe to my newsletter for weekly updates!
The Best Tomato Soup Recipe [Vegan and Gluten-Free]
The Best Tomato Soup Recipe is made with simple ingredients including fresh tomatoes, basil, yellow onions, fresh thyme, oregano, and garlic. Have it ready in less than an hour.
Ingredients
6

lbs.

Roma tomatoes

3

bulbs

garlic

1

cup

extra virgin olive oil

+ 4 extra tbs. set aside

2

yellow onions

chopped

2

oz.

fresh basil

2

tbsp.

fresh thyme

chopped

1

tsp.

dried oregano

½

tbsp.

red pepper flakes

salt and pepper

1

cup

vegetable broth

optional, as needed
Instructions
Preheat the oven to 400°F.

Line two baking sheets with foil.

Cut the 6 lbs. of Roma tomatoes in halves, lengthwise. If you are cutting a variety of tomatoes, like vine ripe or large red Beefsteak tomatoes, cut them in quarters. You want to cut the tomatoes the same size despite the varieties of tomatoes you use.

Place the cut tomatoes on the lined baking sheets.

Next, peel the outer layer of skins off the garlic cloves with your hands.

Next, with a sharp knife, cut the top half off each garlic clove.

Lay out three square sheets of foil.

Place each cut garlic clove on each foil square. You should have three foil squares with the garlic bottom and top on each one.

Next, drizzle at least 1 tbs. of extra virgin olive oil over each garlic clove. Next, sprinkle salt and pepper on each one. Wrap up and close the foil packets. Place on the baking sheet with the tomatoes.

Taking one cup of extra virgin olive oil, drizzle the oil across the tomatoes on the two sheet pans. Next, sprinkle salt and freshly ground pepper on the two baking sheets of tomatoes. I recommend using freshly ground black pepper using a pepper grinder for better flavor.

Bake the two sheet pans of tomatoes for 40 minutes.

About 10 minutes before the tomatoes are done roasting, begin prepping the fresh herbs. Separate the basil leaves from the stems, and set them aside. Separate the thyme leaves from the stems, and chop. Set aside.

Heat a large pot or Dutch oven over medium-high heat with 1 tbs. of olive oil. Once heated, throw in the chopped onions, and caramelize for 5 minutes.

By now, the tomatoes are done. Take them out of the oven, and let them cool for about 10 minutes while you finish cooking the onions. Open the garlic foil packets to speed up the garlic's cooling process.

Once the onions are done caramelizing, reduce the heat to low, or turn off the stovetop altogether. Throw all of the tomatoes into the pot. Make sure to dump all of the tomato/oil juices from the pans into the pot.

Squeeze the garlic cloves out of the bulbs and into the pot.

Dump in the basil, fresh thyme, dried oregano, and red pepper flakes into the pot.

Blend the soup with a hand blender until fully blended. There should be no big chunks. If you don't have a hand blender, you can use a regular blender, and pour the soup back into the pot.

Simmer the soup for 5-10 minutes, or until your desired temperature.

Taste test it, and add more salt and pepper if needed. In my experience, it doesn't need it.

Serve the best tomato soup recipe with croutons, garlic bread, and grilled cheese, or serve by itself garnished with some extra basil.
Notes
Recipe Notes: After you blend the tomatoes and herbs until smooth, add up to 1 cup of vegetable broth to your desired consistency. Sometimes, when you roast the tomatoes, they don't produce enough liquid during the roasting process, which will leave your blended soup with a thicker consistency.
Nutrition Facts
Nutrition Facts
The Best Tomato Soup Recipe [Vegan and Gluten-Free]
Amount per Serving
% Daily Value*
* Percent Daily Values are based on a 2000 calorie diet.
Nutrition Facts
These values were taken from a nutrition calculator.
Share by Email
Share on Facebook
Share on Twitter