I thought today, I would share my Pico de Gallo recipe for this holiday. Besides sharing one of my favorite salsas of all time, I wanted to devote the introduction to giving a little history on this holiday and what it stands for. Sometimes, it's easy to forget why we are celebrating it and what it means to celebrate it. I know I've been guilty of it, where I get too wrapped up in the food, or the fun celebrations, and forget why the day is so important or what it represents. So, this year I wanted to change and redirect my mind and my readers towards what really happened on the 5th in May.
Cinco de Mayo is a holiday to commemorate the Mexican Army's victory over the French Empire at the Battle of Puebla on May 5th, 1862. The victory of the smaller Mexican force boosted morale, because they were able to defeat the huge French force. Unfortunately, during the second battle of Puebla a year later, the large French force triumphed over the smaller Mexican army and Mexico City fell to its invaders.
Nowadays, Cinco de Mayo is more popularly celebrated in the United States than in Mexico. The holiday has redirected its focus to celebrate Mexican-American culture. These celebrations began in California in 1863. The holiday gained more popularity in the 1980s, sadly due to more robust advertising campaigns initiated by beer companies. However, whenever it's celebrated in Mexico, it's to remember the Battle of Puebla, and is often celebrated with parades and battle reenactments. The city of Puebla holds an entire festival to remember the day.
I think it's important to remember why we are celebrating Cinco de Mayo. One, it's to remember Mexico's victory during the Battle of Puebla, and two, it's to celebrate Mexican Americans that have enriched our country with their culture and perspective.
Now, I would like to bring you one of their most popular (and one of my favorite) dishes of theirs, this easy Pico de Gallo recipe!
What's Pico De Gallo
Pico de Gallo is essentially just a chunky salsa made from a few common ingredients including tomatoes, white onion, cilantro, lime juice, and serrano peppers (but can be substituted with jalapeño peppers). It's a Mexican dish and is also called salsa fresca or salsa cruda. In Mexico in particular, it's often referred to as salsa Mexicana, because the colors of the dish matches the colors of the Mexican flag. What makes salsa different from Pico de Gallo is that it has a thinner consistency with more liquid. It's usually blended, while Pico de Gallo is finely chopped with each ingredient visible.
How Did Pico De Gallo Get its Name
Pico de Gallo literally means "Rooster's Beak". However, no one really knows why it's called this, and its origins are a bit mysterious and vague. But of course, there are some pretty entertaining theories on why it's called this. According to Rick Bayless's cookbook, "Authentic Mexican: Regional Cooking from the Heart of Mexico." the idea that it's called this, is because when you make it, you want to try to dice the ingredients close to the shape and size of bird feed. Weird I know.
Another theory states that it's called this because the ingredients have to be cut as small as if it was cut by a rooster's beak.
Common Ingredients Found in Pico De Gallo
Pico de Gallo is probably one of the easiest dishes to make. Plus, it's super healthy, filled with whole foods only and vegan! Here are the common ingredients you will find in Pico de Gallo.
Tomatoes
Onions
Cilantro
Lime Juice
Serrano or Jalapeño Peppers
Salt and Pepper
What Can you Serve with Pico De Gallo?
Pico de Gallo can be served with a variety of Mexican dishes. It's a super healthy side dish or dip that will complement any meal, adding an element of freshness as well.
Nachos
Enchiladas
Taco or Enchilada Soup
Burritos or Burrito Bowls
Tacos
Quesadillas
Beans and rice
Carne Asada
Serve as a dip with corn chips
And More!
Tips to Make the Best Easy Pico de Gallo Recipe
Pick the best tomatoes
You will want your tomatoes to be perfectly ripe, and have a deep red color. No white looking tomatoes here! Because the tomatoes forms the base of your dish, if you use bland tomatoes, the entire salsa will be bland and watery. Plus, using ripe tomatoes will add a level of natural sweetness that will make it extra special.
I recommend using Roma tomatoes, because they tend to be smaller and more flavorful. Now, if you really want to pack a lot of flavor into your Pico de Gallo (or it's winter time), then you can use cherry tomatoes. Just make sure to chop them extra fine.
Marinate the onion, lime, salt and jalapeño
Using this technique will give the Pico de Gallo more flavor. But don't worry, this won't take extra time. Just chop the onion and jalapeño first and let these ingredients marinate while you are chopping the tomatoes and cilantro. No time lost!
Finely chop all of your ingredients
This one seems like a no brainer, but when done right, it will make all the difference. Just remember, make the size of the chopped ingredients the same size as if a rooster was pecking it! This is whether you believe the theory or not. The finer the chopped ingredients, the more they can marinate together and allow you to get all the flavors in one bite. Plus, I've made this several times, and the texture is much better when it's more finely diced.
How Should I Store Pico De Gallo?
You do not need to eat all of the Pico de Gallo in one sitting, if you're afraid of it going bad when you store it! Now, of course you can eat it all in one sitting – I won't judge you – I would probably do that. However, if you are making a big batch, then you can store it in an air-tight container in the fridge for 4-5 days max.
If you don't want your Pico de Gallo to get too soggy or excrete too much water while it's sitting in the fridge, then I recommend de-seeding the tomatoes when you are making it. This way, your Pico de Gallo can remain fresher for longer and hold up its texture.
Some have asked me if they can freeze their Pico de Gallo. Personally, I would not recommend this. Tomatoes are not meant to be frozen, and freezing them will change their taste and texture once they defrost. However, if you must, I have heard other cooks saying that you can freeze them for up to 3 months in an air-tight container.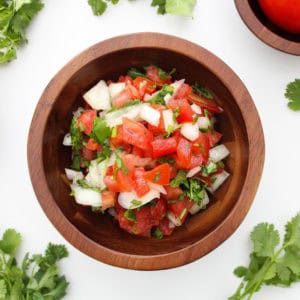 Easy Pico De Gallo Recipe
This Easy Pico De Gallo recipe is perfect as an easy side dish to enchiladas, tacos, burritos, soup. or any other Mexican style meal.
Ingredients
1

lb.

Roma Tomatoes

or 8 Roma Tomatoes

3/4

cup

white onion

diced

1/2

cup

cilantro

chopped

1

jalapeño

finely diced

Juice and zest of 1 lime

Salt and pepper
Instructions
Finely chop the onion and jalapeño, and mix together with the lime juice, lime zest, salt and pepper in a small bowl while you complete steps 2 and 3.

Cut each Roma tomato in half, and spoon out the seeds. This step is optional, but if you want to prevent the Pico de Gallo from getting too soggy, then I would highly recommend doing this. Otherwise, yourPico de Gallo will produce a lot of water that will sit at the bottom of the bowl.

Finely chop the Roma tomatoes, cilantro, and stir together in a medium sized bowl.

Add in the small bowl of onions, peppers, and lime and mix well into the medium-sized bowl of tomatoes and cilantro.

Stir till it's well combined. Taste test it, and add more salt, pepper and lime juice to your liking.