I just love beets! I've always loved their taste, texture, and rich purple color. Plus, roasting is one of my favorite ways to cook beets. When you roast beets, the sugars in the beets cook and caramelize. The root vegetable develops a sweet and rich flavor profile, unlike boiling beets. Roasted beets are a great addition to salads, soups, pickles, sandwiches, and much more.
In this kitchen basics guide, I'll give you free advice on how to roast beets whole and use tin foil with this fool-proof recipe. This is not the only way to cook or roast beets, but this is one of the easiest ways to do it! In this post, I'll also show you how to prepare beets before roasting, tips to make the best-roasted beets, storing techniques, commonly-asked questions, and more. But first, let's dive into some of the major health benefits of eating roasted beets regularly.
3 Nutritional Benefits of Roasted Beets
High in Nutrients But Low in Carbs and Fat
Beets are low in calories but high in vitamins and minerals, including folate, manganese, copper, potassium, and magnesium. In just one 3.5oz serving, you'll only consume 44 calories but can get up to 20% of your daily value (DV) of folate and 14% of manganese.
Research says folate can help with growth, development, and heart health. So, the next time you are hesitant to take the time to roast beets, just think about these benefits! Or, you can buy canned beats if you want to skip the time roasting and stay on a budget.
Improve Athletic Performance
Although more research needs to be done to further prove the link between beet consumption and increased athletic performance, the research already published is very promising.
Several studies say that the nitrates in beets contribute to boosting energy and performance. Particularly, they can increase your endurance in cardiovascular activity, like running or cycling. That's because they help improve the efficiency of your mitochondria. If you remember learning about the anatomy of a cell in school, mitochondria are the "powerhouse of the cell". It's responsible for energy regulation and production.
If you want to experience this benefit, drink beet juice or eat roasted beets 2-3 hours before working out.
Lower Your Blood Pressure
Another not-surprising benefit, beets can help lower your blood pressure. Again, this is probably due to the level of nitrates in beetroot that helps lower blood pressure. Nitrates that come from your diet are used by your body when it's converted to nitric oxide. The nitric oxide then dilates your blood vessels, causing your blood pressure levels to drop.
Even the amount of folate in beets has been shown to decrease people's blood pressure! However, despite these amazing health benefits, it's really important to regularly eat beets (and other healthy foods for that matter) to experience and maximize the benefits.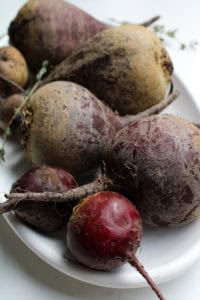 How to Roast Beets Whole
Roasting beets whole is an easy way to cook this tough root vegetable while guaranteeing a wonderful taste and texture. All you have to do is cut off the stems and stalks, wrap them in foil, and bake for 40-60 minutes in the oven.
Afterward, just let them cool down, peel the skins off, cut them to your desired size, and use them in a variety of beet recipes.
Can You Roast Beets with the Skins On?
Absolutely! I recommend leaving the skins on during the roasting process and peeling them off with your fingers or a paper towel afterward. Before they cook, beet skins can be tough to take off. When they roast for an hour, part of the skins detach from the body of flesh and makes it much easier to peel off. They slide right off!
How to Prepare Beets for Roasting
It's quite simple and quick to prepare beets. All you have to do is scrub them under cold water, chop off the stems, wrap them in foil, and place them on a rimmed baking sheet. Here are the steps to prepare beets:
Cut off the leaves and stalks, if applicable.
Scrub the beets under cold water with your hands, to remove extra dirt and debris.
Using a cutting board and knife, cut off the tops and bottoms.
Wrap in foil.
Place them on a baking sheet.
How Long to Roast Beets?
That depends on how large your beets are. Usually, large beets will take 50-60 minutes to cook through, while smaller beets will take less than that.
You'll know when your beets are done cooking when you can pierce the beet with a fork or knife, and it's not hard or rough to pierce through, but rather soft. You'll also know they're close to done when they become fragrant.
3 Tips and Tricks to Make Your Oven Roasted Beets Delicious
1. Create a Hole in the Foil Packet
When you wrap your beets in foil, leave a small opening towards the top of the beet to let air and heat escape while it's in the oven. Reference the picture below.
2. Add Seasoning to Your Foil Packets
Don't be afraid to cover your beets in a variety of seasonings including salt, pepper, onion powder, and more. You can also cut a garlic bulb in half, drizzle it with olive oil, and put it in the foil packet with the beets. Fresh herbs are another flavor staple. Put herbs in with your foil packs, like rosemary, thyme, or sage.
If you choose to add a lot of seasonings, I recommend cutting up your beets before putting them in foil packets and roasting them. That's because more of the seasonings, and therefore the flavors, will reach the beet flesh you'll end up eating. What's the point of seasoning the beets if you're just going to peel away the skins that have the majority of the seasonings on them?
You can also add seasonings once the beets have cooked, cooled, and the skins have been peeled off.
3.Make Sure Your Beets Are the Same Size
This will help reduce cooking time and complications during the roasting process. When you ensure the beets are the same size, they will all require the same cooking time to get to the same level of softness, and you'll get perfect roasted beets.
If you have really small beets with large beets, the small beets will get done cooking a lot faster. You will have to take them out of the oven before the rest of the beets are done cooking, or risk overcooking them. What happens to beets when you overcook them in the oven is that they become bitter. When you overcook beets, the sugars in the beets start to burn, causing the bitter flavor.
When you boil beets, overcooking takes the form of overly mushy beets. They are not as firm, and they more easily fall apart. Different cooking processes behold different results.
If you have different size beets, I recommend cutting the larger beets to the same size as the smaller beets. You can also put all the small beets together in one foil packet, which is what I did here, to make it easier to pull out of the oven when they cook through first.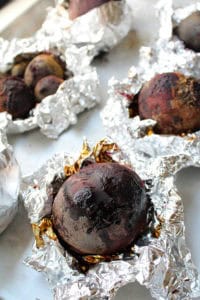 Do I Have to Use Foil To Roast Beets?
No, you don't have to use tin foil to roast beets. If you want to reduce waste and your environmental footprint, I understand. Instead of wrapping the beet in foil and placing them on a baking sheet, place them in a baking dish after you prep them.
Next, drizzle olive oil over all of the beets and make sure they are fully covered, so they don't dry out during the cooking process. Cover the baking dish with a lid and roast as you would normally. That's it.
Can You Freeze Roasted Beets?
Yes, you can! Once you cut the roasted beets into your desired shapes, just store them in the freezer for 3-4 months. They will also last in the fridge for up to a week.
What to Make with Roasted Beets
As mentioned before, you can make a variety of delicious soups, salads, dips, sandwiches, and pickles with this easy roasted beets recipe. The options are truly endless. You can even make beet pasta!
One of my favorite ways to use roasted beets is to make pickled beets or a pickled beet salad. I cut up the beets with red bell pepper and red onions, and let them soak in olive oil, vinegar (white or apple cider vinegar), and seasonings overnight. Another roasted beet salad I love is putting your roasted beets on top of a bed of lettuce or spring mix, and mixing it with crumbled goat cheese, roasted brussels sprouts, roasted sweet potatoes, and topped with my balsamic vinaigrette.
You can even go bare bones with this beets recipe, and just drizzle some olive oil, balsamic vinegar, and seasonings over the top of the peeled beets, and eat it as a healthy snack! It's a great way to keep this beets recipe gluten-free and dairy free.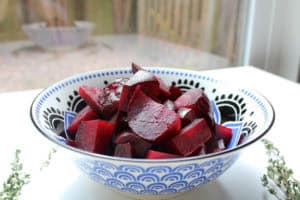 Recipes to Try Using Roasted Beets
Dishes and Recipes Roasted Beets Pair Well With
Check Out More Cooking Guides
Print
The Best Roasted Beets Recipe [Step-by-Step]
Learn how to make the perfect oven-roasted beets with this fool-proof recipe. All you need is raw beets, and you'll have soft, tender beets in less than an hour.
Equipment
1 sheet pan

Foil

1 Cutting board

Knife
Instructions
Preheat the oven to 425°F.

Using a knife and a cutting board, cut off the leaves, stalks, and any other part of the beet that isn't the bulb.

Scrub the beets with your hands under cold water to get any access dirt off them. Dry them with a towel.

With a fork, poke 2-3 holes into each beet.

Wrap each beet in foil, while leaving a small opening at the top for heat to escape while it's cooking.

Place the foil-wrapped beets on a sheet pan, and bake for 50-60 minutes, or until the beets are soft when pierced with a fork. I recommend checking them every 20 minutes or so, especially if you have beets of different sizes. Larger beets will take longer to cook through. So, if you have small beets cooking with your large beets, you may need to pull them out of the oven before the large beets finish cooking.

Once they are done, cool them to room temperature, for about 20 minutes.

Next, cut off the butt end, and peel the skins off with your fingers. Start by grabbing the skins from the top of the beet and pull them down to the base of the beet.

Cut into the desired shape or leave whole to eat.

Use the cut beets for pickles, snacks, or any other way you like.