Sweet potatoes are one of my favorite potato varieties. They are so sweet, dense, and creamy when cooked right. Plus, they are so healthy for you! I love eating them when I'm craving something sweet, but don't want to go nuts on a pint of ice cream or pastry. I've gotten many questions about how to roast sweet potatoes in the oven, and I want to show you how easy it is! It doesn't take a lot of fancy equipment or culinary skill. All you need is an oven, a baking sheet, and some sweet potatoes, and you're good to go.
In this article, I'll show you how to roast sweet potatoes in the oven. I'll go over a multitude of tips and tricks on how to make the sweetest, creamiest roasted sweet potato while showing you other techniques for preparation and storage.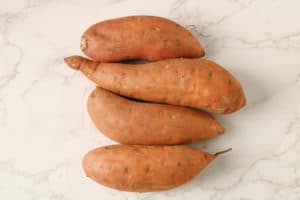 Where are Sweet Potatoes Grown in the World
Sweet potatoes are grown all around the world. However, Asia produces 92% of the world's sweet potatoes. More specifically, China is the #1 producer of any other country. Malawi and Nigeria in Africa follow as the second and third highest producers, respectively. As a continent, Africa is the second largest producer of sweet potatoes after Asia.
The United States is also a large producer and ranks in the top 10 countries of sweet potato production. Popular states that grow sweet potatoes are North Carolina, California, Mississippi, and Louisiana.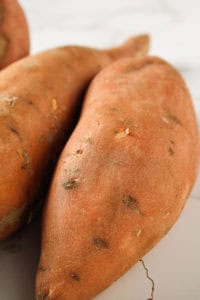 Are Roasted Sweet Potatoes Healthy?
Sweet potatoes are extremely healthy! They are packed with fiber and micronutrients. They are highest in vitamin A and the antioxidant, beta carotene. Just one serving of 100 grams provides your entire recommended daily value of vitamin A.
Other vitamins sweet potatoes have include vitamin C, potassium, manganese, vitamin B6, vitamin B5, and vitamin E.
Overall, sweet potatoes can limit your chances of vitamin A deficiency, improve blood sugar regulation1, and reduce the risk of cancer (especially breast cancer)2. That's the benefit of how to bake whole sweet potatoes – you'll get a superfood that's going to help your short-term and long-term health.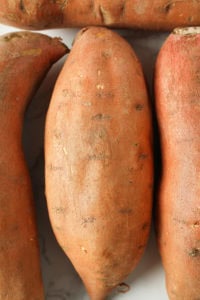 How to Roast Sweet Potatoes in the Oven: What to Bake Sweet Potatoes At?
You can bake sweet potatoes at any temperature from 275°F to 425°F, depending on how much time you have. In most recipes you'll read, they'll ask you to bake them anywhere between 350°F to 425°F.
Baking them at a temperature lower than 350°F will require them to stay in the oven much longer. They will bake for as long as two and a half hours as compared to roughly 40 minutes at a higher temperature. Sweet potatoes of any size will take anywhere from 30-60 minutes in the 350°F to 425°F temperature range. The advantage of baking sweet potatoes at lower temperatures is that you can bring out more of their natural sweetness and get a creamier texture.
In this oven roasted sweet potatoes recipe, I bake them at 400°F. It's a nice middle-range temperature that doesn't require the sweet potatoes to take too long in the oven, while still caramelizing the sugars.
How Long to Roast Sweet Potatoes Whole?
Roasting whole sweet potatoes take roughly 40-60 minutes. Determining how long your sweet potatoes take to roast largely depends on their size and the temperature you roast them at.
Roasting larger potatoes will take longer. Roasting them at a higher temperature will make the roasting process go faster. Roasting potatoes at any temperature above 400°F will keep your potatoes roasting for less than an hour.
What to Line Your Baking Sheet With?
I recommend lining the baking sheet on which you roast your sweet potatoes with foil or a silicone baking mat. Don't use parchment paper or leave your pan uncovered. If you use parchment paper, you will burn it, and that could affect the sweet potatoes. If you leave your pan unlined, it will be much harder to clean off as the sugars from the potato will drip onto the pan and caramelize. By leaving your pan uncovered, you'll risk degrading it faster, and it won't keep new for as long.
By using foil, you can quickly discard the sticky foil while leaving your pan completely clean. No scrubbing is required. However, if you want to be more environmentally friendly, use silicone mats. Silicone mats will provide a nonstick surface that will make cleaning them a lot easier and faster. All you need to do is run them under warm water with a soapy sponge and the sticky sugars from the roasted sweet potatoes will slide right off.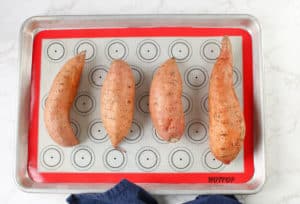 Should You Wrap the Sweet Potatoes in Foil?
No, you don't need to wrap sweet potatoes in foil. I recommend not doing this. However, it's completely optional, and up to you. Wrapping your sweet potatoes will steam them more than roast them. The sugars won't caramelize as much, and they won't be as sweet.
I think what's important to remember when you're learning how to roast sweet potatoes in the oven, is knowing when to be flexible and how to adjust the cooking process based on your needs and preferences, which will help you go from a beginner cook to a master pro. For example, knowing you don't have to wrap potatoes in foil to get a beautifully roasted sweet potato or change the temperatures it bakes at.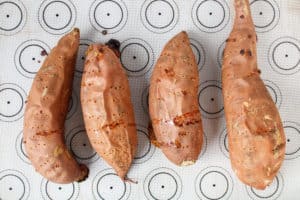 Seasoning for Roasted Sweet Potatoes
There is a multitude of seasonings you can use for this oven roasted sweet potatoes recipe. I don't recommend putting seasonings on the potatoes before they bake unless you plan on eating the skins. If you want to eat the potatoes with the skins on, and want some extra flavor, I recommend rubbing your potatoes in olive oil and sprinkling them with salt and pepper before baking. Or you can use the list of seasonings below before or after your potatoes bake.
Other seasonings you can use:
Smoked Paprika
Everything But the Bagel Seasoning
Cayenne
Turmeric
Garlic Powder
Onion Powder
Cajun Seasonings
Nutmeg
Cinnamon
Coconut Sugar
Brown Sugar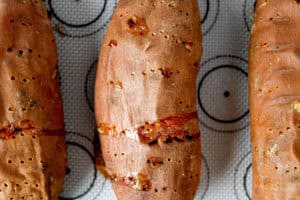 Toppings for Baked Sweet Potatoes
By learning how to roast sweet potatoes in the oven, you'll quickly realize the fun doesn't stop when you take them out of the oven. You can make a flavor parade by adding a ton of different toppings to suit your sweet and savory cravings.
Popular Toppings for Roasted Sweet Potatoes:
Honey
Butter
Honey Butter
Real Maple Syrup
A mixture of Brown Sugar, Butter, and Cinnamon
Nut butter
Sliced bananas
Herb Butter
Sour Cream
Parmesan cheese
Nonfat Greek Yogurt
Arugula
Fried Egg
Sauteed Vegetables
Salad Dressing, like balsamic
Mexican Style: Salsa, Guacamole, Pico de Gallo, black beans, taco meat, cheese, etc.
Do Cooked Sweet Potatoes Need to be Refrigerated
Yes, cooked sweet potatoes need to be refrigerated. Refrigerating will make them last longer, up to one week. Store them in a Ziploc bag or air-tight container.
When you're learning how to bake whole sweet potatoes, you'll realize you can leave them on the counter if you're going to use them the same day.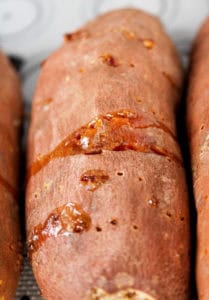 Can Cooked Sweet Potatoes be Frozen
Yes! Cooked sweet potatoes can be frozen. If you freeze sweet potatoes, wrap them whole with plastic wrap. By wrapping them in plastic, you reduce their exposure to air. Then place them in a gallon freezer bag, and store them in the back of the freezer for up to six months.
Can You Make Roasted Sweet Potatoes Ahead of Time
Yes, you can! Make as many whole sweet potatoes as you need for the next week, and store them in an air-tight container in the fridge. I recommend making enough for no more than one week, as they could go bad if you leave them in the fridge longer.
What Goes with Roasted Sweet Potatoes
This oven roasted sweet potatoes recipe can go with a variety of sweet and savory toppings, side dishes, and meals.
Roasted sweet potatoes taste amazing in Mexican-style dishes, like tacos, Mexican-style stews and soups, burritos, and more.
Roasted sweet potatoes also pair well with a variety of meats like chicken, pork, and beef. Serve them with roasted or sautéed vegetables, including sautéed kale, sautéed bell peppers, roasted broccoli and cauliflower, or mushrooms.
More Sweet Potato Recipes
Check Out These Other Kitchen Tutorials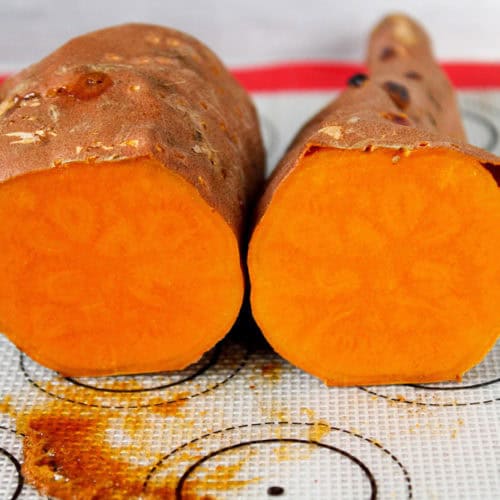 How to Roast Sweet Potatoes in the Oven
Learn how to roast sweet potatoes in the oven in less than an hour! All it takes is an oven, a baking sheet, and some sweet potatoes. Once you try this tutorial on how to roast sweet potatoes, you'll never want to cook sweet potatoes another way!
Ingredients
4

medium-sized sweet potatoes

see recipe notes
Instructions
Preheat the oven to 400° F.

Take each sweet potato, run them under cold water and scrub them with a brush or your hands to get any extra dirt off of them. Once done, pat them with a towel to dry.

Poke holes all around each potato with a fork. This will help reduce the cooking time and provide natural venting for the steam.

Next, line a baking sheet with foil or a silicone baking mat.

Place the potatoes on the baking sheet, and put them in the oven. Bake for 45-55 minutes, or until the potatoes are soft when pierced through with a fork or skewer.

Once they are done cooking, take them out of the oven and let them cool to room temperature.

If desired, once they're cooled down, peel the skins off. During the cooking process, the skins will detach from the flesh of the potatoes, which will make it a lot easier to peel off. Just pinch a part of the skins off, which will leave a hole in the potato, put your finger underneath the skins, and slowly peel off the skins. You can also cut the potatoes in half, and grab onto the skin that way.
Notes
With this recipe, you can use as many or as few sweet potatoes as you want. The cooking instructions will be the same regardless.
The time it takes for your sweet potatoes to bake will largely depend on their size. Small sweet potatoes can take anywhere from 35-45 minutes to bake, whereas larger sweet potatoes can take anywhere from 45-55 minutes.
Nutrition Facts
Nutrition Facts
How to Roast Sweet Potatoes in the Oven
Amount per Serving
% Daily Value*
* Percent Daily Values are based on a 2000 calorie diet.
Nutrition Facts
These values were taken from a nutrition calculator.
Share by Email
Share on Facebook
Share on Twitter