Tofu is one of those foods that are extremely versatile and works well with any flavor profile. You can make savory meals such as stir fries, soups, and noodle dishes, while also making sweet desserts like cheesecake and smoothies. Because of its relatively bland flavor profile, tofu acts as a blank canvas for adding any flavors you want. In this guide of How to Cook Tofu for Beginners, I will go over the different ways you can cook tofu, 6 different sauce recipes you can make with tofu.
How to Cook Tofu for Beginners:
4 Ways to Cook Tofu
Below, we will go over the different and most popular ways you can cook tofu. These methods are the most common ways to cook tofu. However, it's not comprehensive. This guide will be a great start for any beginner. For each recipe below, I give the same simple recipe. The only difference, is the cooking method. Here is the simple ingredients list and starting instructions:
Ingredients:
1 block of medium, firm, or extra firm tofu, about 15 oz.
1 Tbs. oil ( I use avocado oil)
Salt and pepper, to season
1 tsp. garlic powder (optional)
1 Tbs. cornstarch (optional)
Instructions:
Open the package of tofu and drain all the liquid in the container into the sink.
Put the wet block of tofu on a thick layer of paper towels. Then, getting more paper towels, press the dry paper towel on all sides of the block of tofu in order to extract as much moisture as possible.
Then, cut the block into 1 inch cubes. For one block of tofu, I usually slice it 3×4 rows.
Sprinkle freshly cracked pepper and sea salt on the tofu.
Drizzle the tablespoon of oil and mix the tofu to combine all the seasonings.
Take a 3-inch strainer and sift the cornstarch over the cubed tofu.
Lastly, pick your method of cooking. Reference below to find the 3 cooking methods.
The cornstarch and garlic powder are optional ingredients. If you want your tofu crispy with more flavor, then add these two essential ingredients!
Pan-Fried Tofu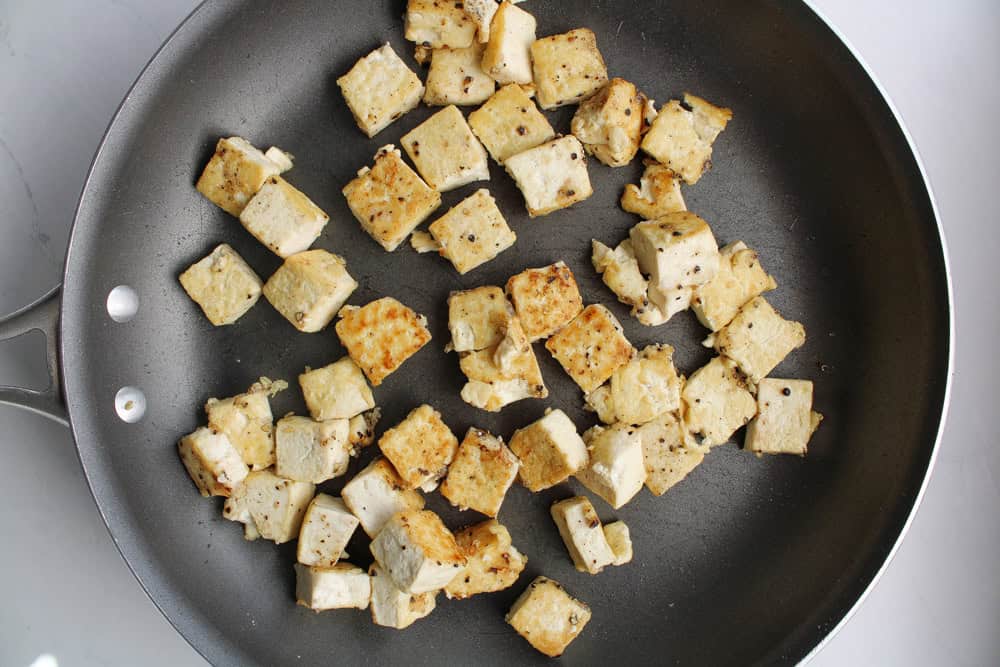 Pan-fried tofu will be the most common way to cook tofu, and arguably one of the least intimidating. Here's a simple recipe and instructions:
 Instructions:
Pick off at step 7 from the main recipe above
Heat a large skillet on high and place the cubed tofu in the pan, evenly spread out.
Cook on each side of tofu for 5 minutes. I recommend using tongs for this, as it will be the easiest to turn over the tofu pieces.
Serve it hot on plate with your favorite dipping sauce or dump straight into a curry or stir-fry.
I recommend making pan-fried tofu when you don't have a lot of cooking gadgets at your disposable. Maybe you don't have an air fryer or you live in just a studio apartment without an oven. This will be the best method for you, and you will get easy, flavorful and crispy tofu.
Baked Tofu
I really like baked tofu, more so than pan-fried. It takes longer to cook, but it's also more hands-off than pan-frying tofu. Here are the instructions:
Instructions:
Preheat the oven to 425°
Line a baking sheet with foil or a silicon mat.
Evenly space out the cubed tofu you prepared from the main recipe above.
Once the oven is preheated, bake for 25-30 min.
Baking tofu with cornstarch will make it really crispy, especially the bottom of the cubes. This is perfect if you want to simulate deep-fried tofu. If I don't have access to my air-fryer, this is my go-to tofu cooking method.
Air-Fried Tofu
This method is by far my favorite. It takes the least amount of time for the crispiest tofu. You don't even need to add cornstarch in order to mimic deep-fried tofu. Of course, cornstarch just makes it even crispier, but it's really not essential, unlike in the other cooking methods. If you really wanted to, you can even omit the oil and it won't drastically change the end-result, unlike the other cooking methods. Here are the instructions:
Instructions:
Put the cubed tofu inside the air fryer, evenly spaced.
Set the temperature for 360°F and cook for 15 minutes.
Scrambled Tofu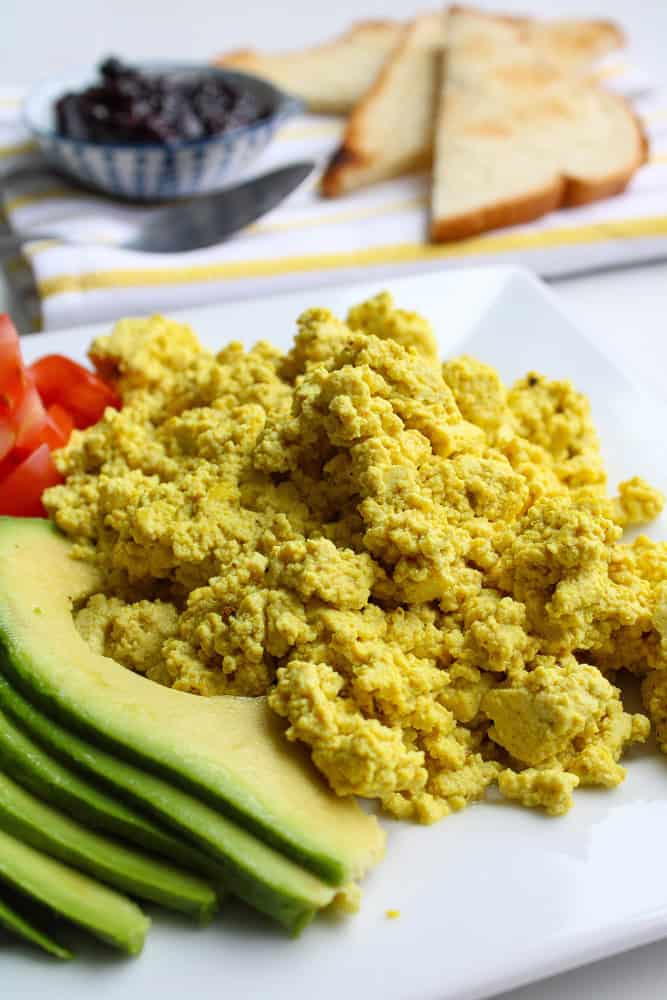 To be honest, scrambled tofu is very popular among vegans. That's because this dish is commonly used as a substitute for classic scrambled eggs. I personally love this dish, because it surprisingly tastes like real scrambled eggs when done right. Plus, it's an easy, quick dish that will help you eat more plat-based (if you're into that, which I am). You can reference this classic alternative here. Below are the ingredients:
Ingredients:
6 Sauces and Marinades You Can Cook With Tofu
Now, you can eat the cooked tofu by itself no problem. However, sometimes adding a sauce always makes it better. For the six Asian-inspired sauces below, you can add them to the side of the tofu as a dipping sauce, or you can cook it together with the tofu in a pan for a simple stir-fry-like meal. Let's start with the Teriyaki sauce!
1. Teriyaki Sauce
Teriyaki is perfect if you are wanting a sweet, garlicky, and ultimately savory and satisfying flavor. Here's the sauce recipe:
Ingredients:
¾ cup soy sauce
1/3 c. brown sugar
10 cloves garlic, minced
2" knob ginger, grated
1 tbs. sesame oil
1 Tbs. Sambal
¼ tsp. ground white pepper
2 tsp. rice vinegar
1 Tbs. cornstarch
Instructions:
Combine all the ingredients together in a small bowl (except the cornstarch) and whisk together until well combined.
Heat a small saucepan on medium-high heat and pour the sauce mixture in and start stirring.
Then gradually and slowly sprinkle in the cornstarch while you are constantly stirring the sauce mixture with a whisk (this will prevent clumps forming from the cornstarch).
Then stir the sauce every 1-2 minutes for a total of 5 minutes or until the sauce thickens.
Pour the sauce into a small dipping sauce dish and dip your crispy tofu in it for each flavor-packed bite.
Or if you want the sauce completely covering the tofu, then pour the batch of crispy tofu into the small sauce pan and stir to combine. Serve with fresh rice.
If you like this sauce recipe and want to pair this with some other proteins, then check out my Easy Teriyaki Chicken.
2. Black Bean Sauce
Black bean sauce is great if you want a super savory, Unami packed sauce. Here's the recipe:
Ingredients:
2 tbsp. black bean sauce
1 tbsp. soy sauce
1 tsp. oyster sauce
1 tsp. Asian vinegar or Saki
1 tsp. Hoisin sauce
1 Tbs. cornstarch
Instructions:
Follow instructions for Teriyaki sauce written above.
3. Sweet and Sour Sauce
I used to obsess over this sauce in restaurants as a kid. This sauce is unique, as it's not as salty as the other sauces, but much sweeter with the pineapple shining through.
Ingredients:
3 tbs. soy sauce
3 tbs. ketchup
3 tbs. Asian vinegar
¼ cup brown sugar
½ cup chicken broth
½ cup pineapple juice
1 tbsp. cornstarch
Instructions:
Follow instructions for Teriyaki sauce written above.
4. Oyster Sauce
Oyster sauce is a classic, and is commonly found in stir fries like Chow Mein, Broccoli Beef, and others. If you use too much, your dish can become too fishy. However, this sauce has the perfect balance of oyster with other sauce ingredients including honey, soy sauce, and vinegar.
Ingredients:
2 tbs. oyster sauce
3 tbs. soy sauce
1 tbs. sambal
1 ½ tsp honey
1 ½ tsp rice vinegar
1 ½ tsp sesame oil
Instructions:
Follow instructions for Teriyaki sauce written above.
5. Hoisin Sauce
Hoisin is another great sauce if you want something super Unami. You can buy Hoisin sauce at your local supermarket or Asian grocer. You can also buy a Vegetarian Hoisin if you don't eat meat.
Ingredients:
½ cup soy sauce
4 tbs. Hoisin sauce
2 tsp. rice vinegar
2 tsp. honey
2 tbs. Sambal
1 tbs. cornstarch
Instructions:
Follow instructions for Teriyaki sauce written above.
6. Kung Pao Sauce
Kung Pao can be an intimidating sauce to make. It seems complicated but with the right pantry ingredients, you can whip it up in no time.
Ingredients:
Instructions:
Follow instructions for Teriyaki sauce written above.
How to Cook Tofu for Beginners: What to Serve with Tofu
You can serve tofu with just about anything. One of my favorite side dishes to serve tofu with is rice and kimchi. I know that's my inner Korean coming out. However, you can also put sautéed greens next to it, edamame, seaweed, Korean fried pancakes, and more. You can also serve tofu with a side of miso soup.
How to Handle Leftover Tofu
If you have raw, or uncooked tofu left over, then you can put it in air tight container with water and put it in the fridge. Just make sure to change out the water daily. You can also freeze the leftover tofu, which we will dive deeper into in the next section.
Can You Freeze Tofu?
Yes, you can freeze tofu! However, you have to keep in mind that tofu will take on new characteristics depending on what type it is. If you are freezing silken tofu, it will take on a chewier and firmer texture. It won't be the same as when you first bought it. So, if you bought silken tofu for a very specific purpose, like making a sauce or smoothie, and you're buying it for the texture, then don't freeze it. If you want to change its texture or you don't care, then you can freeze it. It ultimately depends on your preferences and what you want to cook.
There's less of a noticeable change in medium, firm, and extra firm tofu besides its texture and firmness improving.
There is an advantage of freezing tofu. For any type of tofu you freeze, it will better soak up marinades. That's because when water in the tofu freezes, then melts as it thaws, it drains out more quickly, creating more tiny air pockets. This makes a tofu with a greater spongy consistency. So, if you want to use a marinade for your next tofu dish, you might want to consider freezing it.
When freezing tofu, you can either cut it up into cubes and put it in an air-tight container and freeze or you can put the pre-packaged 15-oz blocks in the fridge. Then, when you want to use it, just take it out of the freezer and let it defrost in the fridge for 1-2 days.
How to Cook Tofu for Beginners: Tips to Make the Best Tofu
Pick the Right Texture to Suit Your Cooking Needs
This is so important, because there are so many varieties of tofu, it can be difficult to know which ones to cook with and for what dishes.
Overall, there are two types of tofu: Silken and regular. Silken tofu is a Japanese variety that is very smooth and tender in texture. It's often used and blended in sauces, smoothies, dips, creams, baking recipes, and soups. It's the creamiest type of tofu and is un-pressed. There's different types of silken tofu. It's labeled with different consistencies depending on how much soy protein is in it. You don't want to press or fry silken tofu, as that could ruin it.
Regular Chinese tofu comes in a variety of consistencies ranging from soft to extra firm, depending on how much water has been pressed out of it. You will find this variety in the refrigerator section at your grocery store. Medium to firm tofu is usually more compact and has less water to it, because it's been pressed more. Plus, you can press it even more when you take it home.
Chinese regular tofu is great for making stir fries, soups, snacks, and more.
That's why it's so important to briefly know the different kinds of tofu, so it can inform you on what kinds to use in the dishes you want to create. For example, you won't want to make a stir fry with silken tofu. The end result will be a disaster and will end in a disintegrated tofu mash, because you were treating such a delicate food so harshly. Or, if you want to make a smoothie and you choose to use extra firm tofu…it might not turn out as creamy as you want.
Press It
Pressing your tofu is a major step. However, like mentioned before, you don't want to press silken tofu or soft regular tofu. If you do, it will crumble apart. It's best practice to press medium to firm tofu. Pressing tofu is as easy as getting some paper towels and pressing them to the tofu block until you can get most of the moisture out.
First, open the package of tofu and drain the water in the package. Lay your counter or a cutting board with a thick layer of paper towels and lay the block down. Get another thick layer of paper towels and press down on the top of the tofu blocks with the towels with your hands. You can also place the paper towels on top, and use a pan or textbook to place on top. This will add more pressure to the tofu and extract more water than just using your hands. Plus, if you stack a weight on top of the tofu, you can let it press for 5-10 minutes – a hands-off approach.
Then, after your press and dry the tops and sides of the block, cut the tofu block in half, length wise. This way you are exposing more moisture by slicing it right in the middle. After slicing it, flip each slice of tofu where the wetter side is face up. Then press it for another 5-10 minutes.
If you don't have a lot of time on your hands, then just take the tofu block out of the container and press paper towels against the whole surface area of the block with your hands. This is what I do.
Now, you can buy tofu presses that will work quickly to get the water out. They can cost $10 – $30 on Amazon. However, I wouldn't recommend buying one, unless you have extra money or kitchen space. I just don't find them necessary when you can press the tofu with your hands or an old textbook.
Season and Flavor It
Tofu is a super bland food, so you not only need to season it, but you need to season it deliberately. Making sure you press tofu well and make sure you get out a lot of the moisture will also help the tofu soak up more flavor or seasonings.
When I press, cut, and season tofu, I season it once it's dry, and before I add any oil to the tofu. This will allow the seasonings to stick more permanently on the tofu before adding slippery oil.
Other Ways to Use Tofu
Stir Fries
If this wasn't clear before, tofu is great in stir fries. I think tofu is best used for stir fries, because it provides enough heartiness as a protein where you will get full and satisfied, but you're not eating meat. Besides the sauce recipes I provided above, here are some more tofu stir fry recipes:
Vegan Chinese Sesame Tofu – A famous Chinese-American take out dish that is vegetarian friendly: Vegan Chinese Sesame Tofu with sticky addicted sauce. This recipe is made by Cookmorphosis.
Mapo Tofu Recipe – This Mapo Tofu Recipe hot, spicy, numbing, and just filled with the most incredible flavor. Plus it's on the table in under 30 minutes! This recipe is made by Went Here 8 This.
Thai Basil Eggplant with Tofu – Thai Eggplant stir-fry with Basil and Chili garlic sauce (Pad Prik Pao Ma Keua Praw) is soft, spicy and a little sweet recipe. A simple sauce, eggplant, onions, peppers, tofu and Thai basil come together quickly to make a delicious vegan side dish or main meal dish when served over rice, noodles, or quinoa. This recipe is made by Enhance Your Plate.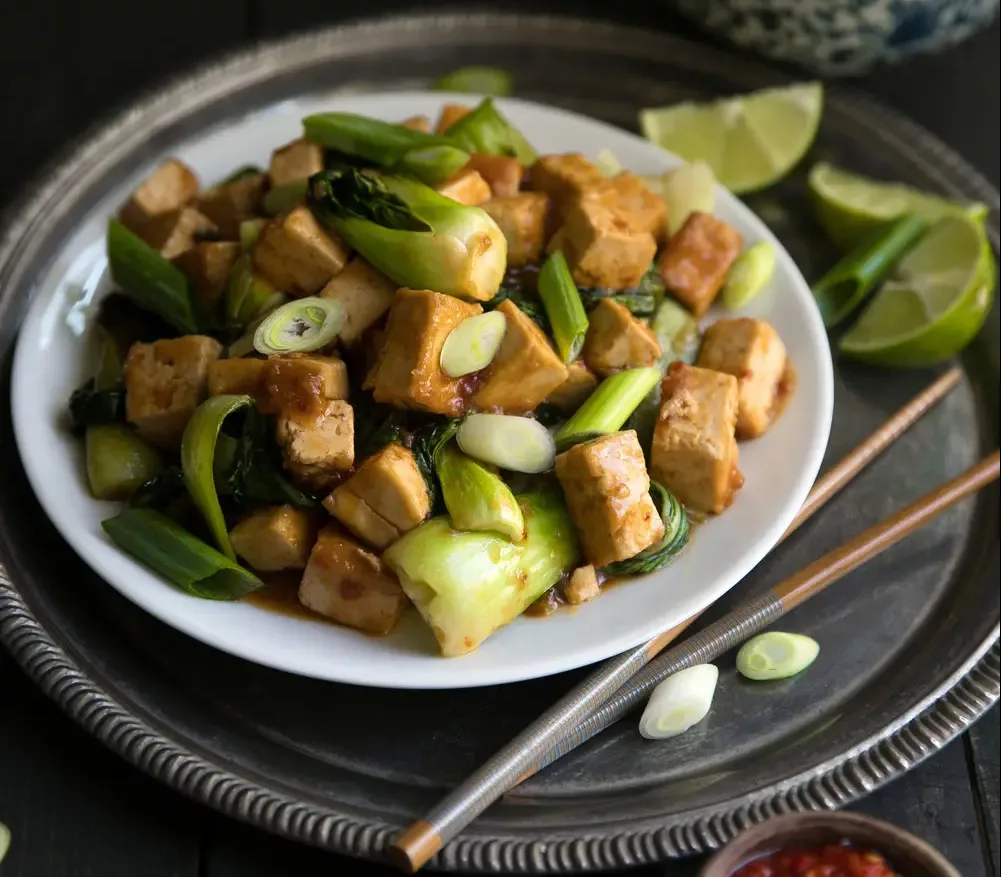 Spicy Stir Fried Tofu with Bok Choy – This Spicy Stir Fried Tofu with Bok Choy is the perfect healthy and delicious meal the whole family will love! This recipe is made by The Forked Spoon.
Flavorful Crispy Vegan Orange Tofu Chicken – This vegan orange chicken features crispy tofu cooked in a rich and delicious orange sauce! It is better than Chinese takeout and is healthier, too! This recipe is made by My Plantiful Cooking.
Kung Pao Tofu – This Kung Pao Tofu is a healthy, vegetarian version of your favorite Chinese takeout. Stir fried veggies and tofu are tossed in a sweet and spicy sauce for a delicious meal that only takes 25 minutes to make! This recipe is made by Spice Cravings.
15 Minute Thai Basil Tofu Stir Fry (Pad Krapow) – This Thai Basil Tofu is ready in only 15 minutes! It's made with stir fried ground tofu with garlic, ginger, and veggies in a spicy, savory soy sauce! This recipe is made by Drive Me Hungry.
Smoothies
Smoothies is an unconventional way to use tofu. However, use silken tofu when you added protein and a creamy texture to the smoothie. Below are some smoothie recipes using tofu: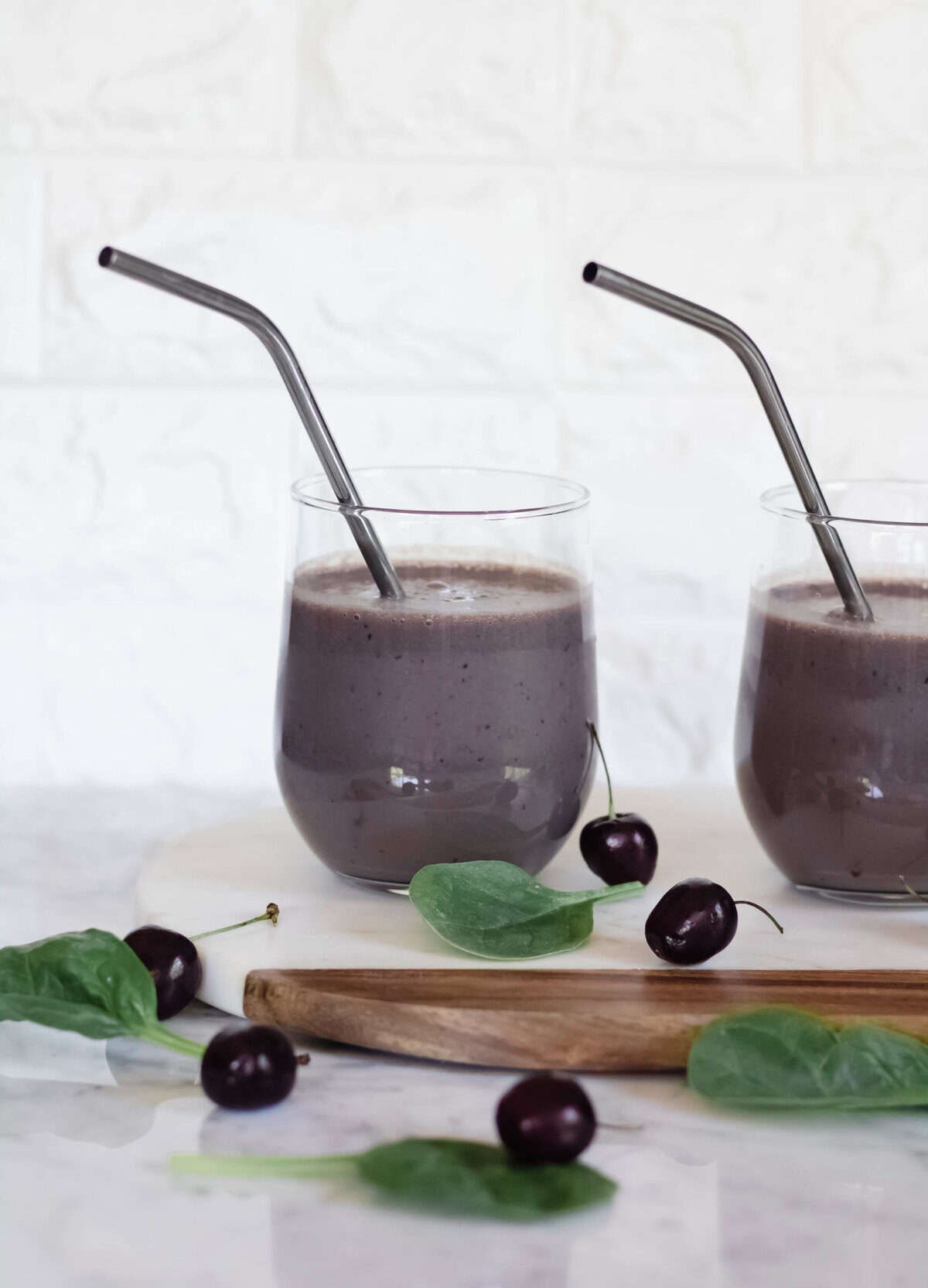 High Protein Chocolate Cherry Smoothie – This chocolate cherry smoothie is made with tofu to increase its protein content! This recipe is made by Lifestyle of a Foodie.
Tofu Smoothie with Raspberries – This easy to make smoothie mostly comprises of silken tofu, raspberries, mangos, bananas, and water. Plus it only takes 5 minutes to make! This recipe is made by The Endless Meal.
Soups
Soups is another great way to use tofu creatively. Use tofu for miso soups, sweet and sour soup, Korean Kimchi Stew, noodle soup, and more. Below are some recipes for tofu soup that can be useful to try.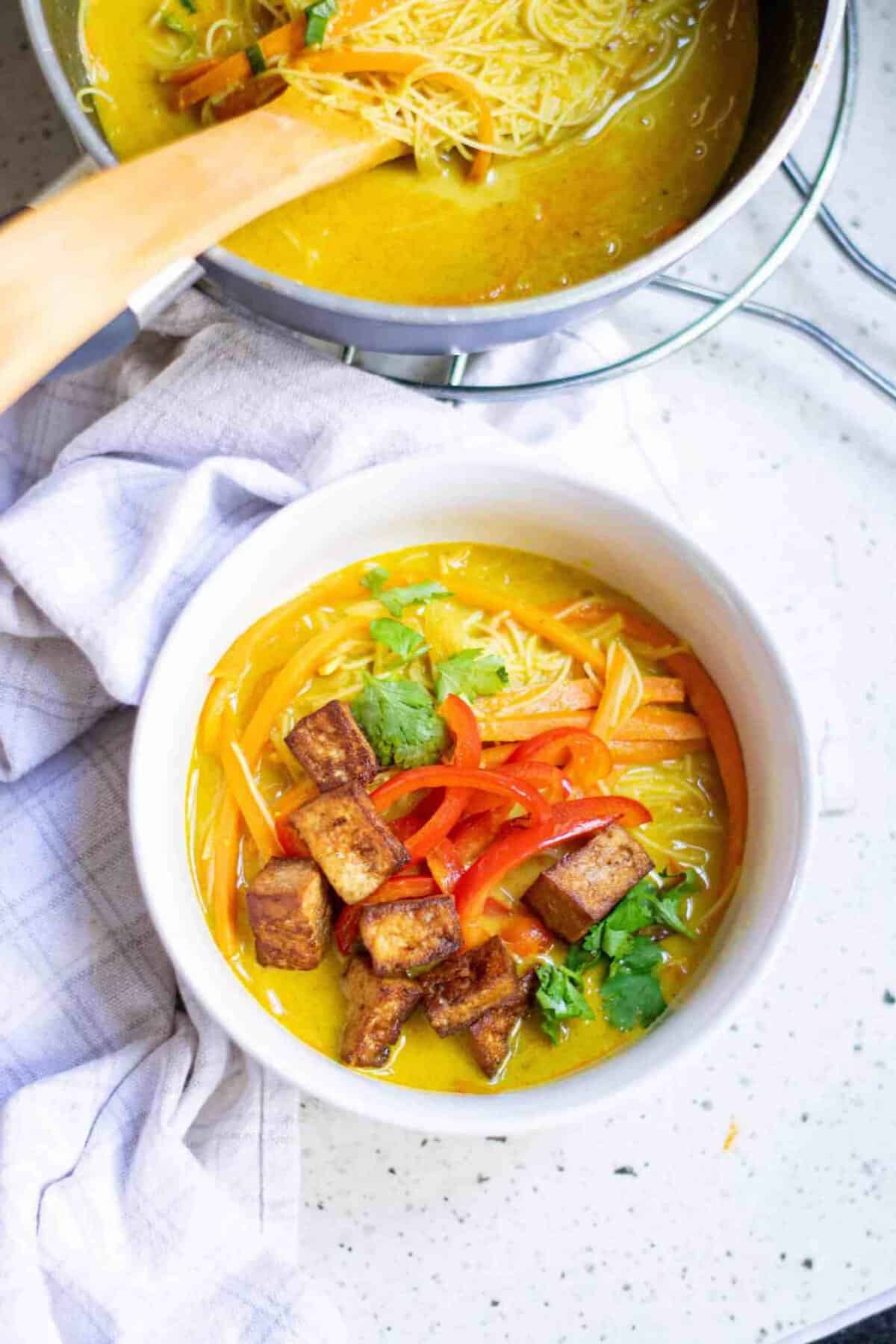 Vegan Thai Coconut Soup with Crispy Tofu – Enjoy the taste of Thai food without having to leave your home with this easy recipe! This Vegan Thai Coconut Soup is simple to prepare and full of flavor. This recipe is by Marathons and Motivation.
Ramen with Rice Noodles, Tofu, and Vegetables –  This easy vegan ramen is made with pan-fried spicy tofu, rice noodles, sautéed veggies completed with a sensational shiitake miso broth. This recipe is made by Happy Kitchen.
Doenjang Jjigae or Korean Bean Paste Soup – This classic Korean soup is super easy to make and tastes fantastic! The addition of tofu adds protein for a nutritious meal! This recipe is made by Christina's Cucina.
Vegan Thai Red Curry with Tofu – This creamy Thai red curry is hearty, filling and comforting, yet healthy at the same time! Ready in an hour and easy to make. This recipe is made by My Plantiful Cooking.
Easy Vegetarian Ramen with Tofu – This delicious Easy Vegetarian Ramen with Tofu is hot, spicy, and bursting with flavor. Subtle notes of ginger and miso-glazed tofu round out this beautiful and easy dish. This recipe is made by Marleys Menu.
Tacos
Yes, you can use tofu for tacos. After you press the tofu, break it into small pieces with your hands and season with salt, pepper, oil, and taco seasoning. Stir to combine. Heat a frying pan on high heat, and sauté until crispy and cooked through. Here are some tofu taco ideas and recipes:
Crispy Tofu Tacos – These crispy tofu tacos are made with a cornmeal mixture that gives the tofu a crunch it would be missing otherwise. They might just convince former vegetarian haters like myself that you can actually have a meatless taco. And yes they are actually crispy. This recipe is made by Chisel and Fork.
Wonton Tacos with Spicy Tofu – These mini wonton tacos are filled with a delicious tofu taco meat and a spicy sweet pineapple salsa. Perfect for Taco Tuesday or for your next party! This recipe is made by CookEatLiveLove.
Mediterranean Tofu Tacos – Seasoned and baked tofu crumbles stand in for meat in these quick and easy Mediterranean inspired vegan tacos. Top them with your favorite veggies, herbs, and yogurt sauce for a unique and flavorful meal. This recipe is made by Veggies Save the Day.
Dips and Cream Based Sauces
When you use silken tofu, you can make a variety of dips including ranch, herb and buffalo dips. You can also make cream based sauces using silken tofu including pasta sauces, Alfredo, and more. Here are some recipes: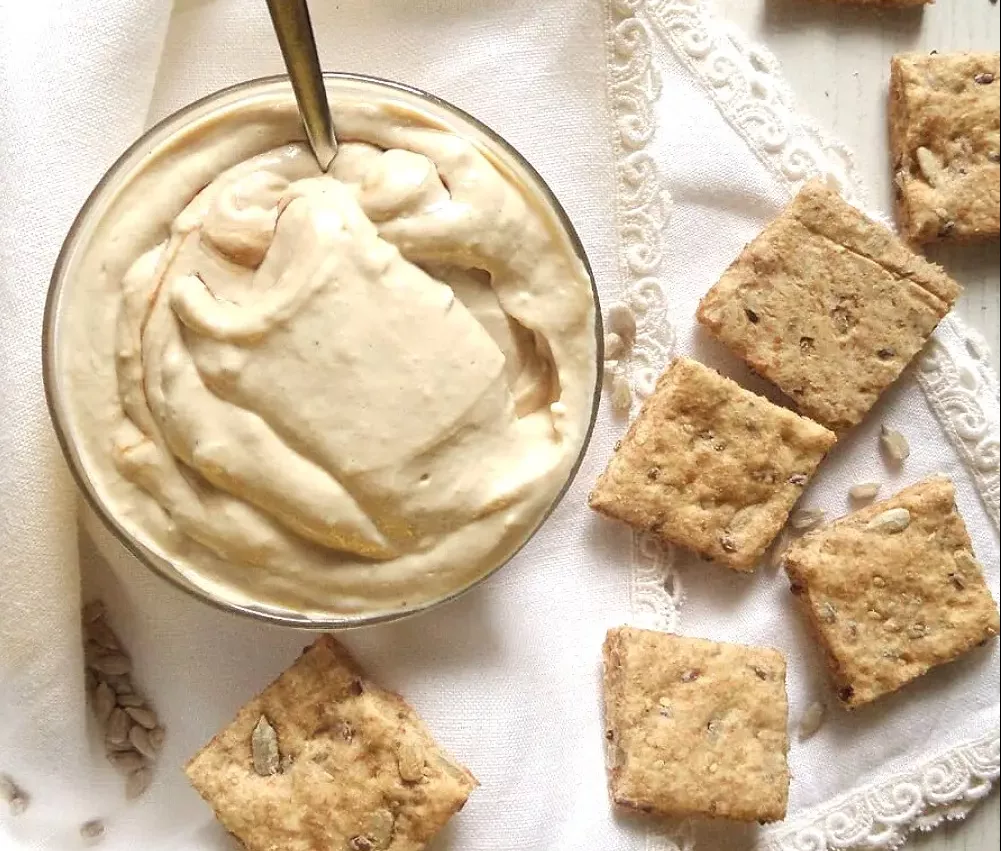 Tofu Spread (with Silken Tofu) – Creamy tofu spread or dip with tahini and garlic, a vegan delight perfect to serve with crackers or as a dip for vegetable sticks. This recipe is made by Where is my Spoon.
Healthy Vegan Spinach Dip – This healthy vegan spinach dip makes a great quick appetizer or spread. The dip comes together in only 10 minutes – all you have to do is add all the ingredients to a blender or food processor, and viola. This recipe is made by Sarah's Vegan Guide.
Salads
Adding tofu to your salads is one of the easiest ways to add protein to a dish that is easy to not make balanced. Follow these flavorful and creative recipes below to see how you can use tofu in salads.
Smoked Tofu and Sweet Potato Summer Salad – A light summery salad that's protein packed with smoked tofu as well as roasted sweet potato and salad vegetables! This recipe is made by By the Forkful.
Tofu Skin Salad with Cucumber and Cauliflower – Bold spicy Asian flavors that will definitely get your taste buds moving. Delicious texture with tofu skin, cucumber and cauliflower mixed with a chilli black vinegar dressing that is spicy, sweet and sharp all at the same time. This recipe is made by The Devil Wears Salad.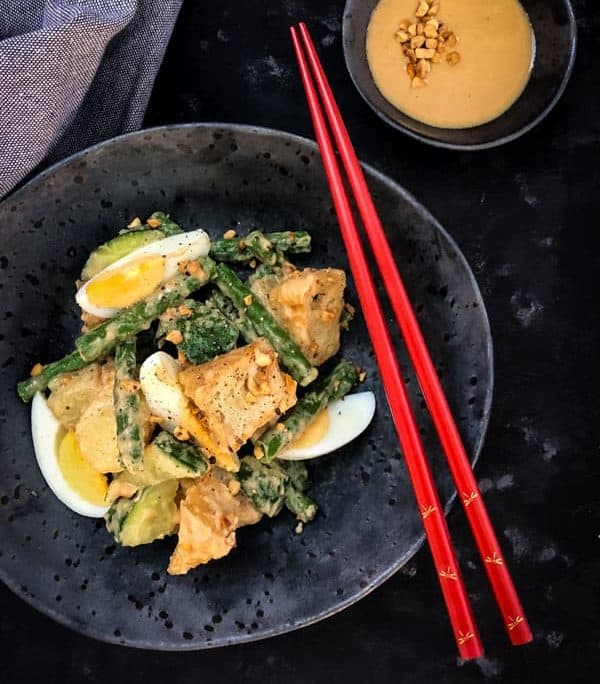 Tofu Puff Salad with Snake Beans and Peanut Butter Dressing – This Tofu Puff Salad is a variation of the traditional Gado Gado. Stirred through with a homemade peanut butter dressing, this salad is great to have on its own. This recipe is made by The Devil Wears Salad.
Vegan Tofu Katsu Salad – This tofu katsu salad is a deliciously fresh take on a Japanese tofu katsu curry. It's made with crispy gluten free breaded tofu, crunchy veggies, brown rice, and a curry sauce inspired salad dressing. You'll be wondering why you've never tried katsu in a salad before! This recipe is made by Forkful of Plants.
Thai Salad with Sesame Crusted Tofu – This bright and colorful Thai Salad makes a perfect meal or side dish. It's with crunchy veggies, sweet mandarin slices, cubes of sesame-crusted tofu, and an Asian ginger dressing. This recipe is made by No Sweat Vegan.
Desserts
You wouldn't believe me if I said it, but you can make desserts with tofu. Chocolate desserts are especially popular with silken tofu. You can cakes, mousse, cream pies and more. Here are some recipes: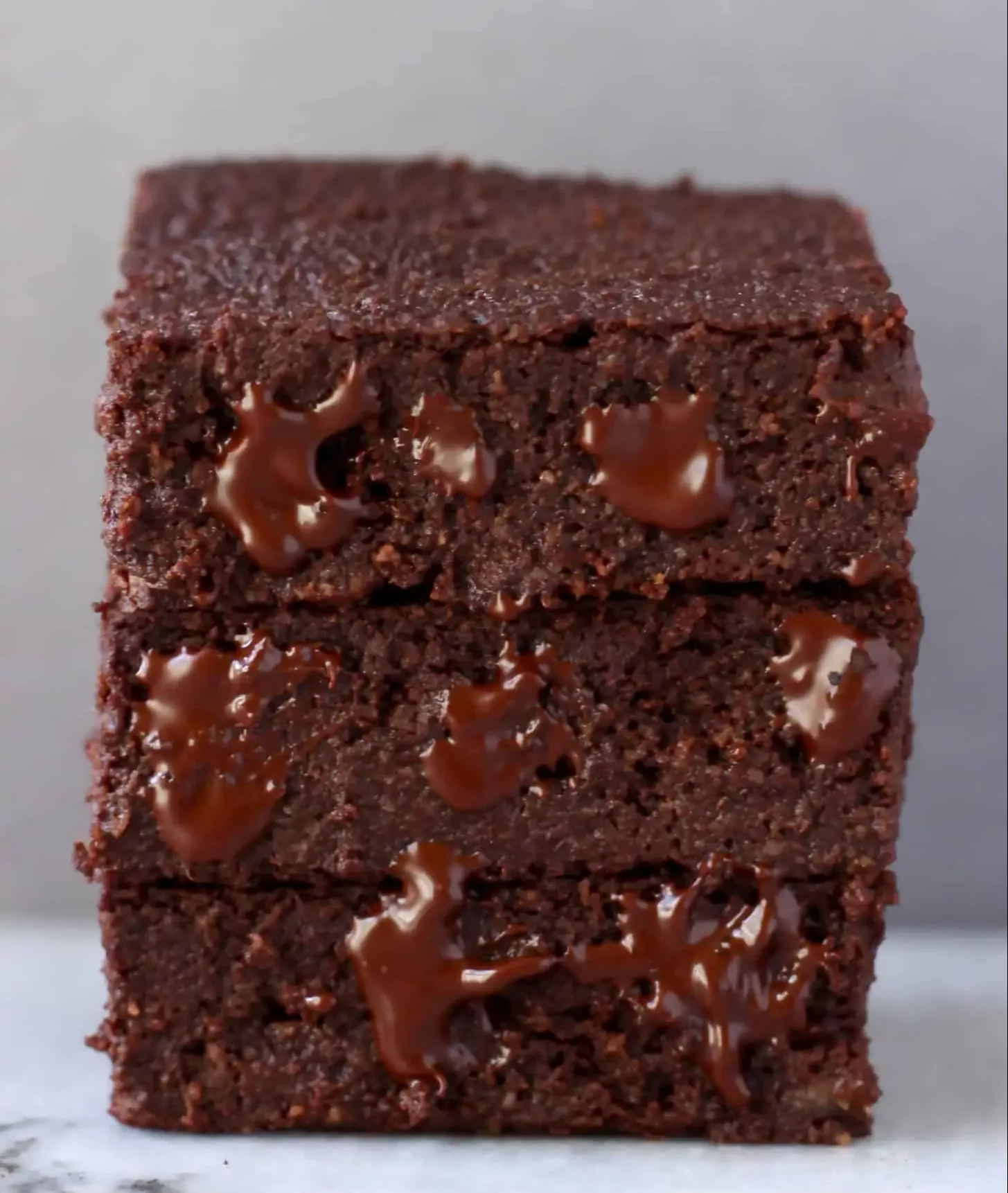 Gluten Free Brownies – These Vegan Gluten-Free Chocolate Brownies are fudgy and gooey, seriously indulgent and made with tofu! Sumptuously chocolatey, seriously moist and luxuriously dense, they're also refined sugar free, oil-free, naturally sweetened with dates, flourless and grain-free, and high in protein and fiber. This recipe is made by Rhian's Recipes.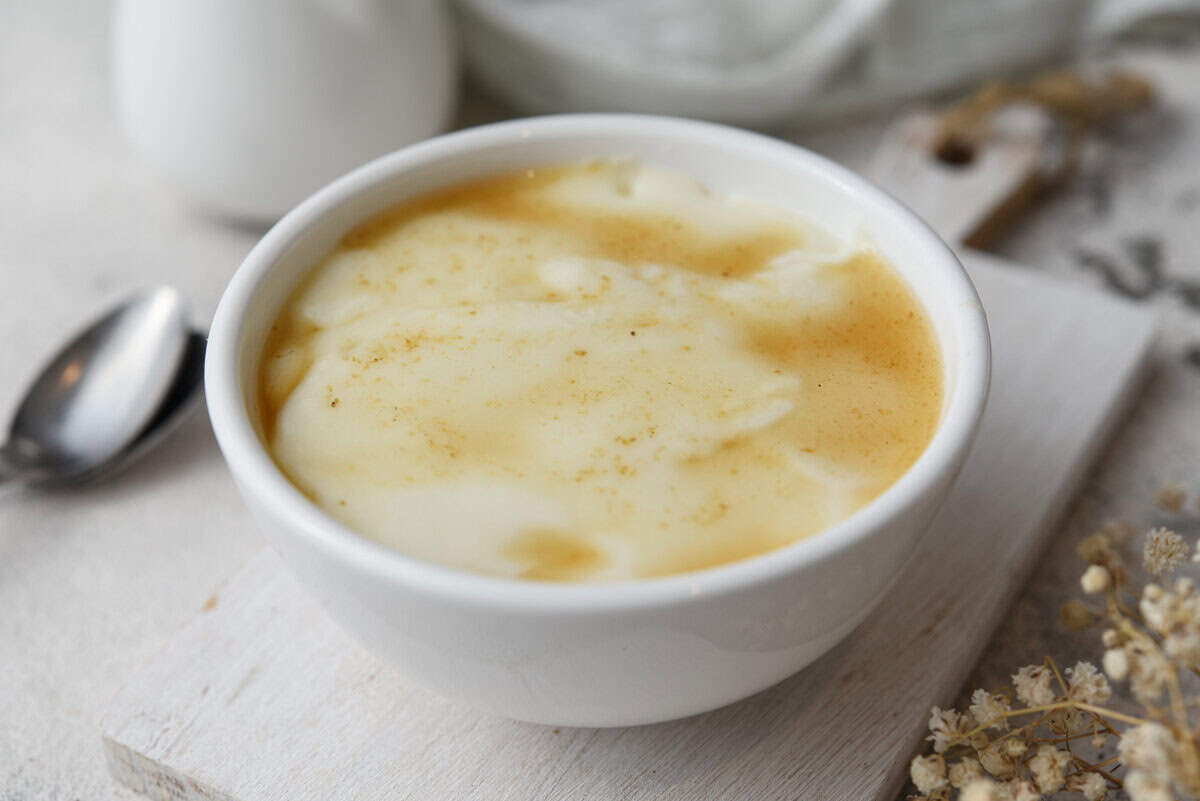 Instant Pot Tofu Pudding – I great option for a vegan dessert you can make in your Instant Pot in less than 15 minutes. Perfect for breakfast! This recipe is made by Corrie Cooks.
Vegan Lemon Cheesecake – This cheesecake is made out of tofu and it is completely dairy-free, gluten-free, sugar-free, and vegan! Perfect if you have guests or you are just craving a healthy dessert. This recipe is by Bubble Green.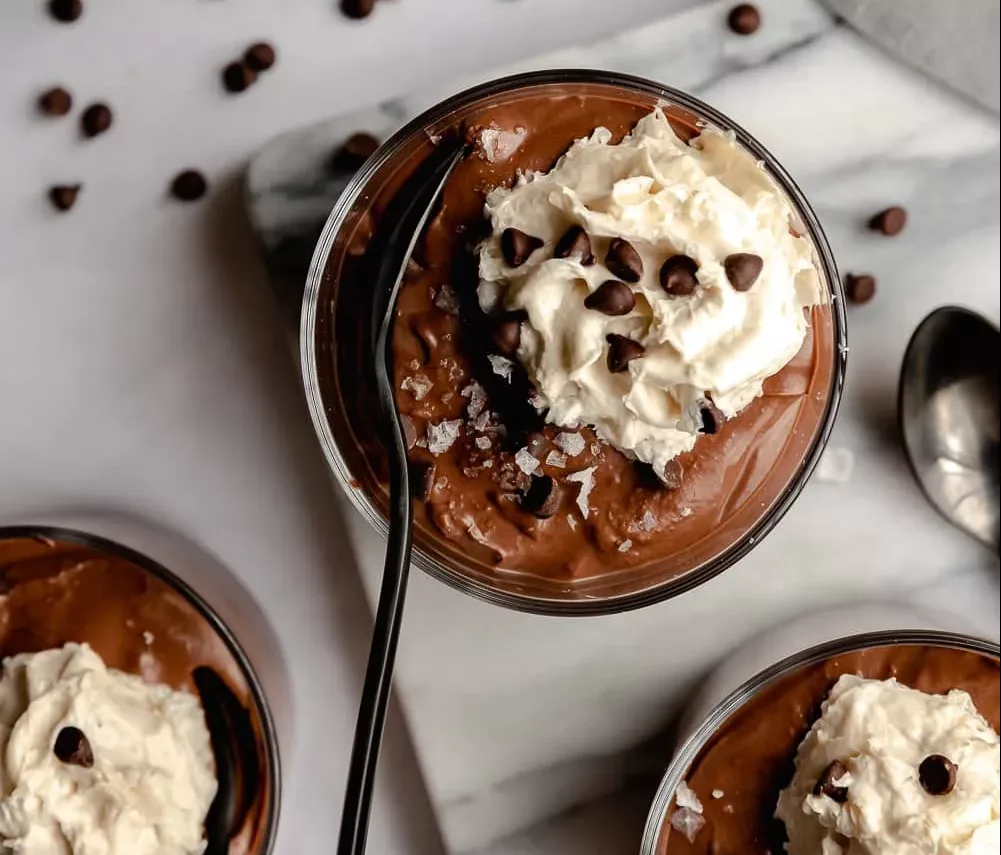 Simple Chocolate Protein Pudding – This vegan chocolate protein pudding is an easy-to-make dessert that tastes rich, but high in protein thanks to the nutritious, protein-packed silken tofu base. This recipe is made by Salads for Lunch.
Chocolate Mousse Pie with Berries – Vegan chocolate mousse pie made with tofu with a pecan brownie crust, raspberry chia jam and fresh berries. Gluten-free can be made nut free. This recipe is made by Rainbow Nourishments.
Other Tofu Recipes
The reason I have "other" tofu recipes, is because the categories above do not do tofu justice when it comes to how you can use it. You can use tofu in such a variety of ways. The only limitation is your imagination. This list below will definitely prove it.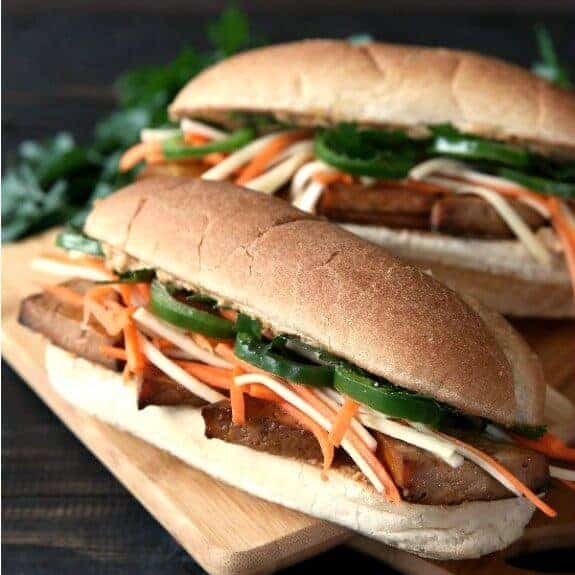 Vegan Banh Mi Sandwich with Spicy Tofu – Vegan Banh Mi Sandwich is a fantastic recipe that you just can't miss making. Easy baked spicy tofu stars with a sweet and spicy sauce and veggies. This recipe is made by Vegan in the Freezer.
Chipotle Sofritas – This Sofritas recipe makes flavorful vegan braised tofu that's perfect for tacos, enchiladas, burrito bowls and more. My one-pan recipe is an easier take on Chipotle Sofritas, is just as delicious (if not more), and comes together in less than 30 minutes. This recipe is made by Spice Cravings.
Broccoli Tofu Quiche – Broccoli Tofu Quiche is full of veggies and ready in under an hour. A special dinner that reheats perfectly. Can be baked in a springform pan or a pie plate. This recipe is also made by Vegan in the Freezer.
Vegan Tofu Potato Curry – An easy and quick vegan recipe for tofu potato curry with peas. Simple ingredients simmered in a flavorful sauce – this vegan curry makes a really satisfying and healthy lunch or dinner. This recipe is made by Where is my Spoon.
Vegetable Tofu Ricotta Lasagna – Vegetable Tofu Ricotta Lasagna is one amazing low fuss dish packed with spring veggies of choice, tofu ricotta and herbs. This recipe is made by Healthy World Cuisine.
Vegetable Bhuna with Tofu – This delicious Vegetable Bhuna includes a great helping of firm tofu for a filling protein kick. Delicious spicy and fragrant, perfect with pilau rice and Indian style bread. This recipe is made by Vegan Punks.
Vietnamese Lemongrass Chili Tofu – Vietnamese Lemongrass Chili Tofu is a popular vegan Southern Vietnamese dish. The tofu is marinated with minced lemongrass and bird's eye chili, then fried until golden and fragrant. This recipe is made by Delightful Plate.
Peanut Tofu Satay Curry – This Peanut Tofu Satay Curry is really easy to make, super satisfying, and so full of flavor. It's rich and creamy, nutty, fragrant, salty-sweet and perfectly spicy. It's easily customizable, packed with veggies, comforting and warming. It's hearty and satisfying and super easy to make as it's made in one pot and ready in 20 minutes! Plus it's naturally vegan and gluten-free. This recipe is made by Rhian's Recipes.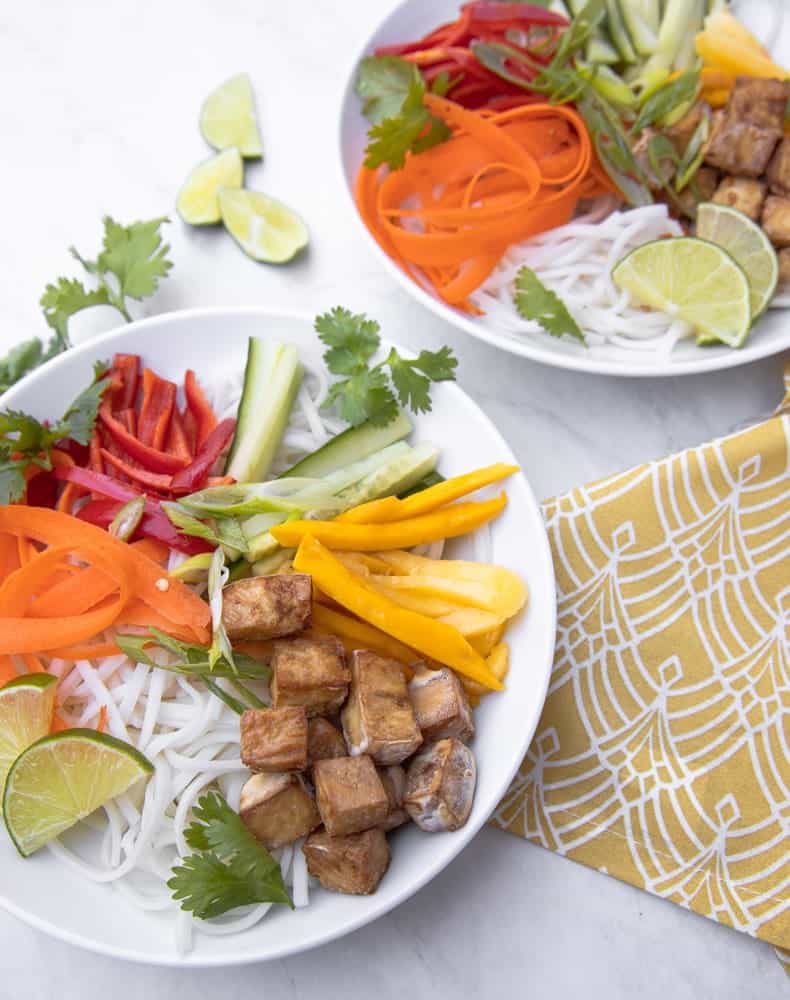 Mango Spring Roll Bowl with Crispy Tofu – This mango spring roll bowl is light and fresh with a sweet and spicy chili lime sauce. Crispy tofu is the perfect topping to bring all the flavors together! This recipe is made by Simple Spoonfuls.
Vegan Mushroom and Smoked Tofu Bourguignon – A great hearty and tasty meal. This French-inspired dish is rich in flavor and uses smoked tofu (you can buy this or create it yourself) and tastes fantastic with crusty bread. This recipe is made by The Vegan Larder.
Easy Vietnamese Summer Rolls with Crispy Tofu – Easy Vietnamese summer rolls with dipping sauce! This recipe is made by Daily Dish.
Air Fryer Tofu Nuggets – This simple recipe for crispy air fryer tofu nuggets is an easy way to prepare a flavorful tofu dish for dinner tonight. This recipe is made by Marathons and Motivation.
Tofu Butter Masala – Tofu butter masala is nothing but a vegan version of paneer butter masala. My vegan version features Tofu simmered in a flavorful tomato and spice base. This recipe is made by Simple Sumptuous Cooking.
Fun Facts About Tofu
Tofu is Over 2,000 Years Old
Tofu originated in China when a chef during the Han Dynasty (206 BC – 220 AD) accidentally curdled soy milk when he added nigari seaweed. There is also art that dates as far back as the Han Dynasty where it shows tofu production. How cool.
Tofu is Made Similar to Cheese
The process of making tofu is very similar to cheese. During the manufacturing process, coagulants are added to soy milk, so the solids separate from the liquids. Today, the coagulants people use is magnesium chloride, but nigari seaweed was the original coagulant used back in the day. Then the bean curds are packed into a press, formed into a block, and aged for a certain amount of time (depending on the type and firmness of the tofu).
Tofu is a Japanese Word
You may be wondering how Tofu is a Japanese word when it originated in China. However, it was introduced to Japan in the eighth century and took on a couple of different names, including "okabe". It didn't take on the name "tofu" until 1400. Tofu is a Japanese word that is derived from the Chinese (Mandarin) word "doufu", which literally means curdled bean.
The Spread of Tofu Followed the Spread of Buddhism
Interestingly, the spread of tofu consumption throughout Japan and Korea was linked to Buddhism. Many Buddhists are vegetarian, because they believe that killing is linked to negative karma. Therefore, many avoid killing animals and eating meat. Back in the day, Buddhist priests were responsible for bringing tofu back to Japan.
Tofu was First Introduced in the U.S. by Benjamin Franklin
In 1770, Benjamin Franklin, one of our founding fathers, first introduced tofu in a letter to John Bartram. Ben Franklin actually encountered it while he was in London, and packaged a few soybeans up and referred to it as cheese from China. How interesting. Franklin also corresponded with James Flint on how the Chinese took soybeans and turned it into tofu. Flint writing "Towfu" in his letters to Ben Franklin was one of the first appearances of the word in the English language. The first tofu factory was erected in the United States in 1878.
Tofu Became Popular in the U.S. in 1971
Tofu didn't become popularized until 1971 when Frances Moore Lappe published his book, Diet for a Small Planet. His book essentially proved the misconception that animal-based protein was superior false. He was one of the first people to introduce other forms of protein, like plant-based protein into America's regular diet. His book was known at the time for diet and nutrition advice, and he talked a lot about the nutrition of tofu.