When I was a kid, my mom always cooked Korean meals – because we are Korean! Popular dishes in our household were kimchi, Bulgogi, and Japchae. So, when I grew up and moved out, I continued to crave my mom's homemade meals and other Korean flavors, because that's what I grew up with. On the hunt for more fun recipes and dishes I could put in my arsenal, I came across Korean beef rice bowls.
They were everything I loved about Korean cuisine and easy cooking. It was flavorful and multi-dimensional while being so easy to make! It literally takes no longer than 15 minutes, and is made with very accessible, pantry ingredients.
So, in this recipe for Korean beef bowl, I share my personal variation on this popular dish and some great cooking tips to make it even better.
Is Korean Beef Rice Bowl Healthy?
Overall, Korean beef rice bowls are pretty healthy. That's because it provides a healthy blend of your core macro nutrients. Depending on how big your serving is, protein can range from 20-40 grams and carbs can range from 20-40 grams too. That's when you serve it with a side of rice.
However, fat can be a little on the higher side of 20 grams per serving. If you want to reduce the fat in this dish, a great substitute would be to use ground turkey instead of hamburger, and cook it the same way.
How Do You Make Korean Beef Rice Bowl?
Traditionally, a Korean inspired beef bowl is ground beef cooked with a sauce mixture of brown sugar, soy sauce, garlic, ginger, and other aromatics and spices.
Before you start the cooking process, you'll want to mix the soy sauce, brown sugar, sesame oil, and pepper together in a small bowl.
Then, start cooking the raw ground beef in a pan on medium to high heat. You want to break it up into little pieces with a spatula or wooden spoon as it cooks.
After you have cooked the beef thoroughly, add in your aromatics like garlic and ginger. After sautéing for a few minutes, add in your sauce and sauté for another 5 minutes or until the sauce thickens.
Turn off the heat, and sprinkle with chopped green onions and sesame seeds. Then, it's ready to serve.
This dish is really that simple, and can be prepared in about 15 minutes.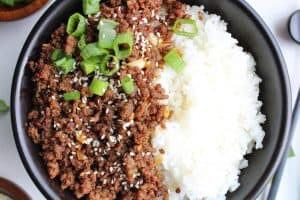 Ingredients for Korean Beef Rice Bowl
Ground Beef: For this recipe for Korean Beef Bowl, you'll want to use one pound of ground beef. I recommend using the 20% fat/80% lean. If you want to meal prep this meal or serve it to your family, then double the recipe, as the current recipe currently serves 2-3 people.
Soy Sauce: This ingredient will go in your sauce mixture. You can use pretty much any soy sauce you have in your pantry. I would recommend using an all-purpose variety (not light or dark soy sauce). This way, the flavors won't become too intense. I usually use Kikkoman's all-purpose soy sauce.
Brown Sugar: For brown sugar and soy sauce, I recommend using a 1:1 ratio. In this recipe, I call for ¼ cup of brown sugar for 1 pound of beef. You can use light or dark variety.
Garlic: I always love adding a ton of garlic to all my dishes, and I think you can never have enough. I use 4 cloves of garlic in this recipe, but you can use more or less depending on your preferences. Garlic will give it a spicy Unami flavor to the dish. Plus, using lots of garlic is very traditional for Korean dishes.
Ginger: You can use a 1:1 ratio of garlic to ginger, or use a little less ginger depending on your preferences. Ginger will add a refreshing level of spice to the dish, and make it more multi-dimensional in flavor.
Ground Red Pepper: Use spicy ground red pepper. Because this dish is Korean, I like using Korean ground pepper, called gochugaro. It's actually much sweeter and milder than the ground red pepper you might have in your pantry. However, you can use any variety, including red pepper flakes and cayenne pepper. If you use cayenne, I would start using ½ teaspoon, then check the spice level and adjust to your liking.
Sesame Oil: I love sesame oil, and this adds a smoky and nutty flavor to this dish! I put it in the sauce mixture, but you can also drizzle it over the ground beef after it's done cooking with the green onions, and stir to combine. Sesame oil has a low smoke point, so it's best to minimize the amount of heat you apply to it. The more heat you apply, the more it will degrade and lose its flavor.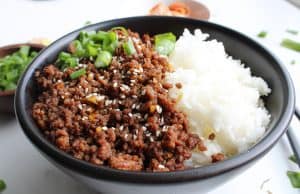 Can I Make This Recipe With Other Meats?
Of course! Now, I would recommend sticking to ground beef as much as possible, because using substitutes will possibly affect the flavor and feel of the dish. However, if you can't eat beef or you want to reduce the fat content, I recommend using ground turkey or chicken.
If you're not concerned with the fat content, then substitute with ground pork.
If you are vegan or vegetarian, you can try substituting with tofu. Just take out as much moisture out of the tofu blocks as possible, crumble it up and break it into little pieces with your hands, and put into the pan to brown for at least 5 minutes on medium high heat. Then, follow the recipe as normal. If you want to learn more about ways to cook tofu, you can check out my tofu guide.
If substituting with meats, prepare the dish the same way as if you were using ground beef.
What Can I Serve With Korean Inspired Beef Bowls?
This dish gives you a lot of options! I personally love serving this dish with a side of white rice and Kimchi. That's my personal favorite.
You can also serve it with a fried egg on top with a runny yolk. For a lighter option, serve it with seaweed salad, extra handful of chopped green onions, or my favorite Korean cucumber salad (Oi Muchim).
Heartier sides you can pair Korean Beef Bowl with includes dumplings or potstickers, fried rice, Chow Mein, or green onion pancakes.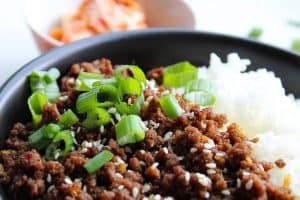 How Many Calories in Korean Beef Rice Bowl
The calorie content will depend on how big your serving is. However, calories will range from 300 to 600 for this dish.
For this recipe, one serving is around 600 calories. So, if you wanted to reduce your calorie intake for this meal, just divide the total batch by 3-4.
More Asian-Inspired Dinner Recipes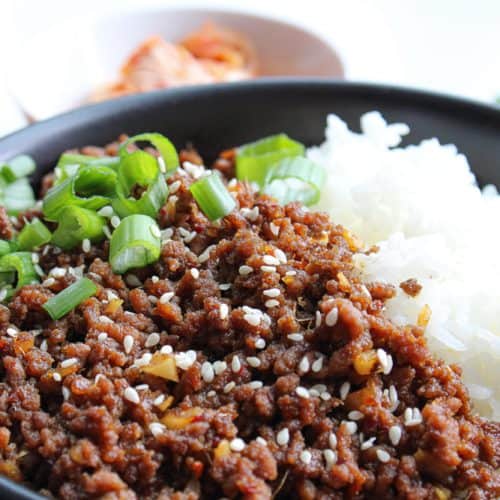 Korean Beef Rice Bowl
This Korean Beef Rice Bowl is a hassle-free and delicious dish when you want something easy, quick, and satisfying. Made with ground beef and a Korean-inspired sauce mixture of brown sugar, soy sauce, sesame oil, and aromatics, it's served perfectly with rice and Kimchi.
Ingredients
1

lb.

ground hamburger

¼

cup

brown sugar

¼

cup

soy sauce

1

tsp.

ground Gochugaru pepper

(a.k.a. ground red pepper)

2

tsp.

sesame oil

4

cloves

garlic

minced

1

tbs.

ginger

grated or diced

1

bunch

green onion

chopped

1

tsp.

Sesame seeds

for garnish
Instructions
Combine the brown sugar, soy sauce, sesame oil, and ground Korean pepper into a small bowl and stir to combine. Set aside.

Heat a large frying pan to medium-high heat.

Place the 1 lb. of hamburger in the pan. Cook and break apart into little bits with a spatula for 10-15 minutes, until the ground hamburger is fully cooked.

Drain the oil from the meat by using a strainer or taking a spoon and spooning out the excess oil.

With the drained meat still in the pan, heat the pan back to medium-high and throw in the garlic and grated ginger. Sauté for2-5 minutes or until the garlic is fragrant.

Then pour in the brown sugar and soy sauce mixture into the pan. It will meet the heat with a sizzle. That's good, as you want the sauce to start caramelizing in the pan and thickening up.

Stir the sauce mixture and meat to combine it well. Let the sauce and meat cook together in the pan for 10 minutes, or until the sauce thickens up and starts to caramelize.

Take it off the heat and stir in the sesame seeds and green onions.

Serve with freshly steamed rice and Kimchi, and serve to enjoy!
Notes
You can mix the sesame oil, ginger and garlic into the sauce mix at the beginning of the recipe instructions if you are too lazy (like me) to prevent adding extra steps in the cooking process. However, this will sacrifice on some flavor.
Nutrition Facts
Nutrition Facts
Korean Beef Rice Bowl
Amount per Serving
% Daily Value*
* Percent Daily Values are based on a 2000 calorie diet.
Nutrition Facts
These values were taken from a nutrition calculator.
Share by Email
Share on Facebook
Share on Twitter