When I was in college, I used to buy this deli Greek quinoa salad from the University of Washington cafeteria. I bought this at least once a week, if not more. It was so delicious and I knew it was super healthy, so it was always a go-to option when I was looking for lunch on campus.
However, when I graduated, I was sad I wouldn't be able to buy my favorite Greek quinoa salad with chickpeas as easily anymore. So, I set out to recreate it at home and have been making it ever since. What I love about this easy Greek quinoa salad is that it's well-balanced, satisfying, feel-good food. Plus, it's easy and doesn't take a lot of time to make. It's packed with protein-rich quinoa and full of a variety of vegetables. It's one of my favorite recipes to use, and it's a great recipe to use when you're trying to stay healthier.
In this recipe, I use a variety of produce including English cucumbers, bell peppers, pitted Kalamata olives, cherry tomatoes, and parsley, to give a fresh component to the dish. I top it off with a lemon vinaigrette that adds a citrusy punch to the salad. In this article, I'll go over how to make this Greek Quinoa Salad recipe, tips to make it the best, and frequently asked questions.
How to Make Greek Quinoa Salad
Step One: Cook the Quinoa. You'll want to start by cooking the white quinoa. Pour the two cups of white quinoa into a pot or deep saucepan, and toast it for 1-2 minutes on medium-high heat. Once the quinoa becomes fragrant, pour the 4 cups of chicken broth into the pot. Add salt and pepper to season. Bring it to a boil, and reduce the quinoa to a simmer. Simmer for 10-15 minutes, or until all the water has soaked up, and it's fluffy when you break it up with a fork. Toasting the quinoa and cooking it in the chicken broth will add extra flavor to this ancient grain and the salad.
Step Two: Roast the Red Peppers. Preheat the oven to 400°F. Place the two red bell peppers on a baking sheet and roast for 30-40 minutes. You'll know they are done when they become fragrant, soft, and form black spots. Roasting the peppers instead of adding them to the salad raw will give a diversity of texture within the salad, and give it an extra smokiness flavor. If you have access to a grill, I recommend grilling the peppers instead.
Step Three: Cut Up the Other Vegetables. This step is pretty simple. Just dice the other fresh vegetables, including the cucumbers, green bell peppers, parsley, cherry tomatoes, and kalamata olives to your desired size, and set aside. I usually slice the olives and cherry tomatoes in half.
Step Four: Make the Lemon Vinaigrette. Combine the squeezed lemon juice, extra virgin olive oil, salt, pepper, oregano, red pepper flakes, honey, and grated garlic. Whisk together until it's fully emulsified. Add the Dijon mustard before whisking, if desired.
Step Five: Cool the Red Peppers, Peel the Skins Off, and Chop. Once the peppers are done roasting, let them cool to room temperature – about 10-20 minutes. Next, peel the skins off and de-seed the peppers. Chop them by cutting them into strips, length-wise, and then into 1-inch pieces.
Step Six: Combine the Ingredients Together and Toss to Combine. Combine the chopped red peppers, cooled quinoa, cucumbers, green bell peppers, chickpeas, kalamata olives, cherry tomatoes, parsley, feta cheese, garlic powder, salt, and pepper together. Toss to combine. Pour over the lemon vinaigrette and toss to combine again. Chill in the fridge for 30 minutes, sprinkle the rest of the crumbled feta and parsley on top, and serve!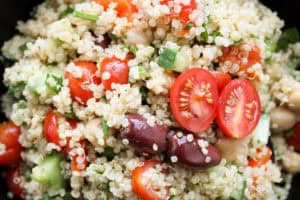 3 Tips to Make the Best Greek Quinoa Salad
Soak Up the Extra Water that Excretes From the Vegetables
After you chop all of the vegetables for the salad and set them aside in a bowl, don't forget to soak up any water the vegetables excrete with a paper towel. This will make a huge difference in the salad you serve. It will make the salad less soggy and help it to last longer. If you want to go a step further, scoop out the cucumber seeds, and just chop the flesh.
Cook the Quinoa with Broth and Seasonings
Don't just cook your quinoa with plain water if you can help it! By adding chicken or vegetable broth, and salt and pepper to the cooking process, you'll add a ton more flavor to the quinoa. If you want to go a step further, add a teaspoon of garlic powder and onion powder to the boiling pot too. Don't forget these steps if you want to ensure your quinoa salad is delicious!
Grill or Roast the Red Bell Peppers
Grilling or roasting the red bell peppers instead of blanching or leaving them raw will add an extra depth of flavor. You'll get a smokiness or a charred flavor. Plus, you'll make them softer, which will balance out the crunchiness of the other vegetables used in this salad.
Other Salad Dressings You Can Use for This Easy Greek Quinoa Salad
Lemon vinaigrette is my favorite dressing to use for this salad, but if you want to experiment or don't have all the ingredients, you can opt for other dressings. My top recommendations are to use a classic Italian vinaigrette, balsamic vinaigrette, or Greek salad dressing.
If you don't have time to make your own dressing, you can use any brand of store-bought dressings. I would recommend sticking with the vinaigrettes I recommended above.
If you are really pressed for time and ingredients, you can also just sprinkle the extra virgin olive oil and lemon juice over the salad, and toss to combine. Forget the rest!
Frequently Asked Questions
Can You Meal Prep This Greek Quinoa Salad?
Yes, you can! The proportions and measurements in this recipe are actually intended for meal prep for 1-2 people. However, if you're making this salad for a party or your family, I recommend keeping these measurements for a single meal. However, this dish is perfect for meal prep and acts as a stand-alone dish, since it's so well balanced with the fiber from the grains and vegetables, protein from the quinoa and beans, and the fat from the cheese and dressing.
What Type of Quinoa is Best to Use?
I prefer using white quinoa, but you can use any kind you want. White quinoa is not as chewy, so it will have a nicer texture. However, I always recommend using what you have on hand or what is cheaper.
What Can You Pair with This Cold Greek Quinoa Salad?
You can pair a lot with this Greek salad! You can put it in a pita pocket with some hummus, or have it as a side to some Greek-marinated chicken. I honestly love eating it on its own. It can act as a well-balanced, main dish.
Can You Freeze this Best Greek Quinoa Salad?
I wouldn't recommend freezing this salad. Many of the vegetables used don't freeze well, and it's more likely to be less crunchy and soggier if you eat it after freezing it.

This dish will last in the refrigerator for 3-5 days in an air-tight container.
How Do You Make This Dish Vegan?
Just replace a few of the ingredients to make it vegan. Replace the chicken broth with vegetable broth or water. Use sugar, maple syrup, or agave nectar to replace the honey, and omit the feta cheese.
Is This Greek Salad Gluten-Free?
Yes! This salad recipe is naturally gluten-free. However, I would just double-check all of your food packaging labels to ensure there are no trace amounts of wheat or no warnings of cross-contamination to your products.
What are Common Substitutions for This Dish?
If you don't have all the ingredients on hand, don't worry! You can make this dish very close to the recipe with a few substitutions. If you don't have English cucumbers easily accessible to you, then you can use regular cucumbers. You can use any type of tomato, olive, or bell pepper variety of your choosing. If you're making this salad and trying to use up ingredients in your kitchen, then other ingredients like red onion, chicken, asparagus, broccoli, and more can be used.

If you don't have feta cheese, you could substitute it for goat cheese, or just leave it out altogether. If you don't have lemons for the dressing, red wine vinegar or white wine vinegar will also be a good substitute. Just remember, this dish can be very flexible if you need it to be!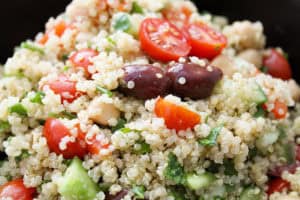 More Salad Recipes and Lunch Ideas to Try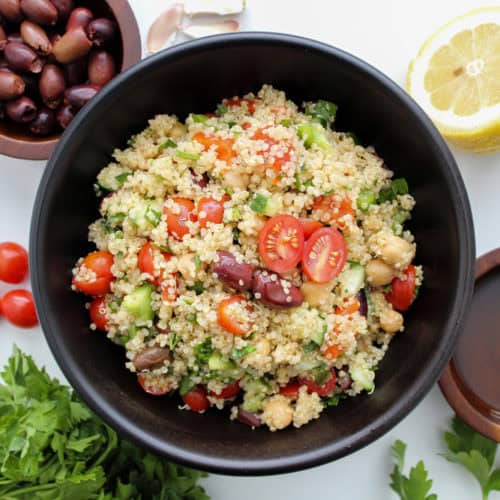 Healthy Greek Quinoa Salad with a Simple Lemon Vinaigrette
This healthy greek quinoa salad is a gluten-free and protein-packed lunch that is filled with chickpeas, English cucumbers, Kalamata olives, bell peppers, cherry tomatoes, feta cheese, and parsley. It's a great dish to meal prep or serve to your whole family.
Ingredients
2

cups

dry white quinoa

4

cups

chicken or vegetable broth

1

tsp.

garlic powder

1

tsp.

onion powder

2

red bell peppers

1

English cucumber

chopped

1

green bell pepper

chopped

2

cups

cherry tomatoes

sliced in half

1

cup

pitted Kalamata olives

1

15 oz. can

chickpeas

drained and rinsed

1

cup

parsley

chopped

Salt and ground black pepper

to taste

5

oz.

feta cheese

optional
Lemon Vinaigrette
¼

cup

lemon juice

½

cup

extra virgin olive oil

1

tbsp.

dried oregano

1

garlic clove

crushed or grated

1

tbsp.

red pepper flakes

1

tsp.

honey

¼

tsp.

salt

½

tsp.

ground black pepper

1

tbsp.

Dijon mustard
Instructions
Preheat the oven to 400°F. 

Bring a large pot to medium-high heat. Once heated, pour in the white quinoa, and toast for 1-2 minutes, or until fragrant.

Pour in 4 cups of water or broth with the salt, pepper, garlic powder, and onion powder. Bring it to a boil. Once it's boiling, reduce the heat to medium and let the quinoa simmer for 10-15 minutes, or until all the water has been absorbed by the quinoa. For extra fluffy quinoa, cover the pot with a lid for the last 5 minutes.

While the quinoa is cooking, wash and place the 2 red bell peppers onto a baking pan and let it roast for 30-40 minutes. You can tell it's done when it's soft and wrinkled with black spots.

While the red bell peppers are roasting, make the salad. Start by cutting the cucumbers. Cut the cucumber in half, length-wise, and then scoop out the seeds. Dry each cucumber "boat" with a towel to soak up the extra water. Cut each piece in half length-wise again, and then cut into 1-inch pieces.

When the quinoa is done cooking, set it aside to cool down. If you want to speed up the cooling process, stick the quinoa in the fridge.

Combine the chopped cucumber, chopped green bell pepper, sliced cherry tomatoes, Kalamata olives, chickpeas, and ¾ cup of chopped parsley in a large bowl. You'll want to soak each batch of vegetables you chop to minimize water excretion. This will help prevent the salad from getting too soggy when it sits. You can use paper towels or a regular kitchen towel to soak up the extra water the vegetables excrete.

Make the dressing next. Combine the lemon juice, olive oil, oregano, red pepper flakes, honey, salt, pepper, and garlic in a small bowl. Mix the salad dressing well with a whisk. Set aside. You can also make the dressing by combining all of the ingredients into a blender.

Once the red bell peppers are done roasting and have been cooled, peel the skins off, de-seed them, and roughly chop them. I usually cut them into strips length-wise, and then chop the strips into 1-inch pieces. Combine the peppers, cooled quinoa, and 4 oz. of feta cheese into the large mixing bowl with the chopped vegetables.

Pour the salad dressing over the large salad bowl and stir to combine.

Cover and chill in the fridge for at least 30 minutes.

Garnish with the leftover feta cheese and parsley.
Notes
1.) When making the dressing and measuring out the honey, use cooking oil spray on the measuring spoon you use to spoon out the honey. By spraying it with oil, and then putting the honey on the spoon, it will slip out without any honey sticking to the spoon.
2.) If you want to meal prep this dish, then prepare the quinoa, chopped vegetables, and dressing separately, and combine them when you are ready to eat. This will minimize all chances of too much moisture developing and making your salad soggy over the course of the week. However, I've tried meal-prepping this dish, and it lasts wonderfully the whole week if I just pat the chopped vegetables dry before combining everything. This is more of a precautionary step if you want to meal prep it.
Nutrition Facts
Nutrition Facts
Healthy Greek Quinoa Salad with a Simple Lemon Vinaigrette
Amount per Serving
% Daily Value*
* Percent Daily Values are based on a 2000 calorie diet.
Nutrition Facts
These values were taken from a nutrition calculator.
Share by Email
Share on Facebook
Share on Twitter