This week I got the pleasure of interviewing a fellow food blogger from Ontario, Canada! I'm excited to kick off the new interview series with Gloria Duggan, owner and creator of Homemade & Yummy, as she has been in the food blogging space for 7 years. She has been cooking for even longer.
She specializes in a mixture of healthy and comforting family meals. Coming from a Ukrainian background, homemade cooking storms were a norm growing up. That's why it was a no-brainer that food blogging would be the route she would take. She has a passion for developing new recipes and sharing them with her kids and grandkids.
However, she is more than just a lover and sharer of recipes. In her time in food blogging, she has become a brand ambassador for companies, including Broil King. She's been featured and interviewed by the food industry's top outlets like Buzzfeed, Food and Drink, and more.
After speaking with her, I realized that Gloria has many cooking lessons to share and I'm excited to share with you her story, advice she has for beginner cooks, cooks that inspire her, and even some of the fears she still has in the kitchen. It was a truly humbling and inspiring interview!
Gloria Duggan, when did your passion for cooking begin?
My passion from cooking came from watching my mom and baba in the kitchen. Coming from a Ukrainian background, food was always a major component. From all the delicious dishes at family gatherings and holidays, to all the preserves from the garden harvests. Family and food, and sharing special times still is so important to us. Traditions mean so much to my family.
How did you get the idea to start your own food blog? What's the story behind it?
The story behind my blog Homemade & Yummy is twofold. I have a very close friend (who loves my cooking), and he suggested I start a B&B when I retire. That was not at option. For one, I don't want all the work. Second, we don't live in an area that would need this sort of service.
That same friend then suggested I start a food blog and share my recipes. At that time I had NO idea what he was talking about. 7 years later, here I am LOL.
As for the name of my blog, I asked my husband for some input. He came up with Homemade & Yummy since that is how he describes my cooking.
What are the 3 most valuable cooking lessons you learned in the kitchen that made you the cook you are today?
Skills in the kitchen….hmmm….let's see.
Don't be afraid to experiment in the kitchen. You just might surprise yourself on what you can do.
Invest in some basic but quality equipment. You don't want to keep replacing things.
Find a food blog or TV chef that inspires you. Sometimes all it takes is a little inspiration to grow your hidden talents.
What is the one ingredient and kitchen tool beginner cooks should use? 
If I had to pick ONE ingredient I would say a great quality olive oil. This can be used in roasting veggies (my favorite way cook veggies), cooking on the stove top and in a simple salad dressing.
If I had to pick ONE kitchen tool…..that is really hard LOL. It is a toss-up between a great knife and a Dutch oven.
We all need to be able to cut, and a great knife is worth the money. However, a fantastic Dutch oven can be used on the stove top and in the oven. You can make stews, casseroles, soup and bake in it. Mine is on my stove ALL the time. You can even use it on the BBQ!!
What advice would you give to a beginner cook who wants to improve their cooking skills?
If you really want to improve your cooking skills, you have to not fret when you fail!! All cooks (professional or home chefs) fail at some point. It happens to everyone.
I have had my share of failures along the way. You learn from these failures and it makes you a better cook.
Don't let failure intimidate you. Begin with EASY to make recipes and go from there. Sometimes the failures are really new successes.
Are there any cooking techniques, dishes or styles that particularly intimidate you and you have yet to try?
I have been cooking for a very LONG time. Yet, to this day I have not made macarons!! I have cookbooks JUST for this purpose, yet I still have NOT made them. I LOVE them, and I really want to give it a try. Perhaps it reverts back to Question 3….and my response is to not be afraid of failure. Surely if kids on MasterChef Junior can make macarons….so can I!!
What are your cooking inspirations? Why?
My inspiration for cooking has to come from my Ukrainian background. Watching mom and baba in the kitchen, well that was something to behold. Today my grandkids LOVE to help, and I enjoy teaching them anything they desire.
I have a HUGE cookbook collection (just ask my husband). I love watching cooking shows, and if I had to pick ONE chef I would say Jamie Oliver. Simple ingredients create fantastic meals. My food philosophy is: Food does not have to be complicated, but it does have to taste good.
What's your philosophy on healthy eating and living? Do you believe in a specific type of diet or regime? 
I do not follow a specific diet. My husband would live on dessert alone LOL. I try to incorporate lots of veggies in my cooking. We like to have a few "meatless" meals during the week. Quinoa is a favorite in my pantry.
I try to use leftovers in creative ways. Soup is a staple, especially in the cooler months. Simple basic ingredients are key. You can make a lot of quick and easy meals with a well-stocked pantry.
We hardly ever go out to dinner, or order takeout. I prefer to cook at home. I would prefer a homemade grilled cheese sandwich over a takeout burger.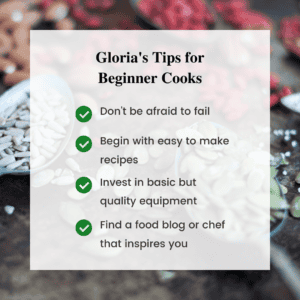 Follow Gloria Duggan on Social Media
When I talked to Gloria, she was so sweet and was always ready to answer all my questions. She was always there to provide advice. If you want to get in contact with her, you can visit her site Homemade & Yummy, email her, or visit her social media accounts! Here they are below:
Facebook: https://www.facebook.com/HomemadeandYummy
Instagram: https://www.instagram.com/homemadeandyummy/
Pinterest: https://www.pinterest.com/homemadeandyumm/_created/
Twitter: https://twitter.com/HomemadeYummy
Recipes I Tried: Gloria Duggan from Homemade & Yummy
After I interviewed Gloria, I also wanted to try out one of her recipes – why not!? I was looking at her site, and there were so many amazing recipes I wanted to try, but I had one recipe I wanted to feature for this article.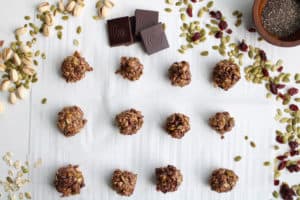 I decided to go with her Superfood Trail Mix Energy Bites, because not only did they look absolutely delicious, but I thought it was a super healthy, on-the-go breakfast option. At least for me, my mornings have always been hectic. So, to have something already prepared that's tasty AND healthy is a win-win. I want something that gives me energy, not takes it away.
After I made these, I was so excited as they turned out amazing and delicious.
Unfortunately, I didn't have available to me goji berries or cacao nibs, but I made substitutes with 85% dark chocolate and dried cranberries. That's what I like about this recipe, is that it's very flexible. You do not have to use all of the required ingredients to get a similar result, just add what you have in the pantry. However, if you do have access to all of the ingredients, I urge you to try it, and let me know in the comments how you liked it. There's a reason Gloria picked this combo of ingredients!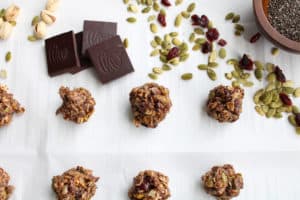 If you make these Superfood Trail Mix Energy Bites, be sure to tag Gloria Duggan and I on Instagram at @homemadeandyummy and @audreythena_foodgoddess.
Gloria Duggan from Homemade and Yummy
Overall, I can see that Gloria Duggan fro Homemade and Yummy has put in a lot of work and patience into her blog. Not only has she spent a solid 7 years on it, but she also told me that she doesn't really count 2-3 years of it, because she was constantly learning during that time. Although she has been cooking her whole life, blogging brings on a whole new set of skills. It's really admirable to see someone who is years ahead of the blogging and cooking process, and glad she was able to come on and give some of her best advice.
If you enjoyed this interview with Gloria Duggan from Homemade and Yummy, but you noticed I didn't ask a question you wanted to see, then comment down below on what questions you would like to see me ask other food bloggers in future interviews!
Learn More About Cooking!