In the past few years (ever since college), I've gotten into more plant-based eating. Although I'm not a full vegan, I try my best to incorporate as much plant-based eating and plant variety into my diet as possible. So, when I tried baking vegan the other day, I was wondering how I could substitute buttermilk into vegan recipes. After doing some research, I was pretty excited and confident about the non-dairy substitutes for buttermilk that were available to me. The most exciting part is that all the alternatives use ingredients I already have in my fridge and pantry!
In this article, I'm excited to share with you the many vegan replacements for buttermilk that you can make at home, completely void of animal-based products. I'll share with you the top seven methods, plus tips on how to use them, store them, freeze them, and more.
What is Buttermilk?
In modern-day, buttermilk is just milk with live cultures in it, mainly lactic acid bacteria. The bacteria give buttermilk that classic tangy taste. It's thicker than regular milk but not as heavy as cream.
Before modern-day, buttermilk used to be a by-product of churning butter from cream. Hence the name. The leftover cream was left to ferment for a few hours, and used in a variety of dishes. It fermented long enough for lactic acid bacteria to form and give the milk its tangy flavor. Before refrigeration, it was a great product to use, because it kept so well.
Overall, buttermilk is great for sweet and savory dishes alike. It's used for baked goods, biscuits, dips, salad dressings, and more. The acidity in buttermilk acts as a leavening agent when paired with baking soda to help bread and baked goods rise. It also helps break down gluten in bread and tenderize meat.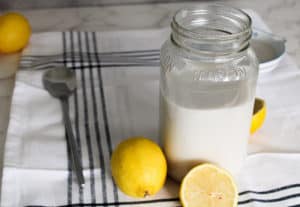 How Can You Use Buttermilk for Cooking?
You can use buttermilk in a variety of foods and recipes, including baked goods, sauces, dips, and marinades. Buttermilk has high acid content and has lots of enzymes, which are known to tenderize meats. Just put one cup of buttermilk with one to two pounds of meat into a Ziploc bag, and let it marinate for a couple of hours or overnight. When you begin the cooking process, you can cover the meat in flour and pan-sear it or deep fry it.
Because of its acidity, it will create bubbles of carbon dioxide when mixed with more alkaline ingredients, which can make it act as a leavening agent, helping bread and other baked goods to rise. Mix buttermilk with some baking powder or soda to get the desired effect.
You can also mix buttermilk into cream-based or ranch-style salad dressings and top it over meat, roasted vegetables, and salads.
Can You Buy Vegan Buttermilk at the Store?
For the longest time, no stores were selling vegan buttermilk. It left vegans and other plant-based eaters with the only option to make their own. Even today, there is only one brand of vegan buttermilk that I've been able to find. It's by a brand called Mill It, and they sell it at select QFC stores. You can also get it on Instacart for about $3.50 for a 32-fl oz bottle.
Although vegan buttermilk options are beginning to pop up, it's still best to consider making your own. Store-bought brands are usually hard-to-find and more expensive. Besides, making your own buttermilk is so easy! Why take an extra trip to the store to buy vegan buttermilk (if you can find it), when you can use simple ingredients you probably already have in your pantry and fridge?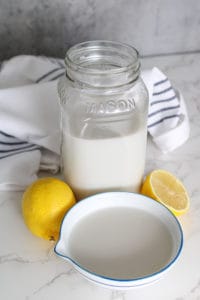 7 Non-Dairy Substitutes for Buttermilk
Below, are the 7 most popular vegan replacements for buttermilk and methodologies. These methods include a very small number of ingredients that you probably already have in your kitchen. Many of these methods will show you how to make buttermilk with non-dairy milk.
1. Lemon Juice and Non-Dairy Milk
This is the best non-dairy substitute for buttermilk in my opinion!
Just add one or two tablespoons of lemon juice (fresh or bottled) to one cup of plant-based milk. Stir until well combined. Then let the mixture sit for 5-10 minutes, or until the mixture becomes thickened and curdled. Then, it's ready to use.
2. Vinegar and Non-Dairy Milk
Very similar to the lemon juice alternative, this method requires you to add one or two tablespoons of vinegar to one cup of plant-based milk. It's one of the best vegan substitutes for buttermilk when you're out of lemons. Stir together and let it sit for 5-10 minutes until it has thickened. White vinegar and apple cider vinegar are popular options for this non-dairy buttermilk substitute.
Although this option does not yield as good of results as the lemon juice solution, it's still a great substitute, especially when you only have vinegar on hand. Vinegar won't give it the tanginess that lemon does.
3. Cream of Tartar and Non-Dairy Milk
Mix 1 ½ teaspoons of cream of tartar with the dry ingredients of the recipe you're making. Then add the plant-based milk to the wet ingredients. Next, follow the rest of the recipe as normal, including combining the wet and dry ingredients.
Note, don't mix the cream of tartar and milk first! Make sure you're keeping them separated until all of the wet and dry ingredients need to be combined. If you mix just the cream of tartar and plant-based milk, the cream of tartar won't mix well and will clump up in the liquid. This will prevent the acid from mixing well, decreasing its leavening ability. You'll get a final product that is flat and dense.
4. Vegan Sour Cream Mixed with Non-Dairy Milk
To make one cup of this vegan replacement for buttermilk, mix ¼ cup of plant-based milk beverage with ¾ cup of vegan sour cream. Mix until you have a consistent texture. Now, it's ready to use.
If you don't have plant-based milk on hand, you can use water instead. Additionally, many big-box stores have vegan sour cream widely available.
Don't be afraid to experiment with the ratio of plant-based sour cream to milk, as you may need to vary the amounts of each to get the right consistency, depending on the sour cream brands you use.
5. Silken Tofu
This is a good option if you're a frequent tofu buyer and always have it in the fridge. To yield one cup of vegan buttermilk, blend ¼ cup of silken tofu, one tablespoon of lemon juice, ½ cup of water, and a pinch of salt. Use a measuring cup and reference below for exact measurements.
Yield: 1 cup of buttermilk
¼ cup silken tofu
1 tablespoon lemon juice or vinegar
½ cup water
Pinch of salt
Blend in a blender until smooth. There are many more ways to use tofu than just blending it for vegan buttermilk substitute options.
6. Vegan Yogurt Mixed with Non-Dairy Milk
Similar to the vegan sour cream method, just mix a quarter cup of plant-based milk with ¾ cup of unsweetened vegan yogurt. All kinds of plant-based yogurts will work for this vegan buttermilk substitute, including cashew yogurt, coconut yogurt, and almond milk yogurt.
Take note of the overall acidity of your yogurt. Yogurts that have less acidity or fermentation will have a lesser leavening effect on your baked goods. Don't be afraid to experiment with the ratio of plant-based yogurt to milk.
7. Homemade Nut Cream
This alternative is probably the most involved vegan replacement for buttermilk, but it's not without mentioning. Soak one cup of raw, unsalted nuts in water for 4 hours or overnight, until they are soft. Drain the nuts from the water, and put them in a blender with one cup of fresh water and two teaspoons of lemon juice or vinegar. Blend until smooth.
You can use any kind of nut to make nut cream, but the most popular kinds of nuts you can use are cashews and macadamia nuts.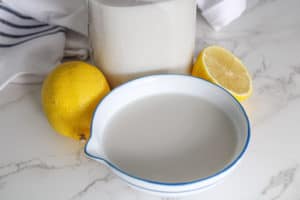 How Long Do Vegan Substitutes for Buttermilk Last?
Non-dairy substitutes for buttermilk can last in an air-tight container or mason jar for 3-4 days in the fridge. Just make sure air doesn't leak into the container, as it won't last as long.
Can You Freeze Non-Dairy Substitutes for Buttermilk?
Yes! Just store your leftover vegan buttermilk in an airtight container in the freezer for up to 3 months.
What Types of Non-Dairy Milk Works Best for Vegan Buttermilk Substitutes?
Any plant-based milk alternative will work great when making non-dairy substitutes for buttermilk. However, make sure the milk is plain and unsweetened.
My favorite milk varieties to use for vegan buttermilk are unsweetened almond milk, unsweetened soy milk, pea milk, and hemp seed milk. They are more neutral tasting in comparison to coconut milk or oat milk.
Recipes You Can Make with Non-Dairy Substitutes for Buttermilk
More Vegan Recipes for Non-Dairy Substitutes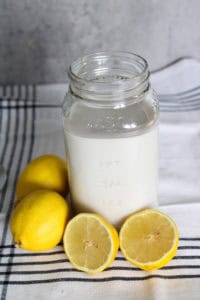 If you try one of these non-dairy substitutes for buttermilk, please leave a comment down below on how you liked it. Don't forget to take a picture of your vegan buttermilk substitute and tag me on Instagram at @audreythena_foodgoddess or use the hashtag #audreythena.
Check out my other substitution articles, such as Broccoli Rabe Substitutions. If you want to get reminded when I post new recipes, subscribe to my newsletter for weekly updates!