The 4th of July is finally here! And it's time to celebrate. The 4th of July is not only so much fun for the colorful fireworks, but also the amazing food. It doesn't get better than this. Despite the amazing BBQ, salads, fresh fruit, and junk food that you get to spoil yourself with on the country's special day, there's also the much anticipated dessert. Of course, the options are endless.
However, in order to stay healthy, and not finish the day with a food coma or wake up the next day bloated, I've made these Healthy 4th of July Popsicles. Packed with protein from the non-fat Greek yogurt, but filled with sweetness from the honey and berries, it's sure to be a crowd pleaser, while still fitting to your healthy food preferences. Before diving into the recipe, I'll dive into the key ingredients, what makes the best popsicles, and ingredient substitutions.
The Key Ingredients to Make Healthy Popsicles
Fruit
It wouldn't be a popsicle without fruit. Most popularly, you can blend up your favorite fruit or fruit combos and pour the mixture into the popsicle molds. You can also cut up small bits of your favorite fruit and sprinkle into the popsicle mold or popsicle layers as you're making them. I love fruit combos such as strawberry and mango, blueberry and raspberry, and blackberry and lemon. However, there is so many more combos you can make.
Sweetener
You can add any sweetener you want to meet your dietary needs or preferences. In this recipe I add honey. However, you can use regular cane sugar, stevia, maple syrup, coconut nectar, monk fruit sweetener, coconut sugar, or something else. Usually, you only need a little bit (1 tbs. to ¼ cup) of sweetener, as most likely the fruit you'll add will sweeten the popsicles enough.
Plus, you'll want to pick the ripest fruit for popsicles so you can use as little added sweetener as possible.
Fruit Juice or Other Liquid (Optional)
Now, this one is optional, because you can always blend up raw fruit to get a similar effect. However, if you want the more classic texture of store-bought popsicles, then fruit juice is perfect.
You can even add fruit juice to the blender when you are blending the whole fruit for added flavor. For example, add pomegranate juice to blended raspberries.
Yogurt (Optional)
Another optional ingredient, this is great if you want a creamy texture. Yogurt pops are great if you want a more protein-packed dessert or snack.
Besides yogurt, I like dairy or plant-based milk or kefir to get the same creaminess if I don't have yogurt on hand. If you want to go more plant based, but don't want to sacrifice on the protein, then use soy milk. However, if you want to stick to the creaminess, then stick to coconut milk, cashew milk or oat milk.
Herbs (Optional)
Herbs will add a burst of fresh flavor to your popsicles. You can add mint, rosemary, lavender, or basil. You can add mint to watermelon, mangoes, or lime flavored popsicles. Rosemary would be great paired with lemon popsicles. Lavender would be fantastic with blackberries and lemon. You can pair basil with watermelon, lemon, and strawberries. You could even pair lavender and basil. The options are endless.
How to Make the Best Healthy 4th of July Popsicles
Flash or Fast Freeze Your Popsicles
When you freeze popsicles faster or put them in your lowest temperature freezer, you will get the most smooth textured popsicles. That's because the lower temperatures produce the smallest ice crystals which results in the smoother texture. However, many home freezers don't get much lower than 0°F, so it's more difficult to achieve that texture. However, what you can do is set your freezer to the lowest possible temperature and stick the popsicles in the very back. Overall, popsicles can take 4-6 hours to fully freeze.
Blend Your Ingredients Together
This will hopefully sound obvious. However, if you want more of the store-bought texture, you will have to blend everything in a high-speed blender.
Add Whole Food to Add Texture
Yes, add whole food please. You can add chopped fruit back into the popsicle molds, like I did in this recipe. You can also add crunchy ingredients like homemade granola, crushed cookies, cereal and more.
Substitutions for Healthy 4th of July Popsicles
Honey: Like mentioned before, you can add any kind of sweetener you want or that fits your diet preferences. For example, if you are vegan, you can replace the honey in this recipe with maple syrup, coconut nectar, agave, or other sweeteners.
Non-Fat Greek Yogurt: You can replace this with milk (animal or plat-based), kefir, or plant-based yogurt like coconut or cashew yogurt.
Coconut Milk: You can omit the coconut milk and just add more berry puree or add fruit juice, another type of plant based milk, dairy milk, or even water. Adding more liquid to your popsicle mixture will make it easier to pour into the molds and it will come out with a texture closer to store-bought popsicles.
Berries: You can add any fruit you want. In this recipe I add berries to celebrate our country's wonderful holiday and independence. However, you can add whatever you have left in your fruit bowl including bananas, mangoes, watermelon, cantaloupe, pineapple, apples and more.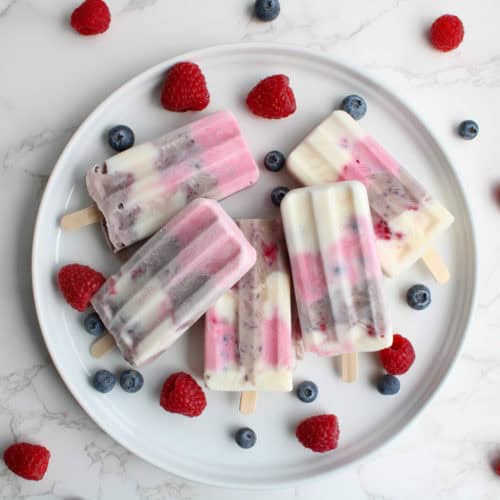 Healthy 4th of July Popsicles with Berries
These healthy 4th of July popsicles are made with Greek Yogurt, vanilla, raspberries, blueberries, honey, coconut milk, and more for a healthy holiday dessert or snack.
Ingredients
3

cups

non-fat Greek yogurt

1

cup

blueberries

1

cup

raspberries

5

tbs.

milk

(I use coconut milk)

3

tbs.

honey

1

tsp.

vanilla
Instructions
Combine 1 cup of the Greek yogurt, 3 tbs.coconut milk, 1 tbs. of honey, and vanilla. Set aside.

In a blender, combine the other 1 cup of yogurt with ½ cup of raspberries and 1 tbs. of honey and blend to combine. Set aside in a small bowl.

Then clean out the blender, and put the last 1cup of yogurt with ½ cup of blueberries, 1 tbs. honey, and 2 tbs. of milk, and blend to combine. Set aside in a small bowl.

Then assemble the popsicles. Start with a layer of the honey vanilla yogurt mixture. Pour in a few raspberries and blueberries.Then layer it with the raspberry yogurt mixture. Then pour in a few whole blueberries. Next, pour in some of the blue yogurt mixture and then whole raspberries. Then repeat until the popsicle holder is full.

Then fill up the rest of the popsicle holders by repeating step 4 or doing your own combination of layers. Adding the ingredients into the molds in layers will make them look prettier.

Stick the wooden sticks into each mold, and stick in the freezer for 6 hours or overnight.
Notes
If you have trouble fitting the raspberries into the popsicle mold, rip the raspberry into pieces with your hands and drop them into the mold.
Nutrition Facts
Nutrition Facts
Healthy 4th of July Popsicles with Berries
Amount per Serving
% Daily Value*
* Percent Daily Values are based on a 2000 calorie diet.
Nutrition Facts
These values were taken from a nutrition calculator.
Share by Email
Share on Facebook
Share on Twitter
If you want to try other summer recipes that will cool you off or help you celebrate other summer holidays, then check out my Energizer Berry Smoothie and Classic Hummus.