I never realized how easy making meatballs were until I started making them myself. I thought it would be this long and complicated process, but all you're doing is (like most other cooking), dumping and mixing a bunch of ingredients together, applying some heat, and viola. Now, of course, overall cooking can be much more complicated than this for many reasons, but this homemade meatballs with spaghetti recipe couldn't get any easier. It's easy, it's quick, and it's sure to please anyone you feed it to.
Below, I give some go-to tips for making the best version of homemade meatballs with spaghetti.
3 Tips to Make the Best Meatballs with Spaghetti
Use Bread Instead of Breadcrumbs
Don't get me wrong, breadcrumbs is a great addition to any meatball. However, if I had to choose one over the other, I would choose a fluffy bread. I love using ciabatta personally, but you can go as simple as using a few slices of white wonder bread and you will be able to achieve similar results.
Adding the bread instead of the breadcrumbs will make it more moist and less dry, dense, and chewy. I love soaking my bread in milk or half and half for extra moisture. Plus, doing this will act as a binder between all of the ingredients.
Use a Lot of Liquid
Like I mentioned before, it's easy to make a dry and dense meatball. That's why it's super important to add a lot of liquid and different types as well. I usually add milk, olive oil, and eggs in order to bring the meatballs together and ensure they are tender and juicy.
Combine Italian Sausage with Ground Hamburger
I truly believe this is the golden tip. This separates a decent meatball from a great meatball! I know a lot of recipes will just call for ground hamburger. However, you are missing out on a lot of flavor and moisture when you leave the ground Italian sausage out.
Like mentioned before, it's easy to make a meatball that's dry, dense, and bland. Adding Italian sausage will be one of the sure-fire ways to prevent this. When I make meatballs, I usually do a 1:1 or 2:1 ratio. I usually add 1 lb. of hamburger with 1 lb. of sausage. In this recipe, I chose to do 2 lb. of hamburger and 1 lb. of sausage.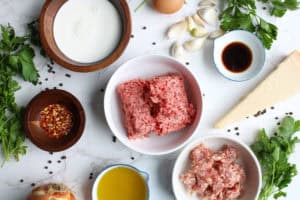 What are the Different Cooking Methods to Make Meatballs
You don't need to be limited in the methods you use to cook homemade meatballs and spaghetti. For my meatballs, I usually cook them in the oven for a hands off approach. However, cooking them on the stove top is one of the most commonly used methods.
Stovetop
Just heat a large skillet with 2-3 Tbs. of olive oil to medium heat and place your meatballs into the pan evenly spaced. Cook each meatball on both sides for a couple of minutes each, until browned and cooked through. If you don't want to break open a meatball, you can use an instant-read thermometer and test the internal temperature. Meatballs should be around 165°F.
Oven
If you're using the oven, you'll want to bake them for 20-25 minutes for 400°F or 425°F. If I do more than this, it will just dry out the meatballs.
I will line a baking sheet with foil and drizzle olive oil on top to prevent the meatballs from sticking to the pan. This is a precautionary step, as the meatballs should already be excreting a lot of oil in the cooking process anyways.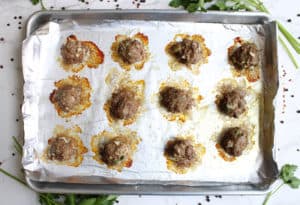 Crockpot
Using a crockpot to cook your meatballs is a better hands off method than using the oven. Plus, there's less mess to clean up. In order to cook your meatballs in the crockpot, prepare the meatballs as if you were going to cook them on the stove top or in the oven. Combine all of the raw ingredients into a large mixing bowl and stir to combine. Then form them into balls.
Then, grease or spray the inside of the crockpot and place your meatballs inside. Pour over your jar of sauce (or your homemade version), secure the lid, and cook for 3-4 hours on high.
If you are adding your homemade marinara sauce, no need to have a separate cooking process. Just combine your marinara ingredients into a bowl and pour over the meatballs in the crockpot.
Instant Pot
If you didn't think making meatballs could get any easier or quicker, then they just did. Use the instant pot if you are really crunched for time.
Prepare the meatballs the same way as if you were baking them or cooking them on the stove top. Combine all the meatball ingredients into a bowl and mix together. Then, form into balls.
Next, spray the inside of your instant pot with cooking oil spray and then place the meatballs inside. It's okay if they are touching, you just don't want them to squish too much. Then pour over your marinara sauce. Place the lid on and set the valve to "Sealing". Press the "Manual" button and set it to 7 minutes.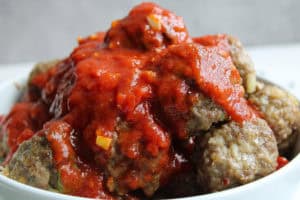 Variations You Can Make to Homemade Meatballs with Spaghetti
Use Ground Turkey or Chicken
If you want a meatball that is leaner and doesn't have as much saturated fat, then you can use ground turkey or chicken. I've personally tried this method, and it's an amazing alternative, especially if you want to have a healthier meatball.
Just be aware that since these meats are leaner, they will produce a dryer meatball due to their reduced fat content. If you don't want a dry meatball, then double your liquid in this recipe. I would add a ½ cup more of olive oil or milk.
Make it Vegan!
Yes, you can make a meat-dominated dish vegan. Especially nowadays with new vegan meat companies popping up, this is easier now than ever. You can make your meatballs vegan in two ways. You can buy a meatless product like ground meat from Beyond Meat or Impossible Foods, which are two very popular vegan meat brands. My friend over at Conflicted Vegan, makes really great vegan meatballs. However, I know opting for these fancy meatless products can be expensive, and you may not have them available in your area. So, you can also make this version from scratch.
When you make vegan meatballs from scratch, you can blend together dry cooked black beans and cooked quinoa, mix it with herbs and seasonings traditionally found in meatballs, and then pan-fry them. The Minimalist Baker has a great recipe for this!
If you don't like that strong black bean flavor mixed with your Italian flavors (I know I don't), then you can use chickpeas instead. Nora Cooks makes a great recipe where she uses ground chickpeas mixed with a vegan flaxseed egg, mixed with traditional meatball seasonings. Then, she bakes them.
Make It Gluten-Free
Making a gluten-free meatball is actually pretty easy. All you have to do is swap out the gluten-containing ingredients. For this recipe, I would just swap out the ciabatta bread for any gluten free bread or cracker. You can even use gluten free oatmeal as well.
Make it Dairy Free
Similar to making gluten-free meatballs, making them dairy free is not much different. Just swap out the ingredients with dairy substitutes. In order to swap out the half and half or milk, I would replace the amount specified in the recipe with more olive oil. You can also just leave out the milk altogether. However, I will warn you that if you take away the milk without replacing it with anything, it will end up being more dry and tough.
As for the cheese, you can either completely remove it, replace it with nutritional yeast, or use a vegan parmesan cheese.
I hope all of these tips were helpful! If you decide to make these homemade meatballs with spaghetti, don't forget to take a photo of your creation and post your meatballs with the hashtag #audreythena and tag @audreythena_foodgoddess. Okay, let's dive into the recipe.
More Italian-Style Recipes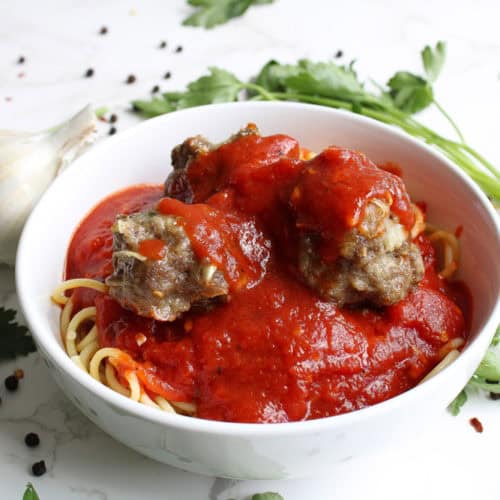 Homemade Meatballs and Spaghetti
These homemade meatballs are made with ground hamburger, Italian sausage, parsley, parmesan cheese, half and half, ciabatta, eggs, olive oil, and more to make for a tender and juicy meatball. Serve with spaghetti and homemade marinara sauce for a satisfying meal.
Ingredients
Meatballs
2

lb.

ground hamburger

1

lb.

ground Italian sausage

6

cloves

garlic

minced

½

cup

parmesan cheese

grated, plus ½ to set aside

1

tbs.

Worcestershire sauce

½

onion

chopped

1

cup

half and half

2

cups

shredded ciabatta  

¼

cup

Italian parsley

chopped

¼

cup

Olive oil

2

large eggs

1

tbs.

crushed red pepper flakes

Salt and pepper

to taste
Instructions
Fill a large pot ¾ full of water, and salt with 3 tbs. of salt and bring to a boil. It's super important to salt your pasta water as it will add extra flavor to your dish. 3 tbs. won't be too much!

Next, preheat the oven to 425°F

Meanwhile, take the ciabatta bread and break apart two cups worth of bread. Rip them apart into small bite sized pieces, and then place them in a medium-sized bowl filled with 1 cup of half and half.While you prepare the rest of the meatball mix, you will let the bread soak in the liquid.

Next, combine the ground hamburger, Italian sausage, minced garlic, ½ cup of grated parmesan cheese, chopped parsley, Worcestershire sauce, chopped onion, eggs, olive oil, salt and pepper, and crushed red pepper flakes into one large mixing bowl.

Using your hands, combine all the ingredients together.

Then dump your bowl of soaking ciabatta into the large mixing bowl, and continue to mix well with your hand.

By this point, your water should be boiling. Dump in your one pound of pasta, and let it boil for roughly 10 minutes or until al dente.

Next, line a baking sheet with foil (this step is optional, but I find using foil helps with the clean-up process afterwards).Then, drizzle 1 tbs. of olive oil onto the baking sheet and spread around the surface of the pan.

Then form your meatballs into 1 inch round ball sand set 1 inch apart.

Then, taking one of those micro plane graters, grate parmesan cheese over the top of each meatball. This will add an awesome, cheesy crust to the top of each meatball.

Then put into the oven and bake for 20 minutes.

While the meatballs are baking, take out a medium saucepan, and heat the jar of marinara sauce. Or, you can use my Quick Marinara Sauce.

After the meatballs, marinara, and pasta have finished cooking, then dump some of the spaghetti and meatballs into the marinara sauce and stir to combine.

Serve in a bowl topped with fresh basil or parsley with grated parmesan and enjoy.
Nutrition Facts
Nutrition Facts
Homemade Meatballs and Spaghetti
Amount per Serving
% Daily Value*
* Percent Daily Values are based on a 2000 calorie diet.
Nutrition Facts
These values were taken from a nutrition calculator.
Share by Email
Share on Facebook
Share on Twitter
If you want to check out other dinner recipes, then check out my Easy Teriyaki Chicken, Creamy Sausage Asparagus Pasta, or my Chicken Green Bean Mushroom Stir Fry. If you are looking for something sweet for dessert after these meatballs with spaghetti, then try out my healthy popsicles.