Ironically, teriyaki chicken has never been my favorite (you're probably wondering why, at this point, am I writing the recipe). However, I was craving some one day, and decided to read a few recipes for inspiration. I whipped up something I thought would satisfy me best, and viola, this Easy Teriyaki Chicken came up. It turned out a lot better than I expected.
Honestly, like too many recipes, this one is super easy and can be whipped up in minutes. Now, if you choose to marinate the chicken for a long time, then it can't be whipped up quickly. Skipping this step will still produce a great result. In today's post, we'll go over tips for making the best and easy teriyaki chicken, sides to serve with teriyaki chicken, main ingredients, and substitutes you can use.
What are the Main Ingredients for Easy Teriyaki Chicken?
Chicken (duh) – I prefer chicken thighs, as it provides more flavor and doesn't dry out as easily during the cooking process. However, chicken breasts are much leaner and will contain less fat per gram. So, it's ultimately up to you.
Brown Sugar – Brown sugar will provide that classic sweet flavor you will always experience with Teriyaki chicken. This is one of the key ingredients. Plus, the sugar will caramelize and thicken the sauce during the cooking process, making the sauce thick to pour over the rice.
Soy Sauce – Soy sauce will balance out the sugar and provide that much needed Unami flavor. It will add a savory component that is much needed. This will be a main ingredient.
Garlic – Now, I am putting more garlic in my Teriyaki Chicken version. However, you are free to add less, but I think garlic makes everything taste better – adding too much doesn't exist. Overall, garlic will add a bit of spice and Unami to the dish unlike soy sauce.
Ginger – Ginger will give a power punch of flavor, and will balance out the harsh salty and sweet flavors with a more fresh and light flavor.
Vinegar – Vinegar will behave similarly to ginger, adding an element of much-needed acidity.
Chili – Chili will add the necessary spice factor that will round out the dish. I used Sambal, which is a type of Indonesian sauce. You can use any type of chili you want, as long as there is some spice.
Tips to Make the Best Easy Teriyaki Chicken
Marinade the Chicken Overnight
Now if you don't have time, marinating your chicken for 15-20 minutes or cooking right away will be just fine. However, marinating the chicken overnight will allow it to soak up all the flavors.
Add Cornstarch Water to Your Pan
This is a golden rule for any sauce you want to thicken up. By mixing cornstarch with cold water, and dropping a few tablespoons of the liquid into your sauce, it will thicken the sauce and prevent it from being too watery. Plus, it's how you can imitate the restaurant style of teriyaki chicken. I usually add 1 tablespoon of cornstarch to 1/3 – ½ cup of water.
Keep the Chicken Moving if on High Heat
Since there's a lot of garlic in this Easy Teriyaki Chicken (more than the classic recipe), you will want to stir the garlic sauce frequently if the pan is on high heat. This will prevent the garlic from burning. That's why it's recommended to bring your heat to medium and cover it with a lid to continue and finish the cooking process.
What Can You Serve With Teriyaki Chicken?
Seaweed: Seaweed snacks are one of my favorites! You don't have to eat them just for a snack. I love putting rice and kimchi inside of mine and folding it up and taking a bite. I would recommend taking some teriyaki chicken and rice and doing the same.
Kimchi: Having this side dish is up to you, but I grew up eating kimchi, so it's my go-to side dish. I absolutely love it! Fermented cabbage, it's great to add some fresh vegetables to a rich chicken marinade.
Rice: This one is a no brainer. You need a carb to go with your protein.
Edamame: Edamame will further diversify the nutritional profile of your dish. It's a great source of plant-based protein.
Sautéed Baby Bok Choy: I love this easy side dish. Just diagonally slice baby bok choy, and sauté in a frying pan with minced garlic until slightly wilted. Then add in soy sauce and ground white pepper, and then you have a healthy side dish to pair with the sweet teriyaki chicken.
What Substitutes Can Be Used if I Don't Have all the Ingredients?
Ginger –Using fresh ginger is the preferred method. However, if you're in a pinch, then you can use dry ground ginger. Just make sure to use less, like ½-1 tsp.
Garlic –You can substitute this as well, but with how much garlic I put into the dish, it really won't be the same. However, you can use about 1 tsp to 1 tbs. of garlic powder or flakes.
Chicken Thighs –If you don't have chicken thighs, then you can use chicken breasts, no problem. You can use any cut of chicken really. You can even use tempeh or tofu if you're vegan.
Rice Vinegar –In a pinch, you can use apple cider vinegar or lemon juice.
Cornstarch –Cornstarch can be substituted with arrowroot starch powder, which is great! That's because arrowroot powder is naturally grain-free and paleo-friendly.
Sesame Oil –Sesame oil is hard to replace or substitute, because it has such a strong and distinct flavor. But if you must, peanut oil is a good alternative.
Brown Sugar –I would try to use brown sugar as much as you can, even if you don't have enough for the recipe – use what you can! However, in a pinch you can also use regular sugar and honey.
Soy Sauce –You can use low-sodium soy sauce or coconut aminos.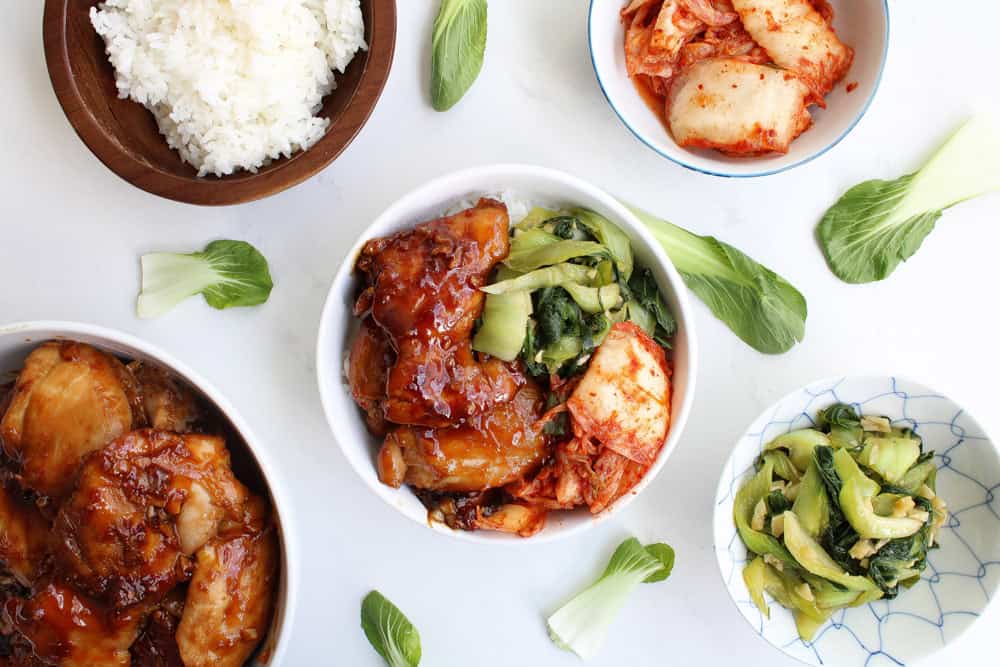 I hope all of these tips were helpful! If you decide to make this recipe, don't forget to take a photo of your creation and post your teriyaki chicken with the hashtag #audreythena and tag @audreythena_foodgoddess. Okay, let's dive into the recipe.
More Asian-Style Recipes to Try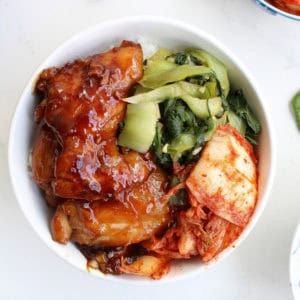 Easy Teriyaki Chicken
This Easy Teriyaki Chicken is made with soy sauce, brown sugar, rice vinegar, Sambal, and other ingredients and is paired well with freshly steamed white rice, kimchi, sautéed bok choy, and seaweed snacks.
Ingredients
2

lb.

boneless and skinless chicken thighs

1

tbs.

cornstarch

⅓

cup

water

Rice, seaweed snacks, kimchi, and edamame to put as sides for a well-balanced meal

optional
Marinade
¾

cup

soy sauce

⅓

cup

brown sugar

10

cloves

garlic

minced

2"

knob

ginger

grated

1

tbs.

sesame oil

1

tbs.

Sambal

1/4

tsp.

ground white pepper

2

tsp.

rice vinegar
Instructions
Combine the marinade ingredients together and whisk in a bowl.

In a separate bowl or Ziploc gallon bag, put in the 2 lb. of chicken thighs and pour in the teriyaki marinade.

Seal the bag or put plastic wrap over the bowl with the chicken and marinade well combined.

Let it sit and marinade for 15-20 minutes or preferably overnight.

Prepare the cornstarch water by mixing together in a small bowl, the 1 tbs. of cornstarch and 1/3 cup of water. Mix thoroughly until you get a foggy liquid.

Heat a large frying pan with 1 Tbs. of oil (like to use avocado oil), and lay in the marinated chicken thighs inside the pan.

Pour over 3 tbs. of the cornstarch water over the chicken thighs laying in the pan. Stir in the cornstarch water by moving the chicken around the pan and mixing it with the marinade.

Cook on each side for 5-10 minutes each on medium to high heat.

Then reduce the heat to medium and cover the pan with a lid, and continue to cook until the thighs are all the way cooked through, about 5-10 more minutes. You might be able to skip this step depending on how thin your chicken thighs are.

Serve with rice, kimchi, edamame, and seaweed for a healthy, well-rounded, and satisfying meal.
Nutrition Facts
Nutrition Facts
Easy Teriyaki Chicken
Amount per Serving
% Daily Value*
* Percent Daily Values are based on a 2000 calorie diet.
Nutrition Facts
These values were taken from a nutrition calculator.
Share by Email
Share on Facebook
Share on Twitter